UK Budget Reaction: Mixed Response from Oil, Gas Sector
|
Thursday, March 20, 2014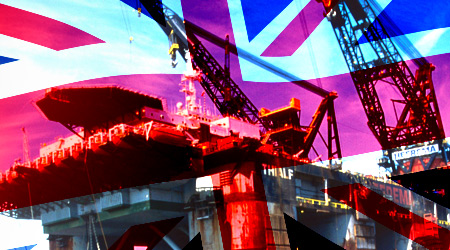 Oil and gas sector raises fears that rigs will be "driven out of" UK waters as a result of the Budget, while tax allowance measures are welcomed.
The annual UK Budget – presented Wednesday by Chancellor of the Exchequer George Osborne – has provoked a mixed response from the oil and gas sector, with some voices complaining that new legislation will increase the cost of operators' rigs in UK waters and rigs will effectively be driven out of the UK Continental Shelf (UKCS).
The International Association of Drilling Contractors (IADC) said Thursday that it was disappointed the government had decided to proceed with its bareboat leasing legislation in the 2014 Budget. Contractors had already expressed concern that the new rules will increase costs and deter further exploration on the UKCS.
Trade body Oil & Gas UK said late Wednesday that, while it supported fiscal moves detailed in the Budget for the North Sea, it was "perplexed" by the move against drilling rigs.
Oil & Gas UK said that while the change may raise tax yield in the short term, it expects day rates for drilling rigs and floating accommodation vessels (known as flotels) will rise as a result, driving up costs and deterring much needed exploration.
Oil & Gas UK Chief Executive Malcolm Webb said: "It is perplexing given today's other good news that the government has chosen to proceed with the bareboat measure. This can only increase costs on the UKCS where operating costs have increased sharply in recent years and last year saw a rise of 15.5 percent to an all-time record of $14.7 billion (GBP 8.9 billion), and new developments are facing similar cost pressures."
"In addition, we fear that this move will drive drilling rigs, already in short supply, out of the UKCS. Exploration over the last three years has been at its lowest in the entire history of the industry in the UK, with only 15 exploration wells drilled in 2013.
Colin Pearson, a tax partner at Ernst & Young Aberdeen, issued a statement Thursday in which he commented:
"As rig owners increase the price of hiring their assets exploration could decrease, leaving us with a scenario that sees a drop-off in the number of new developments. The loss of just one field would certainly outweigh the extra tax raised from this measure. Government cannot remedy this outcome by granting a field allowance as it is impossible to grant an allowance on undiscovered reserves.
"Taking all of this into account, the IADC's comment that this measure is incongruous with the good dialogue taking place between industry and the UK Government in the wake of the Wood Review is entirely correct."
On Wednesday, the Chancellor announced new measures and confirmed others previously outlined in autumn 2013 that are designed to boost exploration and production both onshore and offshore on the UKCS. These included: a new allowance to support investment in ultra-high pressure, high temperature oil and gas projects; the ring-fencing of oil and gas tax rates from 2015 onwards; and the introduction of a tax allowance to support onshore oil and gas exploration and development. Meanwhile, the Budget stated that the UK government remains committed to working with the oil and gas sector to ensure it has the skills and supply chain in place to benefit from the country's oil and gas reserves – including shale gas reserves.
Commenting on the offshore measures, Oil & Gas UK's Webb said:
"It is increasingly obvious that the offshore oil and gas fiscal regime has become overly complex, burdensome and uncompetitive. The industry faces marginal tax rates of 62 percent to 81 percent on oil and gas production, which are unsustainable in a mature basin.
"The announcement of the review is a very welcome first step which we hope will lead to a simpler regime more attuned to the industry's challenges and better able to secure international investment in the many, varied opportunities that remain."
UK Onshore Operators Group Chief Executive Ken Cronin said:
"The Chancellor recognizes that a strong shale gas industry can contribute to the UK economy not only by producing a secure source of indigenous energy but also by creating job and developing skills. The government also accepts that a fair and consistent tax regime is in place that will incentivize the long term nature of investments. This Budget should be welcomed as it goes a long way to establishing the framework for the British shale gas industry."