Nabors Mourns Loss of Former Chairman and CEO Isenberg
by Nabors Industries Ltd.
|
Press Release
|
Wednesday, March 19, 2014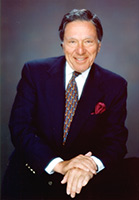 Eugene Isenberg, former chairman and CEO of Nabors Industries Ltd. Source: Nabors Industries Ltd.
Nabors Industries Ltd. (NBR) announced that former Chairman and CEO Eugene Isenberg passed away on March 16. Isenberg served as Chairman of the Board of Directors and Chief Executive Officer from 1987 until late 2011. During his 25-year tenure, Isenberg grew Nabors from bankruptcy to an S&P 500 index company with an enterprise value exceeding $9 billion.
"Our thoughts and prayers go out to Gene's wife, Ronnie; his two daughters, Diane and Lynda; his beloved grandchildren and his entire family," said Chairman and CEO Anthony G. Petrello. "Gene was a pioneer for Nabors in many ways. He was very forward-thinking and all of our employees are grateful for his leadership. He was responsible for establishing the principles that steered the company from a minor player to the largest land driller in the world, a feat more remarkable since it was accomplished during one of the most challenging periods in the inherently cyclical drilling industry. His financial acumen, drive, aggressiveness—and humor—were all legendary. He was a teacher to many. His quests to succeed and his demands to perform stretched everyone, motivating them to meet his high expectations. His legacy includes the vibrant company made up of 29,000 highly skilled people that we have today."
Isenberg received a bachelor's degree from the University of Massachusetts, a master's degree from Princeton University and completed the Program for Senior Executives at MIT . He began his career with Exxon Corporation in 1952 and subsequently was Chairman and principal shareholder of a steel building products company prior to joining Nabors.
In 1974, New York -based Anglo Energy acquired control of Nabors Drilling. After a decade of ownership, a decline in the economy and a depressed oil and gas energy market forced Anglo into bankruptcy. Isenberg and the well-known value investor, Marty Whitman, acquired a sizable position in the company in 1986 and subsequently convinced creditors to trade debt for equity, strengthening the company's financial position. They took control of the company and changed the name from Anglo to Nabors, a brand that enjoyed a strong reputation in Alaska and Canada .
In 1987, Nabors was an Alaska -based driller with 320 employees. Through a combination of well-priced strategic acquisitions and internal growth, the Company grew to where it is now – a leading worldwide service company with operations in 25 countries.
Outside of Nabors, Isenberg served as a member of the Board of Governors of the National Association of Securities Dealers (NASD), the National Association of Securities Dealers Automated Quotation (NASDAQ), and the American Stock Exchange. He was also a member of the National Petroleum Council, which advises the U.S. Secretary of Energy.
Isenberg often noted that his success far surpassed any expectations he had when he was younger. He, therefore, offered philanthropic support to causes he believed in, particularly education, medicine and the performing arts. Isenberg was a particularly strong advocate of education, often making resources available to those unable to afford or access quality education. He held leadership positions in numerous educational and philanthropic organizations. He was President of the UMASS ( University of Massachusetts) Amherst Foundation where he endowed three professorships in environmental science, technology management and engineering. The UMASS Isenberg School of Management was named in recognition of these contributions, as well as significant other contributions he made toward facilities and scholarships.
1
2
View Full Article
Generated by readers, the comments included herein do not reflect the views and opinions of Rigzone. All comments are subject to editorial review. Off-topic, inappropriate or insulting comments will be removed.