O&G Industry Responds to Bakken Gas Flaring Scrutiny
|
Thursday, March 13, 2014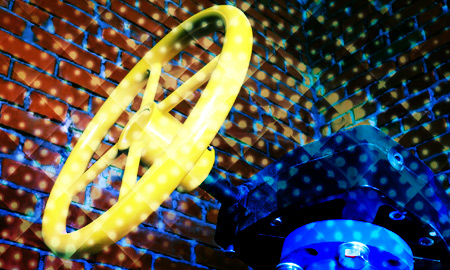 Natural gas flares in North Dakota have gotten the attention of regulators, and industry is responding.
Natural gas flaring in North Dakota is on the rise as the number of wells in the Bakken shale formation skyrockets, according to Reuters. However, the rise in flaring is stirring up a big debate in the state, and has the potential to pit producers against regulators and consumers.
Gas flaring regulations are already on the books in North Dakota and other oil and gas states despite not always being enforced as vigorously as they could be. With each flare adding one more beacon to illuminate the issue in North Dakota, however, the practice has recently moved to the front burner and is coming under increased scrutiny. Producers that flare are in some cases facing not only criticism, but also lawsuits. In some cases, it is the regulators who are cracking down, while in others, it is the public – particularly land owners who expected royalty payments – that is becoming increasingly critical.
"There's a lot of shareholder value going up in flames due to flaring," Ryan Salmon, the writer of a report by the non-profit group CERE told NBC News. "Investors want companies to have a more aggressive reaction to flaring and disclose clear steps to fix the problem."
In North Dakota, nearly 30 percent of the natural gas extracted is flared and released into the environment, according to a study by Ceres. As much as 4.5 million metric tons of carbon dioxide (CO2) were released into the atmosphere from natural gas flaring in North Dakota in 2012. That was the equivalent of 1 million cars, Ceres said. Flaring in the state amounts to about 266,000 million cubic feet every day, according to the state of North Dakota.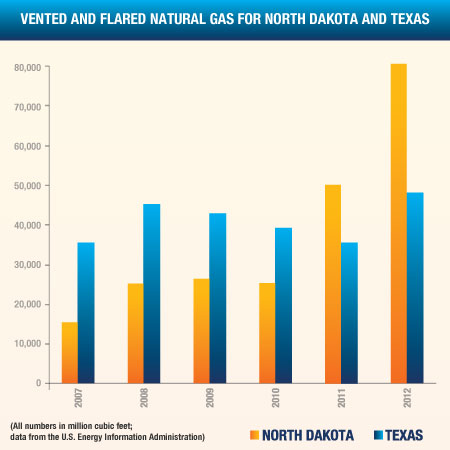 O&G Industry Responds to Bakken Gas Flaring Scrutiny
While the incidence of natural gas flaring in North Dakota has risen steadily, the number of flares that presently exist could be only the tip of the iceberg, according to Reuters. The state currently has roughly 9,000 wells, and that number is expected to reach 50,000 within the next 15 or 16 years.
Except in emergency conditions or during testing, natural gas is not flared at gas wells. However, the natural gas that rises to the surface of oil wells is frequently flared if there is no existing infrastructure to contain and move the gas to the market, or re-inject it into the ground, or use it as a source of fuel at the wellhead.
Producers note that the practice is not only cheaper, but also better for the environment than allowing the methane present in unburned natural gas to be released into the atmosphere. For their part, regulators acknowledge that flaring is less harmful to the environment than releasing unburned natural gas – and its methane – into the atmosphere, but they also view gas flaring as a practice that is still harmful to the environment, as well as a waste of a natural resource.
An Industry Task Force Pledges to Reduce Gas Flaring
For all the good that the Bakken has brought to North Dakota, and to the country, the increase in gas flaring in the formation has been troubling.
"Everybody sees that flare and it's an obvious source of frustration," Mark Wald, owner of Blaise Energy, told the Bismark Tribune. "You ask yourself, 'how can we capture that energy?' There's got to be a better way."
A new task force, working with regulators, may have come up with a way to reset the debate in ways that could give both industry and regulators more of what they want going forward.
The industry told the North Dakota Industrial Commission – the state's oil and gas regulatory agency – earlier this year that it would significantly increase the amount of natural gas that is captured. The task force, representing hundreds of companies in the state, said it will be mounting an all-out effort to capture nearly all of the natural gas that is flared by 2020, according to the New York Times.
Within two years, the task force said, it will capture 85 percent of the natural gas; within six years, the task force added, it will be capturing up to 90 percent of the gas. Because an increase of up to 40 percent in the amount of natural gas is expected by the end of 2015, that will be an even greater improvement than it seems.
The improvements will come from quicker construction of gas-gathering pipelines and processing pipelines, the task force told the commission. It also asked for the commission to impose stricter restrictions that would require producers to come up with plans to capture natural gas before filing for drilling permits.
Other Options Offered by Industry to Reduce Flaring
To reduce the amount of gas that is flared in North Dakota, energy companies, including Alliance Pipeline, Hess Corp. and others, are building pipelines and processing facilities to connect the wells. However, because of its size – the Bakken/Three Forks is the largest oil field in the world, according to the North Dakota Oil Can – it will take considerable time and money to build an infrastructure for natural gas in the formation.
One option would be to convert generators at existing rig sites to operate on natural gas, and use the natural gas that is currently being flared as a source of on-site power generation instead, said Julie Fedorchak, the public service commissioner for North Dakota, in a statement.
The North Dakota Industrial Commission (NDIC), which is the state's, currently allows flaring at a well for one year, and extensions to the permits are also given if the producer shows that the well cannot feasibly be hooked up to the necessary infrastructure, the Energy Policy Research Foundation said in a statement. While the NDIC says it routinely checks for indications that the permit conditions have changed, there is no requirement that they must follow up on wells that have been granted an extension.
Real-World Numbers on Flaring
There are obvious environmental and economic reasons for controlling natural gas flaring. The CO2 that is released into the environment as a result of flaring takes up to 100 years to dissipate, scientists say. The CO2 traps heat, which is said to contribute to climate change. However, the methane that is released into the atmosphere by unburned natural gas is even worse for the environment. While dissipating much more quickly than CO2 – methane dissipates within about 20 years, according to the Christian Science Monitor – it is estimated by scientists to be 72 to 84 times more harmful to the environment than CO2 is.
To put the natural gas losses into a real-world context, the energy needs of about 1.3 million homes could be met for one year on the amount of natural gas that is flared in North Dakota every year, according to the Renewable Fuels Association. On a single day in May 2013, there was $3.6 million – or $1.3 billion per year on an annualized basis – in lost revenue from natural gas flaring in North Dakota alone.
While the environmental and economic arguments for restricting or eliminating gas flaring are compelling, the Energy Policy Research Foundation in Washington, D.C. notes that if gas flaring is restricted, the loss in oil production would be very costly. In June 2012, about 660,000 barrels of oil were produced daily in North Dakota, as well as 713 million cubic feet (MMcfd) of natural gas. Those figures hint at the economic impact from lost production if natural gas flaring is restricted, the foundation said.
Flaring in the Lone Star State
In Texas, the state's oil and gas regulatory agency, the Texas Railroad Commission, recently sent letters to drillers warning them about state laws on natural gas flaring, said Christi Craddick, a commissioner with the agency, at the Winter NAPE Business Conference in Houston. Texas laws cover natural gas flaring, and some oil and gas drillers, particularly those in the Eagle Ford play, were not following those rules, according to Craddick.
The Texas Railroad Commission allows operators to flare gas for up to ten days before a well is completed, and it issues permits allowing gas flaring. However, drillers must have the permits renewed every 45 days if they plan to continue flaring. Operators not complying with the regulations could be subject to a penalty.
Gas flaring is a difficult issue to solve because the price of natural gas is currently too low to warrant the building of an infrastructure to capture and transport the gas. However, restricting or eliminating gas flaring means that oil production is being restricted or eliminated, too.
A possible solution, some say, is a carbon tax. When natural gas prices are high, there is a greater incentive to capture the gas, rather than flare it. That also means that operators are more likely to comply with existing regulations when prices are high. If there were a tax on all emissions, producers would save more by emitting fewer emissions. In essence, a reduction in emissions would result in lower taxes for the producer.
The carbon tax would also encourage moving from higher polluting fuels to lower ones, and it would promote conservation by encouraging end-users of energy to conserve. If conservation were increased, analysts at the Carbon Tax Center say, our existing sources of energy would last longer. That would allow the pace of production to slow, which in turn would allow for the building of a more comprehensive infrastructure to capture natural gas when future oil wells are drilled.