Louisiana's Gas Supply-Demand Balance: At A Crossroads
by Matthew V. Veazey
|
Rigzone Staff
|
Monday, March 17, 2014
For more than 50 years, Louisiana has stood out as one of North America's leading natural gas producers. Boasting pipeline and storage infrastructure to support widespread production from conventional onshore wells in-state and from neighboring Texas as well as offshore from the Gulf of Mexico, the Bayou State has long been at the crossroads of the United States' natural gas industry. However, a number of factors could transform Louisiana from a key gas supplier to a major demand center. Production from conventional gas fields is declining while relatively new supplies from the Haynesville, Marcellus and other shale gas plays are poised to meet growing demand for gas-fired electricity in the Southeast, power for new petrochemical plants in the state and exports of liquefied natural gas (LNG) from new Gulf Coast terminals.
This map shows ICF's projection of North American interstate pipeline flow changes. Image courtesy of ICF International, Inc.
In order to maintain its gas market equilibrium, Louisiana needs to tap new supply sources, concludes the new ICF International, Inc. white paper "How Louisiana Satisfies Growing Southern Gas Market Demand."
"The North American natural gas industry must lay the commercial, regulatory and financial foundation to ensure gas supplies are available to meet a growing Gulf Coast gas market," said Greg Hopper, ICF vice president who co-authored the report with ICF analyst Kevin Greene. "This includes continuing to expand upstream investments, reversing pipeline flows from north to south, developing transportation rate structures that are acceptable to a wide range of stakeholders and encouragement of physical and financial products and risk management tools/parties at key locations in the market. These objectives are achievable but the anticipated magnitude and pace of demand growth require an awareness of the challenges and opportunities."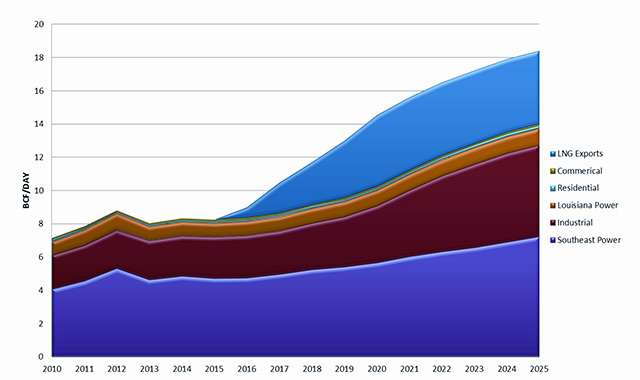 This chart illustrates the dramatic changes in gas demand underway in Louisiana. Image courtesy of ICF International, Inc.
Rigzone recently caught up with Hopper to discuss the natural gas market changes underway in Louisiana and what they could mean for new investment. Excerpts from the conversation follow.
Rigzone: Is the reversal in Louisiana's natural gas supply-demand balance inevitable? Why or why not?
Greg Hopper: Few things in energy are inevitable, but this trend looks like a pretty good bet. Absent upstream sector shocks – for example, legislation that would make hydraulic fracturing impossible or very expensive – the gas supply should be available to Louisiana if customers are there to "underwrite" infrastructure and exploration and production (E&P) investments. The markets, however, are not certain, as gas must compete for market share. In Southeast U.S. power markets gas must compete with nuclear and distributed energy alternatives. In Gulf Coast LNG exports, gas competes against oil prices and international suppliers such as Australia. In Gulf Coast petrochemicals, gas will have to compete against tightening oil-gas spreads and international crackers. The comparatively low production and transportation costs of U.S. shale gas are good, but not guaranteed.
Rigzone: Where do you see the greatest opportunities in Louisiana for E&P companies and infrastructure investors?
1
2
3
View Full Article
Generated by readers, the comments included herein do not reflect the views and opinions of Rigzone. All comments are subject to editorial review. Off-topic, inappropriate or insulting comments will be removed.