Technology to Create New Water Source for Marcellus Operators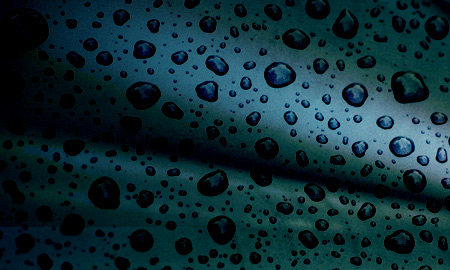 A company will install its first treatment system that will allow acid mine drainage water to be used in hydraulic fracturing operations in the Marcellus shale.
Oil and gas producers working in the Marcellus shale play near Pittsburgh now have a new option for water resources for hydraulic fracturing operations.
Winner Water Services, a Pennsylvania-based joint venture between privately owned technology company Winner Global LLC and Columbus, Ohio-based Memorial Battelle Institute, a private, non-profit applied science and technology development company, was formed a year ago to provide water management services for oil and gas, including source water and water treatment. Initially focused on the Marcellus and Utica shale plays, Winner treats acid mine drainage water, which can be used in hydraulic fracturing in place of fresh water drawn of Pennsylvania's lakes and streams.
Using technology licensed from Battelle to the Winner family to treat acid mine drainage water, Sharon, Pennsylvania-based Winner has designed and is ready to install its first treatment system next month just outside of Pittsburgh, said John Ontiveros, Winner president and CEO, in an interview with Rigzone. The facility will be capable of treating 140 barrels per hour of water, or 3,400 barrels per day on a 24-hour basis.
Water flowing from abandoned coal mines presents a significant environmental hazard in Pennsylvania, with 3,000 streams affected and anywhere between 300 million and 500 million gallons of acid mine drainage water entered the state's watershed each day. The company intends to remove iron and sulfate from water and provide that water to oil and gas companies working in the area this year.
The Hydro Flex Process
Winner's Hydro Flex treatment solution is a chemical treatment process based on ion exchange technology that has three distinct phases – water purification, metal recovery and sulfate recovery – and produces three distant and potentially useful byproducts.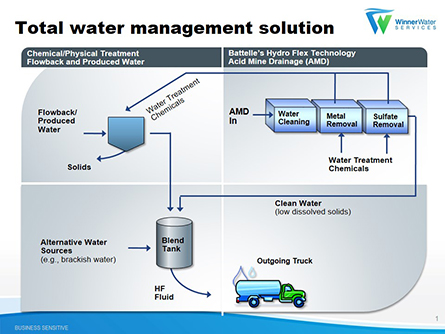 Source: Winner Water Services
In this process, a hydrocarbon solvent extractant is mixed with contaminated water; the metal and sulfate are attracted into the oil layer and removed from the acid mine drainage water, which is then divided by an oil-water separator. The end product is water that is clean and ready to be used as source water or can be discharged into Pennsylvania's watershed.
Besides clean water, the process produces metal sulfates and sodium sulfates. The sodium sulfate can be used to treat flowback water to remove some of the total dissolved solids. Solvent extraction has been practiced in the mining industry for years to recover copper, uranium and other metals, said Ontiveros.
Lane sees synergies between this technology and its use in treating acid mine drainage with Winner's wastewater treatment business for flowback and produced water.
"If there is a market for water treatment using this compound, it will expand our business offerings," Ontiveros noted.
Two skid-mounted Hydro Flex treatment units consisting of a mixer and oil-water separator. Source: Winner Water Services
Winner is also is talking to companies about providing water treatment solution for flowback and produced water. Ontiveros said the company is actively engaging with a couple of companies about these opportunities. Through this second business, Winner can provide a technical solution for treating produced and flowback water to remove total dissolved solids.
"What we have found is that different companies have different standards, and the amount of treatment varies with those standards," Ontiveros said, noting that the company is technology agnostic. "We're not promoting a technology, just the best solution to a problem." That solution could involve consultations, building equipment for a client, and even setting up and operating equipment as a service. "We're trying to be agile and responsive to their needs."
Annie Lane, who works for Battelle and provides research and development and technical support to Winner, said Winner is viewed as Battelle's arm to take new technologies to market from Battelle. Winner in turn brings back specific market requirements to help Battelle find new solutions.
Acid Mine Drainage
Acid mine drainage water coats stream beds and kills aquatic plants, making it difficult for aquatic wildlife such as fish to live in the stream, Ontiveros said. Mine waste water from abandoned and even active sites can fill up underground spaces, allowing the metal and sulfate to leach from the mine into the water. Depending on the level of rain and snow melt, the acid mine drainage water will flow out of the ground at different locations. This water flowing to the surface presents a large problem across Pennsylvania, Lane said.
Acid mine drainage streams are found through the state, but are concentrated mostly in southwestern Pennsylvania and into West Virginia. According to the U.S. Office of Surface Mining Abandoned Mine Lands Inventory System, approximately 504 sites exist across Pennsylvania, Virginia, Maryland and West Virginia. Remediation costs for the sites are estimated $3.8 billion.
Factors taken into account when selecting a technology include shale characteristics and total dissolved solids. Providers of chemical fluids are pushing oil and gas operators to work with increasingly lower quality of water, but contaminants in lower quality water can cause problems in well performance. Winner's technology is targeted to remove sulfates down to much lower levels than other technologies, Lane noted.
While acid mine drainage is specific to the Marcellus, produced water solutions are applicable across all shale plays. A number of different technologies will be needed to handle the varying level of components found across U.S. shale plays, including barium, as well as the end use of the water. Some examples of these technologies include simple filtration units to extreme, costly measures such as evaporating water and removing salt, said Ontiveros, who previously served as vice president and operations manager of Battelle's energy, environment and material sciences global business.
The Hydro Flex technology developed by Battelle was initially used to remove chromium from wastewater at U.S. Air Force bases. In 2008, the CEO of Winner Global LLC met the CEO of Battelle on an airplane. Winner discussed with then Battelle CEO Carl Kohrt about the problems with acid mine drainage in Pennsylvania. Battelle's CEO went back to his staff and asked what kind of technologies might help Winner.
During a 3-month trial period, the technology was used to treat 1 million gallons of water; tests showed that the technology had removed enough sulfates and metals so that it was at near-potable levels.
Use of the technology to treat acid mine drainage did not get off the ground until the Marcellus shale play began heating up. Ontiveros said Winner and Battelle officials recognized that the heavy usage of water in shale exploration and production had created a market opportunity for this technology.
The company will also target the Utica shale play, which is still in its infancy, said Ontiveros. The state does have some abandoned mines, but has not had as much of an issue over water usage due to lower drilling activity in Ohio versus Pennsylvania. The company will initially focus on oil and gas, but will look to expand its services to other industries, including agricultural waste treatment, as its business grows.
Marcellus Boom Significantly Impacts Pa. Water Resources
The boom in Marcellus shale exploration and production activity has had a significant impact not only on the state's economy, but on its water resources. Water use and management have become issues not only for the Marcellus, but other U.S. shale plays. Water shortages in the United States have put the U.S. oil and gas industry on a collision course with other users because of the large volumes needed for hydraulic fracturing, the Financial Times reported Feb. 5.
With estimated recoverable reserves of 500 trillion cubic feet, the Marcellus shale play is estimated to be North America's largest natural gas reservoir, said David Yoxtheimer, in a Nov. 3, 2013 article, Water Recycling – a Staple in the Marcellus Shale. Yoxtheimer is a hydrogeologist, extension associated with Penn State University's Marcellus Center for Outreach and Research.
Shale gas formations such as the Marcellus are "very promising" as an abundant domestic energy source, but development of shale faces environmental challenges, including proper water resources management.
Four to five million gallons of water are typically used to hydraulically fracture a horizontal well in the Marcellus play. Water used in hydraulic fracturing is withdrawn from sources approved by the Pennsylvania Department of Environmental Protection prior to use. In some cases, approval from river basin commissions such as the Susquehanna River Commission may also be required, Yoxtheimer noted.
Besides abandoned mine discharges, water can be sourced from surface water intakes on streams or rivers, groundwater supply wells, water bought from public water suppliers, treated municipal wastewater, or other sources. An estimated 10 to 15 million gallons of water are being withdrawn daily from the state's water resources for shale development.
Water is being transported to well sites by tanker trucks or through pipelines, or are storing water at sites in temporary above-ground facilities. Over the past few years, the industry has moved towards reusing more produced fluids in the Marcellus and in other U.S. shale plays.
"Reuse of water can be cost competitive when compared to alternatives such as treatment and discharge of disposal well injection, as it reduces the need to purchase or source fresh water," Yoxtheimer noted. "The ability to reuse treated produced fluid is due in part to the recent development of fracturing mixtures that are brine tolerant."
A review of the Pennsylvania Department of Environmental Protection's 2012 records indicate that the reuse rate of flowback and produced fluids was approximately 87 percent, with 23.2 million barrels of fluids reused out of 26.8 million barrels generated. Approximately 85 percent of the recycling occurred in the field; the remaining 15 percent was treated at centralized facilities. Thirteen percent of these fluids were disposed of via Class II-D disposal wells. This may occur due to higher treatment costs or inability to reuse water due to lack of hydraulic fracturing operations in the near-term, Yoxtheimer said.
"The industry has significantly improved its fluids management by utilizing best management practices, such as lining well pads to capture spills, utilizing closed-loop drilling systems, and recycling flowback fluids," Yoxtheimer said. "Continued improvement in fluid management practices is expected to continue as companies further refine their operations to meet environmental and regulatory challenges."
The use of acid mine drainage water is growing slowly in the state, with a few operators using this water source. State regulators have developed guidelines to help facilitate its use; Yoxtheimer told Rigzone he expects it will be used increasingly where possible.
Liability Relief Needed to Spur Use of Acid Mine Drainage
In spite the encouragement of Pennsylvania's Department of Environmental Protection (DEP), oil and gas operators in the state have not yet turned to the use of mine influenced water for gas extraction activities due to liability concerns, DEP spokesperson Morgan Wagner told Rigzone in an email statement.
"Despite the environmental benefits to using mine influenced water to hydraulically fracture wells, this practice is not likely to be adopted by the industry until there is legislatively provided liability relief for the beneficial use of mine influenced water."
To address this issue, Senate Bill 411, which would provide "good Samaritan" liability relief, is currently working its way through the Pennsylvania Legislature. The bill, which would amend Title 27 in the state's regulations, would limit the treatment liability of companies that choose to use acid mine water for hydraulic fracturing of oil and gas wells or for other industrial uses.
The liability protections to encourage the oil and gas industry to use acid mine drainage water was among recommendations made in 2011 by Pennsylvania State Gov. John Corbett's Marcellus Shale Advisory Commission.
"One of the major reasons the oil and gas industry has not fully committed to utilizing acid mine drainage water is the concern with the old adage 'once you touch it, you own it'. The cost of treatment, and the continued liability associated with acid mine drainage source can often run into the millions of dollars," according to a Dec. 6, 2012 memorandum by Senator Richard A. Kasunic (32nd District), who authored the bill.
Acid mine drainage projects eligible for coverage would be vetted through a DEP process developed in the Environmental Good Samaritan Act.
The immunity would only extend to activities at the site of the discharge, not to subsequent uses of the water, according to a March 15, 2013 Senate memo from Kasunic, Sen. Gene Yaw (23rd District) and Sen. John T. Yudichak, (14th District). The memo addressed concerns raised by some groups over the bill's intent.
"The current Good Samaritan Act falls short in that it only limits the liability of a non-profit organization that is treating acid mine drainage, without any financial incentive," the memo stated. "Unfortunately with today's economy, non-profits are finding it increasingly difficult to assist in treating the 5,000 miles of streams that are currently polluted with acid mine drainage. Senate Bill 411 offers non-profits the opportunity to partner with entities to address the funding challenges they are facing."
Acid mine drainage is the state's large source of water pollution, with an estimated cleanup cost that may exceed $15 billion.
"As state and federal resources towards the treatment of acid mine drainage continue to decline, Senate Bill 411 offers an innovative approach to maintaining funding for its cleanup, while at the same time decreasing the withdrawal demand on fresh water supplies. This is a win-win situation for the Commonwealth and the environment."
Last month, 35 environmental groups called on the Pennsylvania State Senate to table Senate Bill 411 or vote no on the bill, arguing that the Senate would violate the Pennsylvania Constitution if Senate Bill 411 is enacted without any environmental impact assessment. Citing the constitutional right of Pennsylvania citizens to clean air and pure water, the groups argued that the bill would harm streams and communities where the acid mine drainage water is being withdrawn by allowing the transfer of water out of source watersheds.
Kasunic said he and the other senators intend to work on the bill's language to address concerns, and are open to an amendment further clarifying the bill's intent.
Generated by readers, the comments included herein do not reflect the views and opinions of Rigzone. All comments are subject to editorial review. Off-topic, inappropriate or insulting comments will be removed.