Moniz Open on Talks for Amending LNG Export Process
by Karen Boman
|
Rigzone Staff
|
Wednesday, March 05, 2014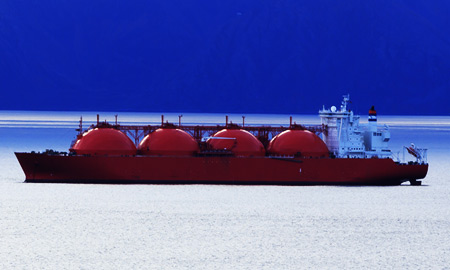 US Secretary of Energy Ernst Moniz says he will "welcome consultation" with US Congress on altering the LNG export approval process to address geopolitical needs such as the Ukrainian crisis.
U.S. Secretary of Energy Ernst Moniz said he would "welcome consultation" with U.S. Congress on altering the U.S. liquefied natural gas (LNG) export approval process to allow the Department of Energy (DOE) to have sway over the destination of LNG exports.
The invasion of Russian military into Ukraine – with Russian President Vladimir Putin threatening to seize U.S. assets in Russia if the United States and its allies impose sanctions – has generated discussions of how the surge in U.S. oil and gas production thanks to the shale boom could benefit not only the United States but its allies worldwide.
No legislation would be needed for discussions between DOE and Congress to take place, Moniz told reporters at the IHS CERAWeek conference in Houston Wednesday.
"From my point of view this is a situation that would merit a discussion," Moniz commented. "Obviously a very serious and important situation."
DOE, which is responsible for approving LNG export licenses to both Free Trade Agreement (FTA) and non-FTA countries, considers a number of factors in its approval process, including the geopolitical impact of U.S. LNG exports. Under current regulations, DOE does not have control over the destinations to where LNG exports would head.
The U.S. Department of State and DOE have had many discussions on providing assistance to Europe and China on development of their unconventional oil and gas resources, Moniz said.
"We think if there is increased production from a more diverse set of geographies, it would be to all of our advantage. This current situation (in the Ukraine) may reinforce that."
Moniz said the DOE is constantly reevaluating, as part of its responsibility to determine if LNG projects are in the United States' national interest, the impact of proposed LNG export projects. Moniz would not say whether there was a volume at which DOE would step back and reevaluate, but noted that DOE's reevaluation may include an update of studies on the economic benefits of LNG exports.
"It may look as though a bunch of factors suggest a new review of update of data is needed," Moniz commented.
These factors could include:
demand side shifts
industrial utilization shifts
natural gas liquids utilization
The secretary also reiterated advice he has previously given to U.S. energy companies involved in U.S. shale plays – that industry needs to "get out in front" do more to address concerns over the environmental impacts of unconventional exploration and production.
"It's evident that environmental issues related to unconventional production have in fact slowed development of resources in certain parts of the U.S. but not others," Moniz said. "Different communities in the U.S. and globally will evaluate the economic benefits versus the environmental benefits differently."
While the industry is made up of a wide variety and scale of players and obviously cannot completely eliminate environmental impacts such as truck traffic, the industry can be uniformly aggressive in pursuing best practices on well completion, surface water management and methane capture to improve air quality, Moniz added.
"I don't seek the environmental footprint issue ending U.S. unconventional activity, but it's certainly slowing down development of shale resources in some parts of the country," Moniz said. "The more that oil and gas companies pick up the pace, the more beneficial it will be."
The oil and gas industry also could do a better job of making the case for the United States to lift its ban on crude oil exports. Building this case involves integrating a complicated set of factors in a clear, transparent way, including the mix of oil feedstock and refinery capacity. The balance of exports and reimports and its effect in terms of product exports versus crude exports also has not been addressed in a clear way, Moniz said. Despite the surge in U.S. oil production in recent years, the United States still imports more than 5 million barrels of oil per day, and faces infrastructure issues in moving product from new geographies.
DOE has never set a limit on the amount of LNG that would be allowed for export. The agency has not yet reached the 12 billion cubic feet per day (12 Bcf/d) level used in its economic analysis of LNG exports. While the amount of time between applications varies somewhat, the process itself takes time, given that each application is "pretty" voluminous in terms of comments. To date, one license has received both FTA and non-FTA approval.
Despite the project approvals to date, the molecules "won't flow for a while", with optimistic estimates calling for first cargoes to leave the United States in 2017 to 2018, Moniz said. Currently, 35 Bcf/d of export project capacity is in DOE's approval queue. Given market development and huge capital requirements for LNG export projects, it's no secret that not all of the proposed projects will make it off the drawing board.
The U.S. unconventional oil and gas boom has granted the country a substantial competitive advantage that should last for some time, Moniz said. The United States not only has an advantage in terms of geography, but market structure and infrastructure.
"We want to see that developed," said Moniz of the Obama administration.
The surge in shale gas production, which has resulted in low to moderate U.S. gas prices, has resulted in nearly $100 billion in investment in new U.S. manufacturing capacity, President Obama said during his State of the Union of address earlier this year. Moniz believes that the estimate is conservative, with investment actually in the $150 billion range.
"We will continue to support all fuel sources and advanced technologies across board even as we pursue allow carbon future," Moniz said of President Obama's "all of the above" energy strategy during a keynote presentation at CERAWeek.
Generated by readers, the comments included herein do not reflect the views and opinions of Rigzone. All comments are subject to editorial review. Off-topic, inappropriate or insulting comments will be removed.