Middle East Businesses to Increase Employee Headcount in 1Q 2014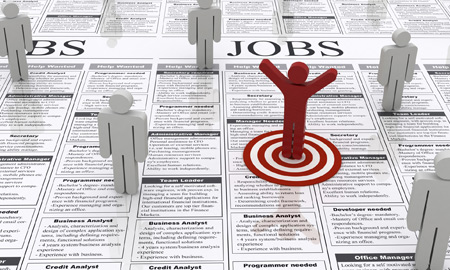 Businesses in Dubai project an increase in new hires in the first quarter 2014 with the oil and gas industry employment outlook remaining strong throughout the year.
Businesses in Dubai, United Arab Emirates, are expected to increase their employee headcount in the first quarter of 2014, around 39 percent, compared to 27 percent in the corresponding period last year, according to the quarterly business confidence survey conducted by the Dubai Economic Development.
The survey found that service and manufacturing firms are more optimistic about hiring than trading companies. Dubai's business confidence is increasing, as well, as 63 percent of respondents witnessing better economic conditions in the first quarter of 2014, compared to 58 percent in 4Q 2013.
"Dubai's business confidence index for the final quarter of 2013 rose to reach 144.3 points, up from 141.6 points in 3Q 2013," DED stated.
Businesses will also witness stronger net profits based on higher demand and improved margins, with around 62 percent in 1Q 2014, but this statistic found that larger companies were more confident about increased profits than small to medium enterprises, according to the survey.
The transportation sector will also observe an increase in contracts in 2014, around 64 percent of firms, which is driven by a rise in demand from other major sectors. However, exporters in Dubai were less confident, the survey stated, compared to the emirate's overall business community due to lower optimism on selling prices.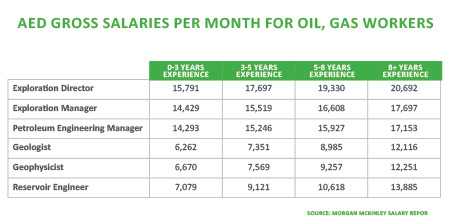 *The salaries were converted into U.S. dollars.
Overall, employment and wages in the energy sector will continue to increase. Dubai, with the other Emirates, is the employment hub for the region, with rising levels of demand for consumer goods driving demand for more sales and marketing and supply chain professionals across the Gulf region, according to Trefor Murphy, managing director at Morgan McKinley UAE.
"Rising levels of demand within both the green and traditional energy sectors also mean a growth in opportunities for power generation professionals," he added. "With many new projects announced recently, there is a significant demand for professionals in the construction and oil and gas industries, with Iraq particularly short of oil industry specialist."
In 2014, the number of job opportunities across all industry sectors will see an increase of 8 to 10 percent, and salaries rising in the range of 6 to 8 percent, he added.
Hiring Trends in MENA Oil, Gas
The number of job opportunities in the oil and gas industry has seen an increase over the past 12 months, especially within the MENA (Middle East and North Africa) region, where the demand for skilled professionals remained high. This region has experienced further exploration, production and an increase in infrastructural development, he stated.
Out of this region, Iraq has experienced an increase in hiring as new mega projects have commenced. Since Iraq holds the fifth largest proven crude oil reserves in the world, according to the U.S. Energy Information Administration, the area will continue to attract foreign investment amid political upheaval and security threats.
As for the talent supply, the oil and gas industry in the region is witnessing a skills shortage as "MENA remains the leading producer of oil and gas and there is a consistent increase in demand for oil and gas professionals regionally."
"The Middle East is, however, facing real competition from others parts of the world," he added. "This places the job seeker in the driver's seat in negotiations. Employers therefore are required to offer higher and more attractive salary packages in order to incentivize would-be employees."
Another trend the region is witnessing is a shift in the market, including:
Saudi Arabia
Oman
Algeria
Tunisia
Kuwait
Bahrain focusing on mapping unconventional gas resources
"This is translating into the need for even more specialists and skilled professionals who are in scarce supply."
The trend of a rising demand for foreign workers is set to continue into 2014 as the price of a barrel of oil is expected to remain above $100.
"With an undersupply of local talent, the growing energy demand and the oil price, we continue to see a candidate-driven market."