Murkowski Could Take Legislative Action on Crude Export Ban
by Karen Boman
|
Rigzone Staff
|
Monday, March 03, 2014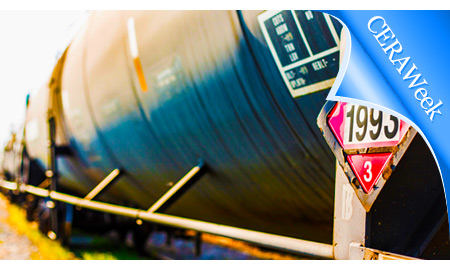 Alaskan Senator Lisa Murkowski could seek legislative action to lift the de facto ban on crude oil exports from the United States.
Sen. Lisa Murkowski (R-AK) said she is prepared to take legislative action in order to lift the de facto ban on oil exports from the United States, but will first try and prompt the Obama administration to move forward with her proposed roadmap for crude oil export regulations.
Murkowski told attendees at the IHS CERAWeek conference in Houston March 3 that she plans to request the U.S. Energy Information Administration (EIA) conduct an economic analysis of the impact of lifting the United States' de facto ban on crude exports.
The surge in U.S. oil and gas production thanks to the shale boom should prompt the United States to renew, reimagine and reengineer its federal energy policy, Murkowski said during the keynote presentation opening the weeklong conference.
The resurgence in energy production does not mean the United States can isolate itself from the world. Instead, "it's imperative that the U.S. engage in the international system to optimize the American energy renaissance and ensure its impact is felt worldwide," Murkowski noted.
The U.S. energy revolution not only has resulted in job creation, enhanced government revenues, and lower energy prices and volatility, but has given the United States the ability to deal "with bad actors" from a position of relative strength.
"We need to give them a reason to move," Murkowski said of the EIA report request. "We also need to ensure that, as they move, the broader public comes along as well. Let's make sure we have the facts and give a level of comfort. Nobody wants to see prices go up."
"The United States cannot squander the golden opportunity that technology, geology and American grit have bestowed upon us," Murkowski noted.
Murkowski called for the need to open more federal U.S. lands to oil and gas exploration, including the offshore Atlantic and eastern Gulf of Mexico and in the Rockies, pointing out that the majority of U.S. oil and gas production growth has occurred on state and privately-held lands.
"Despite a rhetoric of all of the above energy policy and no small amount of credittaking, federal oil production fell from 2008 to 2012."
Production has surged in states such as North Dakota and Texas, where the amount of federally-held lands is less than 5 percent. However, Murkowski's home state of Alaska has seen significant declines in production since peaking at 2.1 million barrels per day in March 1988. The U.S. federal government owns 62 percent of Alaska's lands.
Murkowski attributed the decline to the U.S. federal government's failure to seize the opportunity of Alaska's oil and gas production in the mid-1980s to create jobs, revenue and to help stabilize world oil prices and diversify global energy supply.
The decline in Alaska's production and low level of production flowing through the TransAlaska Pipeline are signs that federal energy policy doesn't work, and that state policy and private sector incentives can only overcome so much. The pace of development on federal lands that are open to exploration and production is also slow, Murkowski noted.
Murkowski said she was disappointed in Royal Dutch Shell plc's decision not to move forward with drilling in the Chukchi Sea this summer, but couldn't fault them due to the lack of clear parameters.
"We need to be working with our industries that provide so much good for our country, instead of making it difficult and driving them out."
Murkowski Road Map Lays Out Case for Crude Exports
Murkowski said she decided to put a target on her back on January and start laying out the case for reengineering the architecture of U.S. energy trade to allow exports. Murkowski said she is taking a "pragmatic approach" to the move to allow exports, given mid-term elections this year and the strained relations between Congress and the Obama administration, which makes it unlikely for important agreements to occur, particularly for energy.
"The economics are clear," Murkowski noted. "Exports will stimulate production which increases oil supply which decreases prices, which lowers global petroleum product prices."
In the end, lifting the ban will help U.S. energy consumers.
The EIA analysis is the second step in the roadmap Murkowski unveiled Monday to modernize crude oil export regulations, including the treatment of condensate. The road map's first step is to address current condensate regulations, which Murkowski called some of the most convoluted regulations she'd ever seen.
"The same chemical composition is treated differently based on whether it comes out of the ground or out of a processing plant," Murkowski commented. "It boggles the mind. There needs to be an immediate rationalization of policies that treat two similar if not identical chemical compounds in two very different if not completely contradictory ways.
The senator called for the Commerce Department's Bureau of Industry and Security should amend its Short Supply Controls to permit the export of condensate.
"Commerce and the President have an enormous amount of discretion under existing law to clarify and modify the regulations. We are talking about good governance – updating definitions to align with technological developments."
"The historical record is replete with precedent from Presidents Reagan, George H.W. Bush, and Clinton," said Murkowski, noting that even statutes prohibiting crude exports from the Outer Continental Shelf and now-defunct Naval Petroleum Reserves allow the president under specific circumstances to allow limited exports. "Each case where they allowed oil exports was unique, but together I believe they point the way forward for us today.
Murkowski has not yet had conversations at higher levels within the Department of Commerce on the issue of condensates. Despite her pragmatic view on lifting the crude export ban, she sees crude exports as a way for the United States to demonstrate its world leadership and show movement where the country hasn't done so before.
"We saw last week the tough love shown the Department of Defense in terms of budget and the reduction in forces," said Murkowski. "You have to figure other world leaders are seeing a way to push back because of our reduced forces. Perhaps we're not going to have as many boots on the ground, but what other assets do we have that we can use to influence geopolitics here?"
Murkowski said that Congress is trying to get traction on the oil export discussion, noting that the recent Energy and Natural Resources Committee meeting on oil exports was the first hearing on the topic in 25 years.
"This is an issue I believe its time has come," Murkowski told reporters. "But I'm also cognizant that people haven't been thinking this way, and that we have viewed our energy reality to be one of scarcity and not one of abundance. To get the mindset shifted will take time."
The oil export debate will need "rationed conversation", not an emotional kneejerk.
"We need to response with facts, data and research," Murkowski noted.
Murkowski said she has been watching the deteriorating political situation in Ukraine with a great deal of anxiety, but also sees opportunity for U.S. oil to benefit Europe, which has been solely reliant on Russian energy exports, and Asia, which faces the highest global energy prices.
The surge in U.S. oil production also provided the United States the cushion it and its allies needed to turn off Iranian oil production, which Murkowski said is a little understood fact.
"We could have been in a position to talk tough on sanctions, but if it squeezed us, we would have had to back down."
The situation in Ukraine and disruptions in Venezuela production highlights the need for the United States to build further upon its cushion of supply. A larger cushion will help the United States and its allies ensure global stability.
Generated by readers, the comments included herein do not reflect the views and opinions of Rigzone. All comments are subject to editorial review. Off-topic, inappropriate or insulting comments will be removed.