Workforce Housing in Oil, Gas as a Recruitment, Retention Strategy
|
Friday, February 28, 2014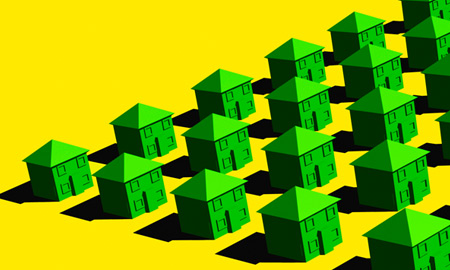 Employers strive to attract and retain top field workers in North America's growing oil patches through quality workforce housing.
As the search for natural resources takes the industry to remote locations and developing areas – while creating thousands of new jobs and rapid economic growth – the demand for quality workforce housing intensifies. What was meant to be a temporary accommodation, has now become a permanent home for oilfield workers as the North American energy boom revitalizes cities throughout the region.
The energy renaissance in North America has seen its working population swell by as much as 70 percent in certain regions, mainly driven by oilfield workers and those in fringe industries such as construction and transportation.
"Many companies have difficulties retaining existing workers due in large part to poor living conditions at remote worksites," stated Graham Chandler, Ph.D., author of the white paper "Workforce Housing as a Recruitment and Retention Strategy in Oil, Gas, Mining and Construction Operations: the other 12 hours".
"Several strategies can be implemented … to increase profitability, boost productivity, enhance morale, reduce turnover and improve safety."
By the Numbers
The labor challenge in the North American oil and gas operations "can be summed up simply as a steadily growing gap: demand for labor is expanding and the pool of workers is dwindling," Chandler stated.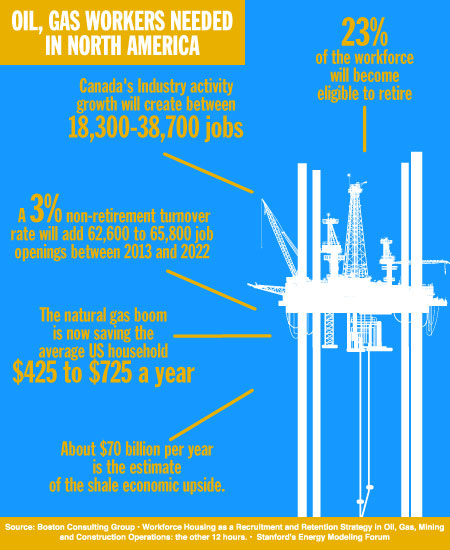 The gap will grow regardless of industry growth rate, according to a study by the Petroleum Human Resources Council of Canada. The report cited several factors that will drive demand for workers in Canada over the next decade; while industry activity growth will create between 18,300 and 38,700 jobs, with age-related attrition resulting in 44,200 to 45,300 open jobs as 23 percent of the workforce becomes eligible to retire.
"In the end, the need to attract workers to workforce accommodation is by addressing the other 12 hours during which they are not working."
Intense competition for talent within and outside the oil and gas industries, the paper noted, will create even more demand: a 3 percent non-retirement turnover rate will add 62,600 to 65,800 job openings between 2013 and 2022.
Combined, more than 125,000 to 150,000 new hires will be needed by 2022, the report predicts.
"There's no relief in sight as oil and gas operations will experience a tight labor market in all sectors: oil and gas services (highest, with turnover up to 50 percent), conventional exploration and production oil sands and pipelines," Chandler commented.
This trend has already started with rapid growth in Canada's Bakken oil play, increasing total employment by 25,100 jobs, but the top challenge reported by employers is attracting and retaining workers – with half reporting retention and employee turnover problems, the report added.
Respondents also indicated fierce competition for experienced technical staff, with the top workforce issue being attracting and retaining workers in remote locations, found in another survey of 41 companies from seven petroleum industry sectors.
But housing isn't readily available in certain regions with newcomers driving up home prices and apartment rent. Intensifying the problem is the turnover in oil, gas, mining and construction operations because of remote site working.
Turnover costs can be considerable, explained Chandler. It is estimated that the cost to replace one fly-in, fly-out worker can range in the $9,000 to $45,000 range, according to the report.
Housing Solutions
"With such a challenging labor environment looming, it is critical that oil and gas operations focus on the recruitment and retention of workers," Chandler said. "Corporations need to turn to as many traditional and non-traditional sources and methodologies as are available."
"In the end, the need to attract workers to workforce accommodation by addressing the other 12 hours during which they are not working. Regardless of the approach for recruitment and retention, mines and oilfields cannot be relocated – companies must situate the worker with the resource."
To address this problem, Target Logistics, a provider of workforce housing, recently completed the development of its Judson Lodge in Williams County, North Dakota. The first phase opened in October 2012, and the second phase was just completed at the beginning of February.
"We place great importance on the comfort and well-being of our workforce, said Liberty Vice President of Operations Jim Brady in a press release.
In North Dakota, this housing lodge is just one of the projects to help alleviate the exasperated housing problem. Williston, North Dakota, in the heart of the state's oil patch is witnessing soaring housing costs. The area has the highest average rent in the United States, according to Apartment Guide, an online website for apartment hunters.
A 700-square-foot, one bedroom apartment in Williston costs an average of $2,394 a month, which comparatively, would cost $1,504 in the New York area, $1,411 in the Los Angeles area or $1,537 in the Boston area.
The average sale price of a home in the state was $201,991 last year, up from $168,105 in 2011, according to data from the North Dakota Association of Realtors.
"Houses have appreciated statewide and inventory is low in the whole state," said Jill Beck, CEO of the North Dakota Association of Realtors, to the Associated Press. "That comes as a shock to a lot of people."
Moreover, the population of Williston has more than doubled since the 2010 Census, with estimates of more than 30,000 people now within the city's limits.
This demand for housing confirms that quality housing has become more critical as rapid growth has created an increase in projects within remote locations, with high employment allowing workers to be more selective as to where they work.
"The provision of premium accommodations can be an attractant even where operations are close to cities," Chandler stated. "Reports are advising workers seeking jobs in remote operations to proactively ask about prospective employers' housing offerings. They're advised to inquire directly during the interview about specific details of accommodations offered."
"Thus, it behooves those companies to establish a housing edge when competing in the limited talent pool, and to realize the significance of the other 12 hours."