Energy Institute: First US Energy-Focused High School
by Gene Lockard
|
Rigzone Staff
|
Tuesday, February 25, 2014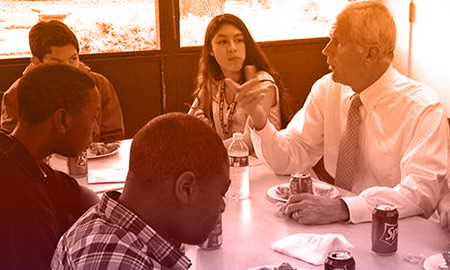 Houston's new Energy Institute High School puts students on an energy career fast-track.
The name says it all: Energy Institute High School, or "Energy" for short. Energy Institute is a magnet school for grade 9-12 students in the Houston Independent School District (HISD) who "have a predisposition for math, science and technology," according to school principal Lori Lambropoulos. The first school of its kind in the nation, the mission of Energy is to prepare students for careers and leadership roles in the STEM disciplines – science, technology, engineering and math – with a particular focus on careers in the energy industry.
The energy industry can certainly use students who are proficient in the STEM disciplines. It is no secret that energy companies are looking for more than just a few good men and women amid the "big crew change." However, while new employees are vital to the energy industry, it needs applicants who are STEM-savvy, and industry-hiring authorities frequently lament the dearth of qualified candidates in the United States.
That is the void the Energy Institute was created to fill. By focusing on the STEM disciplines, and assigning group projects requiring knowledge in those areas, Energy is giving its high-school students a jump start toward an energy industry career. By the time Energy Institute grads are ready for college, they will have a real advantage over students from other high schools. In fact, Energy Institute students may get up to two years of college credit for the work they do in high school.
The concept of the engineering and technology curriculum in use at Energy Institute was previously used only at the college level, Lambropoulos noted, adding that the Energy Institute High School is "a state-of-the-art, cutting-edge school" that is among the first in the country to use corporate-level mathematical and scientific problem-solving simulations.

Energy Institute High School
"Students also benefit from hearing presentations given by guest speakers from the energy industry at least twice a month. That way, students can learn from industry professionals and teachers," Rene Flores, Energy's STEM coordinator, told Rigzone.
The Energy/IPAA Connection
The Energy Institute High School is a special partnership between HISD, which is the seventh largest school district in the United States, and the energy industry. The school's advisory board includes executives from Halliburton Company, Royal Dutch Shell plc, Apache Corp. and other major energy companies. Under the partnership with HISD, the board assists in developing the school's curriculum.
Energy Institute works in partnership with the Independent Petroleum Association of America (IPAA), which is interested in educational outreach and works in partnership with the Petroleum Equipment Suppliers Association (PESA) through the IPAA/PESA Energy Institute in Houston. The IPAA/PESA creates and sponsors the educational initiatives at Energy, and the IPAA sets up the guest speakers for the presentations.
Energy School's Three Tracks
"Energy School offers students three different academic tracks to choose from: Geosciences, Offshore Technology and Energy Alternatives," Flores said. Every student takes energy coursework in one of the three pathways each year.
Regardless of the path that a student chooses, the educational focus is on several key components:
partnerships with energy businesses
technology-infused learning
project-based learning
interdisciplinary learning
21st century skill development
industry and university fieldtrips
mentoring by industry professionals
academic and public speaking competitions
scholarship opportunities
paid externship opportunities
professional and leadership training strategies
engineering and geoscience summer camp programs
The coursework for each of the disciplines is rigorous, according to Energy Institute, and it includes college preparatory, Pre-Advanced Placement (Pre-AP), and Advanced Placement (AP) courses.
Learning is Project-Based
Students at the Energy Institute learn to work as a team, and the learning is project-based. In this kind of environment, which is much closer to a real-world work experience, students learn by doing, investigating and solving problems, according to Flores.
Students are given a multi-week long project at the beginning of a new unit of the class year. They are then given an introduction to the project that is designed to hook them on learning standard-based objectives that are also introduced as part of the project. They then collaborate with their teammates to decide what they know and what they will need to know as a group to successfully complete the project. If a student is unsure about any of the concepts that are needed to complete the project, they can request a workshop – or mini lesson – that focuses on the unfamiliar concepts. Once a project is completed, the students give a professional presentation about their project.
A student who attends the Energy Institute for four years will have worked on 150 different projects in 150 different groups, and given 150 presentations.
This project-based process that students go through is not only a different type of learning than students receive elsewhere, but it's also more effective and more like the model that those in business use. This gives Energy Institute students a distinct advantage over their peers.
High-Tech Comes to the Classroom
The classrooms are modeled after the open-lab concept used at Halliburton and many other energy companies, noted Flores. Large windows on the interior side of the classrooms "open" the classroom to the hallway, and to the classroom across the hall.
"The school doesn't look or function like other schools. We fought hard for the open-lab concept here at Energy. We think it's a key part of the way the school functions, and the students really seem to benefit from it," he said.
Rather than using desks for students, Energy classrooms contain several tables placed strategically within the classroom. The purpose is to allow students to work as a group on projects, which promotes teamwork and collaboration, as well as building self-confidence in the students as they interact with one another.
Often, the students themselves choose to carry this teamwork approach over to the lunch break, Flores noted.
"At lunchtime, many of the students choose to remain in class and eat with the teacher and project group members while asking questions. They are excited about the work they're doing here."
The use of technology is encouraged in the classroom, and students are taught how to make the best use of it, including their smart phones. Because Energy is a recipient of the 2013 Magnet School Assistance Program, it has received millions of dollars for state-of-the-art equipment, and for training sessions for the teachers that are designed to help them improve student learning. As part of the PowerUp 1:1 Initiative, every student is provided a laptop, and have access to iPads in each classroom. If a student forgets to bring the laptop to class, the lessons can be sent from a 70" Smart Interactive TV in each classroom to the student's smart phone.
Energy students also have easy access to microscopes, since there is a microscope for each student, rather than having several students share one.
The use of technology opens up the classroom, essentially turning it into a worldwide classroom, the Energy Institute said.
After class, Energy's students have access to a media lounge, which serves as both a resource center and a research center. In the media lounge, students can collaborate on projects, or simply access digital resources. The idea behind the media lounge is to help keep students engaged and working as part of a team.
Energy Students Weigh-In
One of the first Energy Institute students, Amber Farias, said her father had mentioned to her in the past that a job in the energy industry would be a wise career move. Farias was already interested in environmental science, so when they heard about the new school last year while watching the evening news, they decided to look into it. Amber subsequently became a student when Energy opened in August 2013, and will be among the first graduating seniors one day.
"It's a long drive to the school, but it's worth it," Farias, who lives in another part of Houston, told Rigzone. "I was shy at my last school, but now I'm coming out of my shell. We learn to work with people here as part of a team. It was a little hard at first, since we never did that at my last school, but it's getting easier now. After going to school here, I'll be better prepared for leadership opportunities later."
Farias is interested in alternative fuel sources "as a way to meet future energy demands," and currently plans to attend Rice University.
Another student, Timothy Chung, heard about Energy School after receiving a letter in the mail. Chung was already interested in math and science, and he and his mother liked the idea of an energy high school.
Like Farias, Chung said he is really enjoying the classes and likes the concept of Energy School, and he is now leaning toward a career in engineering.
"I like using a computer and doing design work, so I am considering mechanical engineering, he said, adding that he plans to attend "an Ivy-League school, or maybe the University of Texas or Texas A&M."
While the coursework at the Energy Institute is challenging, the students are there because they want to be there, STEM coordinator Flores said.
Freshman student Farias agreed, saying that she wants the same thing in her college experience and in her career one day that she has now at Energy School.
"I want to enjoy it," she said.
Generated by readers, the comments included herein do not reflect the views and opinions of Rigzone. All comments are subject to editorial review. Off-topic, inappropriate or insulting comments will be removed.