Energy Institute: First US Energy-Focused High School
|
Tuesday, February 25, 2014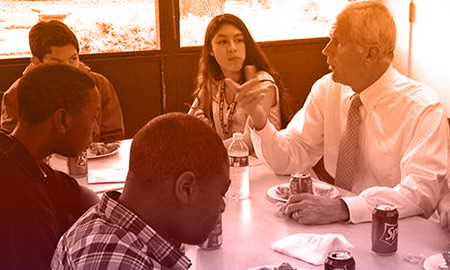 Houston's new Energy Institute High School puts students on an energy career fast-track.
The name says it all: Energy Institute High School, or "Energy" for short. Energy Institute is a magnet school for grade 9-12 students in the Houston Independent School District (HISD) who "have a predisposition for math, science and technology," according to school principal Lori Lambropoulos. The first school of its kind in the nation, the mission of Energy is to prepare students for careers and leadership roles in the STEM disciplines – science, technology, engineering and math – with a particular focus on careers in the energy industry.
The energy industry can certainly use students who are proficient in the STEM disciplines. It is no secret that energy companies are looking for more than just a few good men and women amid the "big crew change." However, while new employees are vital to the energy industry, it needs applicants who are STEM-savvy, and industry-hiring authorities frequently lament the dearth of qualified candidates in the United States.
That is the void the Energy Institute was created to fill. By focusing on the STEM disciplines, and assigning group projects requiring knowledge in those areas, Energy is giving its high-school students a jump start toward an energy industry career. By the time Energy Institute grads are ready for college, they will have a real advantage over students from other high schools. In fact, Energy Institute students may get up to two years of college credit for the work they do in high school.
The concept of the engineering and technology curriculum in use at Energy Institute was previously used only at the college level, Lambropoulos noted, adding that the Energy Institute High School is "a state-of-the-art, cutting-edge school" that is among the first in the country to use corporate-level mathematical and scientific problem-solving simulations.

Energy Institute High School
"Students also benefit from hearing presentations given by guest speakers from the energy industry at least twice a month. That way, students can learn from industry professionals and teachers," Rene Flores, Energy's STEM coordinator, told Rigzone.
The Energy/IPAA Connection
The Energy Institute High School is a special partnership between HISD, which is the seventh largest school district in the United States, and the energy industry. The school's advisory board includes executives from Halliburton Company, Royal Dutch Shell plc, Apache Corp. and other major energy companies. Under the partnership with HISD, the board assists in developing the school's curriculum.
Energy Institute works in partnership with the Independent Petroleum Association of America (IPAA), which is interested in educational outreach and works in partnership with the Petroleum Equipment Suppliers Association (PESA) through the IPAA/PESA Energy Institute in Houston. The IPAA/PESA creates and sponsors the educational initiatives at Energy, and the IPAA sets up the guest speakers for the presentations.
1
2
3
4
5
View Full Article