Musings: Understanding Oil Industry Restructuring Currently Underway
by G. Allen Brooks
|
PPHB LLC
|
Friday, February 21, 2014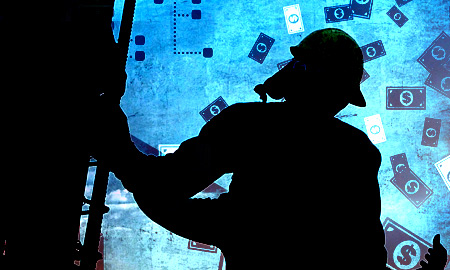 A fallout from the American shale revolution is its impact on the restructuring of the oil industry's business model, G. Allen Brooks examines the changes underway, while focusing on Shell.
This opinion piece presents the opinions of the author.
It does not necessarily reflect the views of Rigzone.
The weak financial results reported by the oil majors for 2013's fourth quarter and full year should be viewed within the context of the industry's structural transition that is likely to last for some time. With the advent of activist shareholders, management changes and financial pressures due to the costs of the shale revolution, companies have been forced to re-examine their business models and corporate focus. Many analysts and investors are narrowly focused on the near-term impact these restructuring steps are having on company cash flows and production growth. While these are important near-term considerations, they should be viewed from a higher level and with a long-term perspective. From that level, the first observation is that the restructuring movement commenced several years ago and it began within smaller companies in this industry group in response to the desire of their managements and boards of directors to improve their corporate performance in light of the more limited capital and investment options they had available. Now, the restructuring movement has moved up the food chain and is being driven by the actions of larger integrated oil companies. The changes they are making are partially in response to how the American shale revolution is impacting the dynamics of the domestic crude oil and natural gas markets, and that are now beginning to impact the petroleum industry globally.
The current obsession on the industry's restructuring actions was driven by the mid-January earnings pre-announcement from Royal Dutch Shell (RDS.A-NYSE), which marked the company's first such earnings miss in a decade. The prior miss was the result of a corporate scandal in the form of an overstatement of oil and gas reserves, which ultimately cost several senior executives their jobs. Shell's press release announcing that its fourth quarter earnings would be $2.9 billion, down 48% from the $5.6 billion earned in the same quarter a year ago, and importantly $1 billion below the consensus analyst estimate, created significant turmoil within the investment community. Shell also said that its 2013 full-year earnings would total approximately $19.5 billion, compared with $25.3 billion in 2012, which reflected a disappointing year.
Effective January1st, Shell now has a new chief executive officer, Ben van Beurden, a 30-year employee of the company and an unconventional choice to run the company given his downstream career. While some investors suggested Shell was merely "kitchen sinking" the bad news to provide a relatively clean slate for the new CEO, Mr. van Beurden said that the company's performance in 2013 was "not what I expect from Shell" and that changes would be made. He went on to tell investors that his focus would be on improving Shell's financial results and "achieving better capital efficiency," code words for re-establishing an earnings growth trajectory. It is also code for cutting and re-ordering capital spending, streamlining the business and shifting priorities, which probably got employee attention.
Subsequent to the earnings warning, the financial media began evaluating the performance of the major oil companies. This led to several articles about the challenges major oil companies were encountering in managing their mega-projects needed to increase their oil and gas output. Many of these high-profile projects have been the subject of corporate reviews over the past six months due to cost-overruns that are raising questions about the projects' financial viability. Chevron's (CVX-NYSE) Gorgon project off the coast of Australia to produce and export liquefied natural gas (LNG) and co-owned with ExxonMobil (XOM-NYSE) and Royal Dutch Shell, has seen its cost estimate escalate from the original budget of $38 billion to $54 billion, a roughly 45% increase. This is only one mega-project, but the oil majors have seen similar cost escalations at other mega-projects around the world driven by labor shortages, regulatory requirements and delays, and bad weather.
The surprise announcement last May that Shell CEO Peter Voser, the company's former chief financial officer, would retire at the end of 2013 after less than four years at the helm set in motion not only a search for a new chief executive but also a high-level review of the company's investment performance and capital spending plans. Mr. Voser was highly regarded by investors as Shell had outperformed all but one of its oil company peers since he became CEO. In July, Shell's directors surprised the investing community by naming Mr. van Beurden the new CEO. He was the head of Shell's refining operations and had been a decade-long head of its chemicals operations, but he had also held a position for two years evaluating and trying to improve the operating performance of downstream operations. In anticipation of taking over, Mr. van Beurden spearheaded a review of Shell's capital investment plans including a proposed gas-to-liquids plant targeted for Louisiana that was canceled and its investment in Arrow, a LNG project in Australia that was deferred. A decision about constructing a petrochemical plant in the U.S. Northeast to capitalize on the growing gas and liquids output from the Marcellus and Utica formations was postponed.
When Shell reported its earnings, Mr. van Beurden announced a change in direction for the company, partially reflecting the company's capital spending review and clearly a statement about its view of the company's needs for the future. Shell will curb its spending, temper its growth plans, increase divestments and restructure parts of the business. At the same time, Shell's confidence in the future was reflected by the decision to increase its dividend by 4%. At the same time, however, the company cut total capital spending 20% below 2013's level and targeted increasing organic investment by 8% to $35 billion. The company is stepping up its divestment program with plans to sell an additional $15 billion of assets during 2014 and 2015.
1
2
3
View Full Article
Generated by readers, the comments included herein do not reflect the views and opinions of Rigzone. All comments are subject to editorial review. Off-topic, inappropriate or insulting comments will be removed.
MORE FROM THIS AUTHOR
G. Allen Brooks
Managing Director, PPHB LP