Houston College Masters Programs Prepare Future Energy Executives
by Gene Lockard
|
Rigzone Staff
|
Thursday, February 20, 2014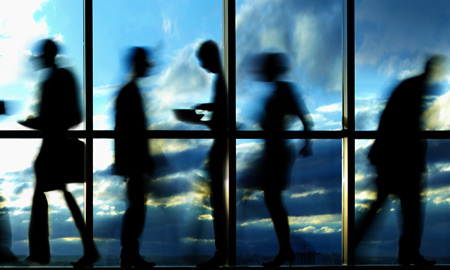 UH's energy-focused Bauer College of Business Administration and Rice's Jones Graduate School of Business prepare tomorrow's energy executives.
To prepare energy executives to navigate the myriad challenges faced by the oil and gas industry, and to provide them with the opportunity to broaden their scope while increasing their knowledge and skills, two Houston colleges – the University of Houston and Rice University – are offering energy-focused graduate programs in business administration.
The challenges faced by the energy industry today are significant, and include sustainability issues, how to identify the next oil and gas frontiers, and how to manage the transfer of experience and intellectual capital to a new generation of workers as those in the Baby Boom generation continue to retire out of the industry.
In 2002, Bauer began offering energy sector programs for graduates, and its Global Executive MBA (GEMBA) program was Houston's first Energy MBA.
Alumni of Bauer College are heavily represented in the energy industry, according to John Reinert, Bauer College assistant dean for graduate and professional programs. For example, at Centerpoint Energy, one of the largest utility companies in the nation, there are nearly 500 alums from UH, many of them Bauer College graduates, according to Dimitri Karastamatis, Centerpoint's general manager of Mobile Energy Solutions, Inc. These UH alums have their own alumnus organization, and they've already provided 2 endowments for UH and are working on a third, Karastamatis noted.
The University of Houston's Bauer College began in 1942 as the College of Business Administration. A name change occurred in 2000, following a $40 million donation by Charles Ted Bauer. The Bauer College offers business degrees at the undergraduate, masters and doctoral levels.
The programs offer students a real-world educational platform, and are designed not only to prepare students to meet the needs of industry, but also to prepare them to become the global business leaders of tomorrow, according to Reinert.
Rather than have using visiting professors, Bauer College uses professors who live in the Houston area. The professors are drawn from the ranks of business leaders who are familiar with industry needs, Reinert noted.
Bauer is launching another GEMBA program in the Woodlands this August to complement its existing GEMBA offerings. The new program was initiated after input from the energy industry, and follows an analysis by UH and the South Montgomery County Economy Partnership, which identified demand for the program, Reinert said.
More than 30 energy courses in business will be offered in the GEMBA program. This program will focus on preparing energy executives to be global leaders within the industry. Management skills and real-world problem solving in a global environment are a major focus of this program.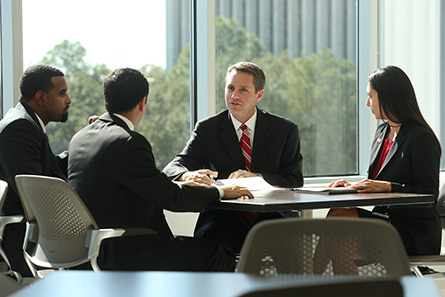 A Bauer College professor meets with MBA students. Source: Photo Courtesy of the C.T. Bauer College of Business at the University of Houston
The new GEMBA program was designed to meet the demands of existing energy professionals. A student in the GEMBA program will have a minimum of 7 years of work experience, although a typical student will have 12-15 years of work experience, Reinert said.
The program was designed to be convenient for working students, and will be held at the UH facility in the Woodlands, north of Houston. GEMBA also provides students with exposure to international culture during the week-long International Business Residency (IBR).
Rice's Energy and Environment Initiative
South of the Houston's central business district is Rice University, where Rice MBAs focusing on energy attend classes on fiscal, environmental and geopolitical issues within the Jones Graduate School of Business' Concentration in Energy.
Rice graduate students in the MBA for Executives program have at least 10 years of management experience and are seeking to improve their executive-level business decisions, according to Rice. The average executive program graduate student is about 37 years old and has 14 years of experience. Nearly a quarter of the current executive program graduate students are female.
Rice announced its Energy and Environment Initiative (E2I) in September 2012. The school said in a release that the initiative is "one of the broadest faculty initiatives in its history."
The initiative is a "sweeping plan to support interdisciplinary research that will draw experts from every corner of the university to work with Houston's energy industry to overcome barriers to the sustainable development and use of current and alternative forms of energy," according to the school.
E2I recognizes the need to protect the environment while also addressing the rising need for energy, David Leebron, Rice University president, added in the release.
"Not only will we explore issues related to the safe harvesting and use of traditional hydrocarbons, but also advance the next generation of energy sources, from biofuels to solar."
"E2I sprang partly from a realization that Rice is already doing excellent energy-related research and education," Rice provost George McLendon said. "We have significant federal support for research on topics as diverse as enhanced oil recovery, carbon sequestration and next-generation solar power."
Rice works in collaboration with a number of industry partners, including Royal Dutch Shell plc, Chevron Corp., Exxon Mobil Corp., BP plc, Total S.A., Baker Hughes Inc., Schlumberger Ltd. and Apache Corp.
A primary focus of E2I are the diverse issues encountered in managing today's reliance on fossil fuels while getting ready for a future that will depend on both conventional and alternative sources of energy, McLendon said.
An early focus of E2I is the enhanced discovery and recovery of hydrocarbons in conventional and unconventional formations, and in the water processing that is a part of the fracking process.
Generated by readers, the comments included herein do not reflect the views and opinions of Rigzone. All comments are subject to editorial review. Off-topic, inappropriate or insulting comments will be removed.