Interest in Oil and Gas Mergers, Acquisitions to Continue in 2014
by Karen Boman
|
Rigzone Staff
|
Friday, January 31, 2014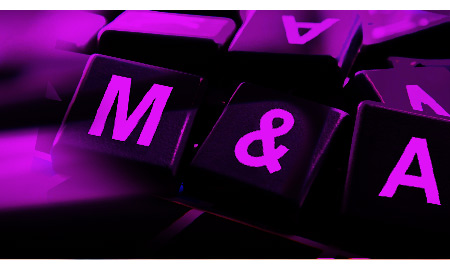 Interest in merger and acquisition (M&A) activity will likely continue in the oil and gas sector during 2014 as oil and gas companies keep focusing on sustained growth and maximizing shareholder value, PwC experts said in a recent analysis report.
Accelerated M&A activity was seen in the U.S. oil and gas industry last year, PwC experts noted, and a strong uptick in the last three months of 2013 resulted in 182 total deals accounting for $115.9 billion in total deal value for 2013.
Fifty-one oil and gas deals valued at more than $50 million were carried out in the last three months of 2013. These deals accounted for $41.7 billion in deal value, 154 percent higher than the deal value of 43 deals worth $16.4 billion in third quarter 2013.
However, fourth quarter deal volume was down by 36 percent from fourth quarter 2012, while deal value fell 29 percent during the same time period. PwC analysts attributed the decline in value and volume in the recent quarter to the impact of pending U.S. tax law changes on fourth quarter 2012 deal activity. Overall deal volume for 2013 declined from 212 deals worth $152.8 billion in 2012.
Capital gains rates and upper bracket individual tax rates increased in 2013. Many owners potentially impacted by these changes acted in 2012 by selling before the tax law changes took effect at the beginning of 2013.
"As a result, transaction volumes in the fourth quarter of 2012 (and for the full year 2012) were favorably influenced by this seller behavior. Conversely, transaction volumes in the first quarter of 2013 (and for the full year 2013) were negatively impacted," PwC told Rigzone in an email statement.
Upstream deals accounted for 59 percent of activity in the fourth quarter of 2013 with 30 transactions, representing $19.8 billion, or 47 percent of total fourth quarter deal value. Ten upstream oil deals were reported for the fourth quarter, compared to four gas deals in the quarter. There were nine midstream deals that contributed $14.1 billion, a 994 percent increase in deal value from the third quarter of 2013. Seven downstream deals during the fourth quarter of 2013 added $4 billion, while oilfield services contributed five deals worth $3.7 billion.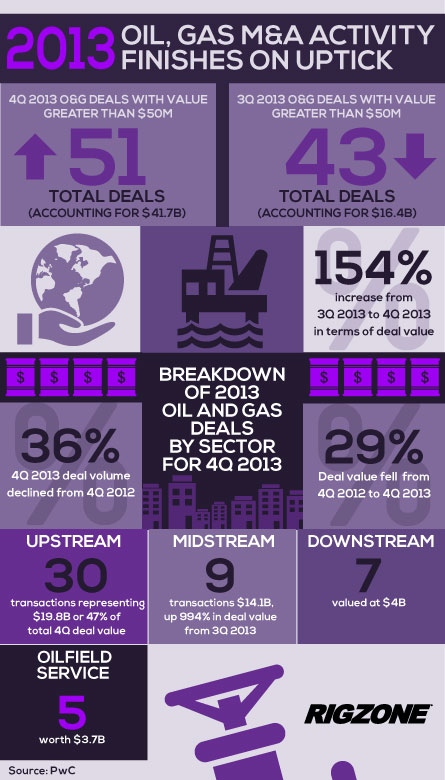 1
2
3
4
View Full Article
Generated by readers, the comments included herein do not reflect the views and opinions of Rigzone. All comments are subject to editorial review. Off-topic, inappropriate or insulting comments will be removed.