Obama Touts Natural Gas, Industry Tax Cuts in SOTU Speech
by Karen Boman
|
Rigzone Staff
|
Wednesday, January 29, 2014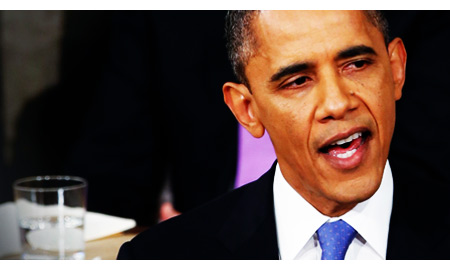 President Obama touted the benefits of natural gas as a bridge fuel and highlighted the nation's growing oil and gas production, but failed to address controversial topics such as the delay in approving the Keystone XL pipeline, crude oil exports and pipeline safety.
Saying that 2014 could be a breakthrough year for America, President Obama said the nation was better positioned "after five years of grit and determined effort" for the 21st century than any other nation on Earth. The president argued that progress has been made in the U.S. economy recovery, with the U.S. unemployment rate the lowest seen in over five years, a rebounding housing market, and job creation in U.S. manufacturing for the first time since the 1990s.
Corporate profits and stock prices are also up, but average wages have barely budged, the president noted. In his speech, he outlined his strategy for fostering job creation as well as addressing income inequality. These plans include the launch of six more high-tech manufacturing this year; two hubs have already been launched in Raleigh, North Carolina and Youngstown, Ohio.
Obama also discussed plans to help entrepreneurs and small business owners and to repeal cuts made last year in the U.S. budget for basic technology research. He also cited the need to fix the United States' immigration as a means of promoting economic growth. Better access to job training and education also are among Obama's proposals for promoting economic and job growth.
The president avoided discussion of pressing energy-related topics, such as the delayed approval of the Keystone XL pipeline, crude oil exports or pipeline safety, but noted that the United States' "all of the above" energy strategy is working. Obama said that the surge in oil and gas production in the United States – and greater fuel efficiency of U.S.-made cars – has moved the country closer to being energy independent. He noted that, for the first time in nearly 20 years, the amount of oil produced in the United States is greater than the amount the U.S. imports from overseas.
1
2
3
4
5
6
7
8
9
View Full Article
Generated by readers, the comments included herein do not reflect the views and opinions of Rigzone. All comments are subject to editorial review. Off-topic, inappropriate or insulting comments will be removed.