US Energy Companies Poised to Benefit from Mexico Energy Reform
by Karen Boman
|
Rigzone Staff
|
Thursday, January 30, 2014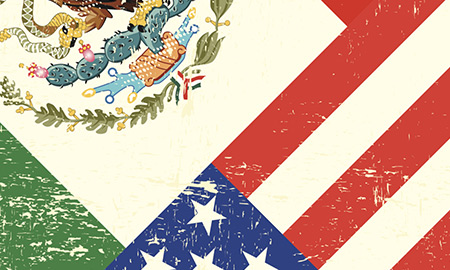 US energy companies are positioned to benefit from Mexico's energy reform, analysts say.
Mexico's energy reforms will create "abundant opportunities" for U.S. energy companies and shrink the socioeconomic disparities between Texas' booming metro areas and its border cities, according to the latest BBVA Compass research.
"The 2013 reform promises to create abundant opportunities for private companies that have the technology and expertise to revive Mexico's hydrocarbons and electricity industries," BBVA Compass economist Marcial Nava wrote in his report on the reforms.
Under the reform, the state would retain ownership of hydrocarbons beneath the surface and Petroleos Mexicanos (PEMEX) and Comision Federal de Electricidad (CFE) would not be privatized. However, the new legal framework would allow the ownership of hydrocarbons at the wellhead through profit-sharing, production sharing and license sharing contracts. BBVA Compass estimates that the reform could increase private direct investment inflows into Mexico by $20 billion to $30 billion per year, or 1.5 to 2.3 percent of Mexico's gross domestic product.
While secondary laws are still needed to translate the reforms into a workable framework and legal processes, U.S. oilfield services, shale gas and infrastructure companies, among others, stand to benefit from the reforms, Nava said in the Jan. 22 report.
Deepwater will likely receive the initial influx of private investment; these inflows should start to arrive later this year or in 2015 if the framework and legal processes required to carry out the reform are implemented this year.
PEMEX will have the right to determine what acreage it wants, and the Energy Ministry (SENR) will determine whether it can keep assets based on whether PEMEX has the technical and financial resources to develop them. This process began immediately after the reform legislation was ratified and will continue through this year. PEMEX will retain over 50 percent of the acreage.
Once the secondary laws and Round Zero is allocated, PEMEX and private joint venture partners are expected to bid two years from now deepwater and ultra-deepwater Gulf of Mexico fields and Mexico's onshore shale resources in north and east-central Mexico under the same rules and tax treatments.
1
2
3
4
View Full Article
Generated by readers, the comments included herein do not reflect the views and opinions of Rigzone. All comments are subject to editorial review. Off-topic, inappropriate or insulting comments will be removed.