US Energy Companies Poised to Benefit from Mexico Energy Reform
by Karen Boman
|
Rigzone Staff
|
Thursday, January 30, 2014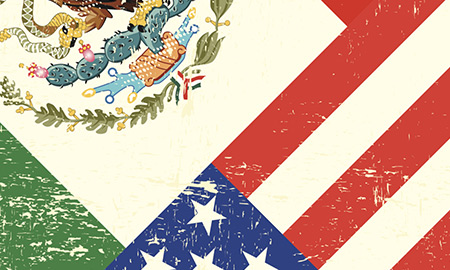 US energy companies are positioned to benefit from Mexico's energy reform, analysts say.
Mexico's energy reforms will create "abundant opportunities" for U.S. energy companies and shrink the socioeconomic disparities between Texas' booming metro areas and its border cities, according to the latest BBVA Compass research.
"The 2013 reform promises to create abundant opportunities for private companies that have the technology and expertise to revive Mexico's hydrocarbons and electricity industries," BBVA Compass economist Marcial Nava wrote in his report on the reforms.
Under the reform, the state would retain ownership of hydrocarbons beneath the surface and Petroleos Mexicanos (PEMEX) and Comision Federal de Electricidad (CFE) would not be privatized. However, the new legal framework would allow the ownership of hydrocarbons at the wellhead through profit-sharing, production sharing and license sharing contracts. BBVA Compass estimates that the reform could increase private direct investment inflows into Mexico by $20 billion to $30 billion per year, or 1.5 to 2.3 percent of Mexico's gross domestic product.
While secondary laws are still needed to translate the reforms into a workable framework and legal processes, U.S. oilfield services, shale gas and infrastructure companies, among others, stand to benefit from the reforms, Nava said in the Jan. 22 report.
Deepwater will likely receive the initial influx of private investment; these inflows should start to arrive later this year or in 2015 if the framework and legal processes required to carry out the reform are implemented this year.
PEMEX will have the right to determine what acreage it wants, and the Energy Ministry (SENR) will determine whether it can keep assets based on whether PEMEX has the technical and financial resources to develop them. This process began immediately after the reform legislation was ratified and will continue through this year. PEMEX will retain over 50 percent of the acreage.
Once the secondary laws and Round Zero is allocated, PEMEX and private joint venture partners are expected to bid two years from now deepwater and ultra-deepwater Gulf of Mexico fields and Mexico's onshore shale resources in north and east-central Mexico under the same rules and tax treatments.
Mexico has the sixth largest technically recoverable reserve of shale gas and the eight largest technically recoverable reserve of shale oil in the world, but its deepwater and shale reserves are literally unexplored. BBVA Compass noted that the country has less than 5 percent of total deep water rigs in the Gulf of Mexico, while in 2012 it authorized the drilling of 3 shale oil and gas wells. In the same year, 9,100 wells were authorized in the United States.
Major oil companies that could be immediate contenders in Mexico's deepwater following reform Exxon Mobil Corp., BP plc, Chevron Corp., Hess Corp., and Anadarko Petroleum Corp. Oilfield service companies that could benefit from deepwater activity include Diamond Offshore Drilling Inc., FMC Technologies, Seadrill Ltd., Transocean Ltd., Baker Hughes Inc., Schlumberger Ltd. and National Oilwell Varco.
EOG Resources Inc., ConocoPhillips and Chesapeake Energy Corp. are among the companies that could lead Mexico's shale gas transformation. The portion of the Eagle Ford Shale formation that extends into Mexico is part of the Burgos Basin, where technically recoverable shale gas is currently projected at 343 trillion cubic feet, two thirds of Mexico's technically recoverable shale gas resources. Sabinas, Tampico, and Veracruz Basins account for most of the remaining reserves.
Nava predicts the reforms will pump around $1.2 trillion to the Texas-Northern Mexico region in the next decade. In the United States, Mexico's reforms will create faster growth, helping to narrow the socio-economic disparities between Texas' border cities and metro areas like Houston, Dallas and Austin.
"If these border towns effectively seize the opportunity," Nava said, the U.S.-Mexico border "could see one of the most dramatic transformations in its history."
Demand Seen for Geoscience Professionals for Future Mexico Activity
While specific numbers remain known at this point, NES Global Talent sees high demand for workers with a background in geosciences, such as geophysicists and geologists, for both offshore and land exploration, following the passage of Mexico's energy reform last December, Carolyn Stewart, regional business development manager with NES Global Talent, said in an interview with Rigzone.
The lack of financial resources and manpower has prevented PEMEX from fully exploring its oil reserves; geoscience workers will be needed to better estimate the amount of untapped resources in Mexico.
Like the United States, Mexico is experiencing a shortage of engineers in certain age groups. The nation will need to invest in the training of more engineers to make up for the shortage of engineers with 10 to 15 and 15 to 20 years of experience, Stewart noted. PEMEX and other companies have told NES that they have already started to invest in training programs to develop local content.
In terms of infrastructure, an exact date is unknown as to when demand for workers and services to set up onshore shale operations will pick up. However, this demand spike could occur next year, as PEMEX has until the end of 2014 to select fields. Private, foreign companies interested in investing in Mexico's energy sector will face challenges in security and infrastructure. Companies operating in northern Mexico will need to be mindful of security not only for their workers, but for vandalism of infrastructure such as pipelines, Stewart noted. Private foreign companies will also have to contend with local content requirements, with an expected push for hiring Mexican citizens and for Mexican workers returning from overseas jobs to their native country.
If project life-cycle is considered, Mexico could see demand increase for workers from the pre-front-end engineering and design stage through commissioning, which would include roles such as project controls, design, health safety and environment, construction and commissioning, Stewart said.
Spillover to Mexican households in the form of lower energy prices and more jobs will greatly benefit both Mexico and the United States. According to the Mexican government, the reform could create 2.5 million jobs by 2025 while BBVA Research estimates that Mexico's long-term GDP could increase by 1 to 1.5 percent as a result of the reform. More jobs in Mexico will also translate into higher demand for U.S. goods and services and further reduce incentives to immigrate to the United States.
From a regional perspective, the benefits could also be significant considering the multiplier effect of energy investments. Some studies suggest that in the United States, one job created in the unconventional oil and gas industry supports four more indirect and induced jobs, BBVA Compass noted.
"This implies that opportunities for oil and gas companies will also translate in opportunities for other businesses in manufacturing, mining, and services, particularly those that are energy-intensive. This could also boost government revenues. Lower energy prices will reduce the need for electricity subsidies. This will ease pressures on public finances which remain one if not Mexico's largest economic weakness," said BBVA Compass in the report.
Private, foreign companies interested in investing in Mexico's energy sector will face challenges in security and infrastructure. Companies operating in northern Mexico will need to be mindful of security not only for their workers, but for vandalism of infrastructure such as pipelines, Stewart noted.
Other sources of uncertainty could affect the expected benefits of reform. The surge in unconventional shale gas exploration in the United States created a supply surplus that depressed U.S. gas prices, raising the question of whether Mexico's shale exploration projects would be as attractive to U.S. investors, BBVA Compass noted. The incentive to make significant financial investments in Mexico's deepwater oil fields could decline as oil production increases in other parts of the world could create oversupply, and automobile technology could significantly reduce hydrocarbon demand.
"Forming reasonable expectations is crucial for private companies interested in Mexico's energy industry," BBVA Compass noted. "Mexico's complex business environment highlights the need to continue improving the institutional framework, which in turn could enhance the potential of the energy reform. Therefore, prudency should be favored over excessive enthusiasm."
Generated by readers, the comments included herein do not reflect the views and opinions of Rigzone. All comments are subject to editorial review. Off-topic, inappropriate or insulting comments will be removed.