Women Who Shine: Q&A with Cindy Bigner
|
Monday, January 27, 2014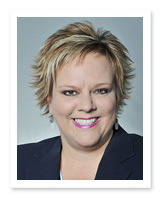 Cindy Bigner, Halliburton's Sr. Director, Corporate Affairs & Diversity Initiatives
Cindy Bigner, Halliburton's Sr. Director of Corporate Affairs & Diversity Initiatives focuses on using the company's talent-management processes and systems to implement global diversity and inclusion plans. With more than three decades of experience in human resources, Bigner has worked in a variety of areas that includes corporate, field operations and two international assignments.
Prior to coming to Houston, Bigner oversaw a project that streamlined and implemented human resource processes that contributed to the HR team in the Eastern Hemisphere, where she spent five years in both Cairo and Dubai as the Director of Eastern Hemisphere HR.
Bigner holds a masters degree in Global Human Resources Management from the University of Liverpool. She is a member of the Society of Human Resource Management, Halliburton's Educational Advisory Board, a Member of Women in Energy and a member of Diversity Board for LSU Baton Rouge.
Rigzone: You are in charge of the company's global diversity and inclusion plans. That sounds like a tough objective given how diverse and large Halliburton is. Please discuss.
Bigner: Halliburton is a leading energy services company with 75,000 employees working in 80 countries. Our employees speak more than 200 languages, and they range from field operators to engineers, scientists and managers.
This variety creates great opportunities for us to build diversity and inclusion into all aspects of our business. Fortunately, our senior management is solidly behind this effort, and we hold our leaders across all of our business units in all countries accountable for support and ownership of our diversity targets.
1
2
3
View Full Article