Women Who Shine: Q&A with Margareth Ovrum
|
Friday, January 24, 2014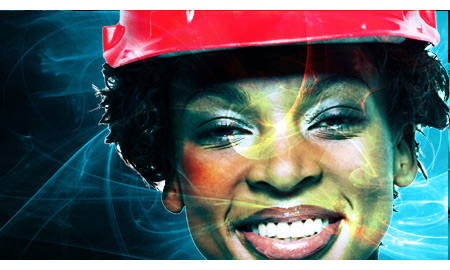 With more than 30 years of energy industry experience, Margareth Ovrum is a key member of Statoil ASA's executive team. She has worked for the company since 1982 and has held central management position within the company, including the position of executive vice president for health, safety and the environment.
She was the first female platform manager of one of the company's oldest fields in the North Sea – Gullfaks. That experience coupled with her depth and knowledge of technology has propelled her career, earning her a seat at the company's corporate executive committee, and being the only female to do so.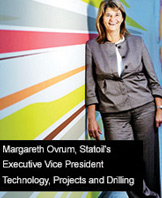 Ovrum recently visited Houston and sat down with Rigzone to discuss her thoughts and experience and how more women can get involved in the energy industry.
Rigzone: You've held several central management positions in the company, including the position of executive vice president for Health, Safety and Environment (HSE), which plays a vital role in the industry. What did you learn during that time and how did it shape who you are today?
Ovrum: Continuous focus on HSE is vital for our industry. It is hard work and we can never rest on our laurels. As a leader, it is important to drive improvement while constantly thinking about it, as well as being committed, involved and a motivator when it comes to HSE.
I have held several management positions both within technological areas and in operations offshore. Unfortunately, I have experienced accidents in my leadership career, and although all accidents should have been avoided, once it has happened, it is important to draw lessons out of the experience to understand and manage risk even better.
As a leader, I have also experienced fatalities. To meet a relative of someone who has been exposed to a serious incident with a tragic outcome does something to you as a human being. I know that I have to do everything in my power to prevent a tragic incident from ever happening again. And to achieve this goal, I have to even better understand and manage risk in this business.
Rigzone: What needs to happen in the HSE sector for people that aren't involved with energy get on board with energy? How can the industry do a better job of spinning a positive image of oil and gas?
Ovrum: Within Statoil, to operate in a safe and efficient way - is the foundation for having the license to operate! It is all about understanding and managing risk in an efficient way; to create awareness of health and safety is an important foundation for any business.
At Statoil, we have a good foundation but need to focus on constantly improving to be Industry leading, and we have a systematic approach to fulfill this goal.
That approach is:
Structural: To have technical integrity with clear roles and responsibilities listed
Cultural: To create a systematic building of culture by two ways: a risk-based approach and fact-based risk assessment; and then to establish knowledge before entering into new areas (e.g. the Arctic)
Training: To continue to train and provide education to our employees
And in order for us to be industry leaders, Statoil cannot act alone. So we have to collaborate with vendors, partners and safety authorities, and it is important for all businesses to understand and create awareness of HSE and understand that HSE is an important foundation.Ultimately, to understand and manage risk in a good way is central, for any business.
Rigzone: You were the company's first female platform manager on Gullfaks – how was that experience? And what's the biggest lesson you learned during that time?
Ovrum: Before taking on the position of platform manager, I did a rotation in various positions on a number of platforms. I worked in well operations, drilling and production. And for a period, I also had the position of being the production and maintenance manager on the Gullfaks A platform in the North Sea.
In addition to Statoil installations, I was also seconded to Royal Dutch Shell plc, Total S.A. (Elf at that time) and Exxon Mobil, on some of their platforms. By doing this, I was exposed to and learned about various disciplines and platforms.
I also worked in various positions onshore prior to, and in between the offshore positions. Thus, taking on the platform manager role wasn't that scary for me as I was quite familiar with both the atmosphere and the tasks. In Statoil I was, at that time, also the youngest to become a platform manager. Because I never planned my career, I was open to change, and looking back, I know that my manager was brave when he chose to promote me for that position.
Also, I like challenges and never decline to take them on, and at the time of my promotion, I was very excited when I was asked to take the offshore role. To me it was, and still is, vital to gain respect and trust through demonstrating my attitude, competence and leadership.
For example, the company experienced a gas leak while I was platform manager on Gullfaks A, which is a situation that is regarded and treated as high risk because of its severity. This happened during a period when too many undesirable incidents were occurring and garnering a lot of media attention, with many critical voices both from inside and outside the company. I was asked to represent Statoil at a press conference to explain the situation and I felt very alone. As if I was carrying the image of the company on my shoulders.
But what pulled me through that situation was experience. I had witnessed first-hand how my team and the rest of the employees within our organization's training made us handle the gas leak situation and very quickly regain control. The gas leak, of course, was undesirable, but overall it was a very valuable and strengthening experience. I strongly believe in Statoil's ability to both identify and handle risk.
Rigzone: Technological innovation has played a key role in the energy renaissance in the United States. Discuss your current role and new technology you have witnessed lately.
Ovrum: Statoil is a technological focused upstream company - technology is in our DNA. We have for more than 40 years taken the lead and pushed for innovative thinking that is centred on technology development. We dare to take the first steps and dare to be the first company to do so!
We collaborate with partners and the industry and have an open approach towards innovation and sharing. Our innovative muscle and ability to develop and implement technology has been a key success factor for Statoil since 1972, and will help us push through the industry's newest challenges and a different business environment - deeper waters, operating longer from shore, in harsher areas, dealing with even more unconventional resources in a tougher, competitive market while margins are lower.
Technology will be increasingly important to ensure access and value creation in the future, but the upside potential depends on our innovative use of technology. This is not only about new technology, but also new ways to implement technology. There is often a big element of innovation in standardization, i.e. fast track.
Also, Statoil has a firm technology strategy that supports the corporate strategy. It sets the strategic direction for technology development and imple­mentation to meet the corporate ambitions.
New technologies that we are currently working on include:
Åsgard subsea compression which will start up in 2015. It has been a goal for the industry for 30 years and is the missing link to the subsea factory. It will increase recovery from gas fields.
Remote hot tap. Statoil is behind the development of new technology that will make it possible to tie-in to a pipe on the seabed, while it is in operation, without divers and without preparing the pipe for it. Overall, it is safe and cost efficient. This practice was a successful operation on Åsgard in 2012 and was awarded Offshore Technology Conference's spotlight on technology-prize in 2013.
Rigzone: Statoil has a wonderful reputation in the industry and is known for cutting-edge technological innovation on its mature assets. Please discuss.
Ovrum: I appreciate that we are acknowledged for our efforts – and I am proud of how we work with technology to further develop our mature assets. The Statfjord A platform in the North Sea is a prime example of our technological know-how. We are now extending production from the platform until 2020 on our oldest platform - it started production back in 1979!
That extension means that Statfjord A will still be in operation when the new giant Johan Sverdrup comes on stream. And, the lifetime extension of Statfjord A is a result of the successful Statfjord late life project and subsequent extensive Increased Oil Recovery (IOR) work and technical assessments (e.g. changing the drainage strategy from water injection to depressurization, which increases gas production).
Furthermore, technology is the key to increase recovery, and Statoil works every single day to increase the recovery rate of our fields. We aim at increasing oil recovery throughout the whole value chain – from reservoir to platform. We have a large toolbox containing many different tools that can be used together or individually, such as improved reservoir models; drilling precise wells; water and gas injection; 4D seismic; permanent reservoir monitoring; and multilateral wells.
The enhancement of subsea technology forms an important part of increased recovery on our subsea fields. The compression of gas on the seabed is something completely new – and an efficient tool for increased recovery.
Overall, about 3,000 people in Statoil are working on projects every single day to extract the maximum from our fields. We have 300 on-going projects aimed at increasing recovery from our fields, and we have increased the average recovery rate from our fields from 30 percent in the original plans submitted to the authorities (Plan for Development and Operation - PDO) to an average of 50 percent. This is equivalent to 7.5 billion barrels of oil.
On average, only about 35 percent of the oil present internationally is recovered. So 50 percent is something we are proud of and will build further upon.
There are several reasons why we manage to recover so much. For many years, Statoil has developed, tested and adopted new technology to increase the recovery from our fields. Half of all our research efforts (50 percent of NOK 2.8 billion in 2012) are aimed at increasing recovery. We have worked together with our partners, the academic community and the supplier industry to achieve increased recovery, while demanding authorities and partners have pushed us even further.
Rigzone: Like the Gulf of Mexico, the North Sea is considered a mature area but discoveries are still being made. Do you think this is just the beginning for what's to come in the North Sea? And how will the Arctic play a role in the coming years?
Ovrum: The Norwegian Continental Shelf is the backbone of our company. We do not see a sunset future even in the most mature part of the NCS, the North Sea, towards 2020.
We can attest to this through our new discoveries. The discoveries in the Utsira area (Edvard Grieg, Ivar Aasen and Johan Sverdrup) and the ongoing development of Gudrun and Gina Krog, have definitely revitalized the North Sea.
Due to this positive development we believe that the present production from the North Sea of 880,000 barrels per day will be maintained at a similar level in 2020. And we feel that the Johan Sverdrup field will aid in this goal. The field is the sum of 40 years of development and activities on the Norwegian shelf, and has a production horizon extending beyond 2050!
Another area worth noting is tie-ins. In addition to our portfolio of large projects, we have a number of smaller projects ongoing, typically subsea tie-in projects. The fast-track initiative was launched in 2010 with the objective to expedite project execution and reduce investment cost through simplification and standardization.
At present, Statoil has 12 fast-track projects ongoing. Each project may be small; however, in total they contribute significantly to our portfolio of new production, more than 100,000 barrels per day towards 2014.
IOR also plays a key role in our business. We have passed a major milestone in IOR: we stand to recover more than half of the oil in our NCS reservoirs. The average in the world is 35 percent. Our ambition is to increase the average oil recovery of our NCS operated fields from the present level of 50 percent to 60 percent.
In order to avoid any misunderstanding, I would like to be clear on three basic issues connected to this ambition:
First, the ambition is value driven not volume driven. We will not engage in IOR projects that do not add value and our IOR projects are highly profitable.
Second, this is a long-term goal. We expect gradual increases via incremental steps.
Third, the major part of this ambition will be realized after 2020 and 60 percent recovery will require continued technology development.
As for the Arctic, we are a key player in this region and will remain so. We are well positioned for long-term growth in the Arctic. We have a strong technology base and unique experience from operating in harsh conditions on the NCS. Statoil has more experience in the Barents Sea than any other company. This means that we are strongly positioned to move further north into the Arctic. What makes the Arctic different from more temperate marine environments is the presence of ice, extremely low temperatures, long periods of darkness and the remoteness of the region. There is a large resource potential in the Arctic, but most of the resources will only play a role in the long-term energy supply picture.
The only new production we foresee before 2020 is from already discovered fields like Johan Castberg, formerly Skrugard, in the Norwegian Barents Sea and the likes of Hebron offshore Newfoundland.
The rest of the Arctic is most likely to be dominated by exploration in the same timeframe. Potential oil and gas production from areas like offshore Alaska and the Russian offshore Arctic are not expected to play a role until after 2025. This fits well with Statoil's stepwise and sustainable approach to the Arctic.
Rigzone: How can we get younger women excited about the energy industry?
Ovrum: For younger people, if we highlight the opportunities in the industry, very early, and create interest through topics and challenges while displaying a wider picture of the business, then we can create enthusiasm. We have to deliver results to this generation and provide dimensions, such as HSE, production, people development, Corporate Social Responsibility and industry development.
We also need to be good role models and leaders and mentor our youth by providing opportunities for further development of individuals.
Dare to take chances and to stick their head out. Be clear on ambitions but still show open mindedness; build networks and identify potential career "sponsors".
Rigzone: What are your thoughts on the lack of STEM skills that's plaguing the industry worldwide?
Ovrum: The success of our industry depends on knowledge of Science, Technology, Engineering and Math (STEM). Lack of qualified individuals who are able to work in key fields, including engineering, technology and science, will hinder our competitiveness. We have the opportunity and responsibility to instill in students a passion for discovery, learning and engagement both in and out of the classroom. For Statoil this responsibility is primarily related to future internal competence need, but also for partners, suppliers and the society in general.
Statoil has initiated and take part in various initiatives aiming at increasing children's and youth's interest for STEM, under the sponsoring umbrella Heroes of tomorrow (which also includes sponsor programs for culture and sports talents). It is very rewarding and inspiring to meet young talents of all kind, that are determined to make a difference through pursuing their interests.