UH Dives Deep to Advance Subsea Engineering
by Gene Lockard
|
Rigzone Staff
|
Thursday, January 09, 2014
Unconventional plays have become so common and have been met with such widespread acceptance that they are no longer unconventional. However, the industry is already looking ahead to what comes next. What – or more precisely, where – is the future of the oil and gas industry? Many in the industry seem to agree that the subsea environment is the next frontier, and the University of Houston (UH), through networking, research and science, is bringing that frontier a little closer.
In recognition of the importance of what lies below the bottom of the sea, three students at the University of Houston's (UH) Cullen College of Engineering – Nebolisa Egbunike, a UH graduate student in the subsea master's degree program, and co-founders Ewaen Ogiefo, the first graduate of the subsea master's program, and Ademola Oladinni – formed the first U.S. professional subsea engineering program in 2013. The Subsea Engineering Society was created to fill the growing need for information sharing and networking within the subsea community.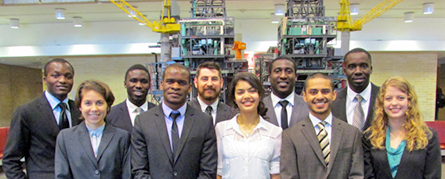 The Subsea Exploration Society Executive Board (Image courtesy of UH SES)
"Basically, we realized that subsea is the next big thing…the next frontier," Egbunike told Rigzone. "We wanted to make an impact by creating an avenue for further study, and to generate interest in the subsea environment."
Over the next 5 to 10 years, global demand for oil could be 100 million barrels per day, Egbunike said. However, the shale formations that are currently providing much of the production will likely have peaked, and subsea environment will play a growing role in meeting that future demand.
Because subsea exploration is multi-disciplinary and very technical, it is advantageous to generate interest as quickly as possible, Egbunike noted.
1
2
3
View Full Article
Generated by readers, the comments included herein do not reflect the views and opinions of Rigzone. All comments are subject to editorial review. Off-topic, inappropriate or insulting comments will be removed.