PwC Sees More Shale-Driven Growth in Transportation & Logistics
by Matthew V. Veazey
|
Rigzone Staff
|
Thursday, January 16, 2014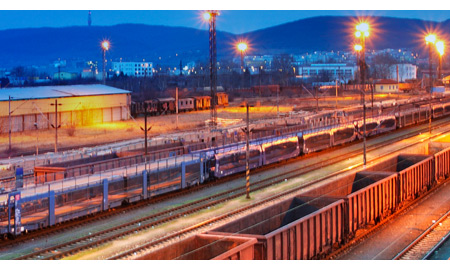 Abundant, low-cost energy courtesy of the shale revolution incentivizes chemical producers and manufacturers to shorten their respective supply chains and return production facilities to the United States. As a result, railroads, trucking companies, marine shippers and even airlines are well-positioned to enjoy new growth opportunities.
So says PricewaterhouseCoopers (PwC), which recently released a study outlining how transportation and logistics companies should benefit from oil and gas production from shale plays. Key conclusions of the report, "Shale energy: A potential game-changer," include:
In addition to moving greater volumes of crude oil from shale plays, railroads provide a flexible and cost-effective option for carrying chemicals and waste products.
Trucking companies haul fresh water, frac sand, waste products and heavy equipment associated with producing oil and natural gas from shale plays. Also, the relative low cost of liquefied natural gas (LNG) compared to diesel fuel is spurring some of these fleet owners to power their vehicles with LNG rather than diesel. PwC notes, however, the adoption of LNG in trucking hinges on the rollout of LNG fueling infrastructure nationwide.
With four LNG export terminals under development in the United States and others awaiting approval by the U.S. government, growing demand for outbound capacity on LNG tankers will create new business within the marine shipping industry.
As airlines continue their quest for cheaper and cleaner-burning alternatives to jet fuel, LNG deserves serious consideration. Although such a scenario is years away given the lack of LNG fueling infrastructure within the aviation sector, in the near term airports and air carriers benefit from transporting more people to and from shale-producing regions. For instance, the PwC report indicates that flights originating in North Dakota airports near the Bakken shale play are fuller than they were 5 years ago because traffic has nearly doubled.
"While pipelines may eventually move the bulk of shale oil and gas, it will take time to develop the infrastructure, and rail, trucks and planes will still be needed to transport people and equipment while ships will carry LNG to other parts of the world," said Jonathan Kletzel, PwC's U.S. Transportation & Logistics leader.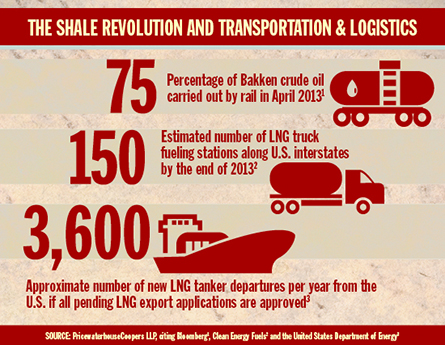 "As shale energy helps to revive U.S. manufacturing, it will impact most transportation modes, as they are needed to move products both domestically and abroad," continued Kletzel. "Transportation and logistics executives should consider the opportunities currently presented by the rapid growth of shale energy, as the 'winners' will start developing strategic plans that consider the impact of shale on the overall economy and the potential it presents for the growth of their business now and for the foreseeable future."
Rigzone recently caught up with Kletzel to discuss the findings of the PwC study. A transcript of the conversation follows.
Rigzone: Please give an idea of the magnitude of change that the shale revolution is having on the transportation and logistics sector. Looking back at the historical development of the rail, trucking, marine shipping and airline sectors, were there any drivers of growth as significant as the shale revolution?
Kletzel: There have been more significant drivers of growth within modes such as rail renaissance, which was helped by a significant ramp-up in oil prices, and the liberalization of international air transport. However shale is a true cross-modal growth driver which is helping boost freight volumes and lower industry fuel costs.
Rigzone: What do you think is the most surprising and/or telling conclusion in the transportation and logistics report and why?
Kletzel: That growth in shale-related rail carloads should be more than enough to offset future coal-related rail carload weakness. This is because of concerns over the future direction of coal volumes in light of utility fuel switching.
Rigzone: What do you think 2014 has in store for rail, trucking, marine shipping and airlines in the context of the shale revolution?
Kletzel: More competition from pipelines as these get built out, but non-pipeline transportation will likely keep much of its share of frac sand, pipe and water transport.
Rigzone: Do you see this transportation and logistics growth occurring beyond the United States given the interest shale plays – at different stages of development – in countries such as Canada, Mexico, Argentina, China, Poland and Ukraine? Why or why not?
Kletzel: Yes, shale reserves in other countries should eventually benefit their domestic transportation sectors. However, as you have noted, development and production of many of these plays are behind those in the United States, and this means that the benefit to their transportation sectors will also likely be pushed out.
Rigzone: What are the key threats to growth for transportation and logistics companies in regard to shale?
Kletzel: There are a few, such as the speed with which new pipelines can be constructed, and the potential for more regulation around the transport of oil and natural gas by rail and truck.

Generated by readers, the comments included herein do not reflect the views and opinions of Rigzone. All comments are subject to editorial review. Off-topic, inappropriate or insulting comments will be removed.