API's Gerard Unveils its 2014 Energy Vision for the Industry to Grow
|
Tuesday, January 07, 2014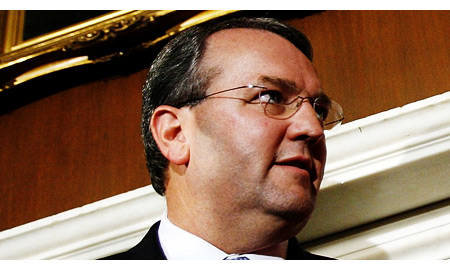 As the American energy renaissance revives the nation's economy, the industry must take this opportunity to think in terms of promise and potential with a keen focus on future policy decisions that affect America's energy revolution, American Petroleum Institute's (API) President and CEO Jack Gerard discussed during his "2014 State of American Energy" speech Tuesday.
"The right public policies can fuel America's economic revival and improve our energy security for future generations through the safe and responsible production, refining, and transportation of our country's oil and natural gas resources," he stated.
The lobbyist outlined API's advocacy and messaging priorities, calling for more oil and gas drilling access, less regulation, and for President Barack Obama to approve the Keystone XL oil sands pipeline. The organization's new report, issued Tuesday, discusses the broad economic, geopolitical, and security benefits of record-breaking domestic oil and natural gas production currently being witnessed in the United States.
"We can erase what for decades has been America's greatest economic vulnerability – our dependence on energy sources from other continents, particularly from less stable and less friendly nations – and fundamentally alter the geopolitical landscape for decades to come, all while providing a much needed boost to our economy. But only if we get our energy policy right," Gerard said.
With the right energy policies in place, the abundant supplies of natural gas that the nation produces can reduce the amount of energy imported in the United States and increase the amount of products exported. To help drive home this message, IHS partnered with API in a study, "Oil &Natural Gas Transportation & Storage Infrastructure: Status, Trends, & Economic Benefits", which estimates that capital spending has increased by 60 percent in the last three years.
"Capital spending in oil and gas midstream and downstream infrastructure … increased … from $56.3 billion in 2010 to $89.6 billion in 2013," the report stated.
But overall, IHS forecast that oil and gas infrastructure investment over the next 12 years (2014-2025) will experience a cumulative spending of $890 billion, "with crude oil and natural gas gathering systems and direct production support facilities receiving the largest share of the investment at 60 percent of [the] total," remarked Gerard.
1
2
View Full Article
Generated by readers, the comments included herein do not reflect the views and opinions of Rigzone. All comments are subject to editorial review. Off-topic, inappropriate or insulting comments will be removed.
RELATED COMPANIES
Company: American Petroleum Institute (API)
more info