Shale Gas: Addressing the Water Challenge
|
Monday, December 23, 2013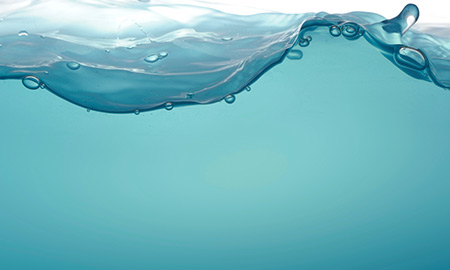 Water recycling represents a major opportunity for firms that provide equipment and services to the shale gas industry, according to Johan Pfeiffer, FMC Technologies Inc. vice president for Surface Technologies. And the opportunity is greater outside of the United States in countries where the cost of water disposal is high due to geographical and regulatory pressures, Pfeiffer said in a presentation to Tudor, Pickering, Holt & Co.'s Global Shale Conference in London at the end of November.
Speaking about the shale gas industry from an oilfield services point of view, Pfeiffer noted:
"The operators in North America are trying to get as much production as possible out of the well pad. In order to do this, they use increasing complexity in the well that provides an opportunity for service providers."
Today, it is not unusual to see well pads in which operators have drilled 20-plus wells while fracking can take place at dozens of different stages in the well. This, argued Pfeiffer, is driving the increasing complexity at the pads.
"So if you take all of those components together you can understand that there are more and more services taking place … on the well pad," he said. "So, there are more wells being drilled ... and it becomes a very, very complex operation."
Pfeiffer pointed out that the environmental footprint "is not only the actual physical footprint of the well site", but that it also consists of the amount of water consumed by the operation, how much gas is released into the atmosphere and other factors like how many trucks an operator might have moving water to and from the well site.
"That is also a footprint and reducing that is important," he said.
Citing the Nexen-Inpex pad in the eastern part of British Columbia in Canada Pfeiffer noted that large pads such as this are likely to be restricted to sparsely-populated areas, which would mean that solutions need to be found to make hydraulic fracturing a more compact operation.
Nexen-Inpex has "a very large pad and a lot of simultaneous operations. They can do that in eastern British Columbia. But we could not do this in other areas such as the northeastern United States and especially not in Europe," Pfeiffer said.
"So if you are taking all these activities that are spread out on a very large pad in eastern British Columbia and you want to do this over a smaller footprint you are going to have to do things differently. And that's why we say it's a very complex operation – and in order to make it economic it has to be complex – but you have to be able to figure out a different way to do it."
A key area where new approaches and new technologies are required is in the management of water.
Plenty of service companies are already involved in the management of the "high-pressure" side of hydraulic fracturing: getting water, blending it with sand and chemicals and then injecting it into the well.
And FMC itself is involved in the low-pressure side of the activity: handling the "flowback" – the fluid that flows back to the surface during, and after the completion of, fracking. As well as water, the flowback fluid contains sand, clays, chemical additives and metals that need to be disposed of in an environmentally-friendly manner.
"Where we're not active yet is in water recycling. And we see that as a tremendous opportunity," Pfeiffer said.
This is because getting water from its source to a well site can be very expensive.
The Goal: Recycling Water for Under $2 per Barrel
"Different plays in different geographical areas have different costs," he said, but he explained that to get access to large volumes of water will cost at least $2.50 per barrel and can cost as much as $10 per barrel in North America.
"When we look at international plays, we believe those costs can be doubled. The cost of water internationally is going to be much higher than the cost of water in the United States, so the urgency of reducing the water costs is going to be more important internationally than they are in North America," Pfeiffer said.
"We also believe that regulation is going [to be introduced]. We believe that we are going to be regulated … the amount of water consumed or forced to recycle the water."
The process of fracking might consume much less water than used to water a golf course, Pfeiffer said, "but this doesn't really matter because it is all about perception".
"So, we have this magic number in our heads: we have to be able to recycle water for under $2 a barrel. If you can hit that magic number of $2 a barrel you have a winning formula," he added, pointing out the opportunity is great when you consider that some operators are paying as much as $10 per barrel for water.
FMC itself is aiming to bring its experience and knowhow in handling produced water in deepwater projects to bear on the problems of treating and recycling water in hydraulic fracturing operations. Deploying equipment at great depths means that it has to be both compact and robust, especially considering that fishing it up out of the water again for maintenance can be costly.
"If you then think about the many shale pads there are on an oilfield you have to move your equipment from pad to pad under difficult conditions… then again the concept is you have to try to be compact and you have to be robust," Pfeiffer said.
FMC is working on a series of technologies in combination in order to address the water issues. Among specific issues, it is currently looking at is the removal of sand from flowback.
"When the well flows back it produces a lot of sand and other products … What that does is it eats up equipment. High velocity sand moving through your equipment destroys it," said Pfeiffer, explaining that FMC is looking at technology that can take sand out of the water earlier in the hydraulic fracturing process so that damage to equipment is minimized.
Meanwhile, the company is also looking at the issue of separating dry gas from residual liquids in the gas stream produced from hydraulic fracturing.
"There is a lot of benefit for the operators to get all the liquids out of their dry gas stream," Pfeiffer said. "There is the technology out there, used in deepwater, but which is not applied in this industry."
Pfeiffer closed his presentation by reiterating the importance of water management in the shale gas industry.
"Water is a big deal in the United States that is getting bigger, and it is going to be a very big deal overseas as well. A big opportunity," he said.
Generated by readers, the comments included herein do not reflect the views and opinions of Rigzone. All comments are subject to editorial review. Off-topic, inappropriate or insulting comments will be removed.