Australia Bids to Improve Oil, Gas Investment Climate
by Chee Yew Cheang
|
Rigzone Staff
|
Wednesday, December 18, 2013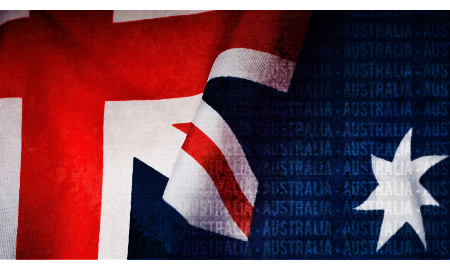 Recovering Australia's attraction as a premier petroleum investment destination has been on the agenda of the federal government since the beginning of this year. This became more pronounced as investors, including those currently developing projects in the country, voiced their concerns over a range of issues, including escalating costs.
A tinge of optimism returned to the petroleum industry when a market-friendly Liberal-National coalition led by Tony Abbot ousted the incumbent Labor Party from power in September. The new Prime Minister pledged to reverse some of the Labor government's oil and gas policies.
The Australian Petroleum Production and Exploration Association (APPEA), representing the country's petroleum industry, elaborated on the major challenge to continued growth in Australia's oil and gas industry in a Sept. 7 publication. APPEA explained that a "high-cost local environment and the emergence of new liquefied natural gas (LNG) competitors in East Africa, North America and elsewhere make it much harder to win market share and attract investment."
Issues Weighing on Australia's Investment Appeal
Escalating cost has been frequently cited by existing and potential petroleum investors as a major factor dampening Australia's ability to attract capital for new, particularly LNG, projects. The attraction of Australia as a LNG investment hub was also dampened by competition from projects overseas, while the cost of such developments locally had risen substantially over the past decade and was 20-30 percent above global competition, APPEA's Chairman David Knox revealed in a May 27 address to the APPEA Conference & Exhibition.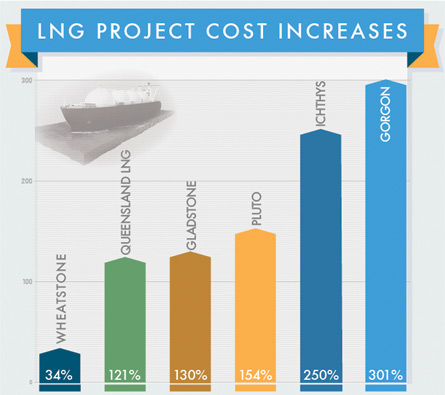 Statistics provided by Australia's Bureau of Resources and Energy Economics (BREE) in October confirmed that cost did overrun in the country's major LNG projects. Capital expenditures on these projects, including Pluto, Gorgon, Queensland LNG, Ichthys, Gladstone LNG and Wheatstone, rose between 39 percent and 301 percent from the publicly announced stage to develop them to the committed/completed stage, according to BREE.
In the case of Gorgon LNG project off Western Australia, development expenses increased to around $54 billion (AUD 55 billion) in December 2012. Chevron Corp., the project operator, attributed the higher project cost to labor shortages, logistics challenges and the strength of the Australian dollar. Future expansion of the Gorgon project will be weighed against competing investment proposals as costs in Australia put the country's competitiveness at risk, Chevron's Chief Financial Officer Pat Yarrington was quoted Nov. 3 in Bloomberg News.
Similar concerns were shared by Royal Dutch Shell plc, a partner in the Chevron-operated Gorgon project.
1
2
3
4
5
View Full Article
Generated by readers, the comments included herein do not reflect the views and opinions of Rigzone. All comments are subject to editorial review. Off-topic, inappropriate or insulting comments will be removed.