Report: Significant Economic Benefits Seen from Atlantic Oil, Gas Devt
|
Thursday, December 05, 2013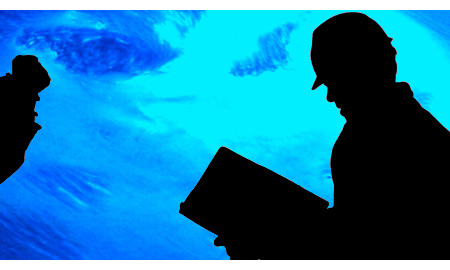 Opening U.S. Atlantic waters to oil and gas exploration could create significant economic benefits not only for U.S. Mid-Atlantic coastal states but throughout the United States as well, according to a recent report.
Atlantic Outer Continental Shelf (OCS) oil and gas activity could generate from 2017 to 2035 nearly 280,000 jobs throughout the United States, contribute up to $23.5 billion per year to the U.S. economy, create $51 billion in cumulative government revenue from royalties, bonus bids and lease rents, and produce an incremental 1.3 million barrels of oil equivalent per day (boepd) by 2035, according to a recent report conducted by QUEST Offshore Resources Inc. for the American Petroleum Institute (API) and the National Ocean Industries Association (NOIA).
Federal offshore lease sales under existing U.S. law would be expected to lead to high levels of offshore oil and gas activity. According to the report, this activity would require an estimated $195 billion of cumulative investment by oil and gas operators between 2017 and 2035. This investment would primarily be spent inside the United States and Atlantic coastal states. QUEST forecasts spending to grow from an average of $480 million during the first five years of the forecast for initial leasing, seismic and exploratory drilling to just under $20 billion per year in 2035.
"Major capital investments, job creation, and revenue to the government would all begin years before the first barrel goes to market," said Erik Milito, API director of upstream and industry operations, in a statement.
However, none of these benefits will be realized unless the federal government adopts pro-development energy policies.
Mid-Atlantic State Employment to See Greatest Impact
The U.S. Atlantic Coast alone would see significant economic impacts from Atlantic OCS exploration, with $14 billion in capital investment, 215,612 jobs, $17.9 billion in economic contribution and $4.5 billion in state government revenues in 2035, according to the report. States outside the region will see employment gains of nearly 65,000 jobs in 2035.
The largest contributions to state economies will be seen in the Mid-Atlantic states of North Carolina, South Carolina and Virginia and three North Atlantic states, Massachusetts, Maine and New York. Seventy-five percent of the $23.5 billion per year in spending in 2035 will occur in Atlantic coast states, and the remaining 25 percent will occur in the rest of the United States.
Atlantic OCS oil and gas activity would have the largest employment impact on North Carolina and South Carolina, which have strong high-tech manufacturing industries, and Virginia, which has large dry docks and companies that could supply equipment for offshore development. The study didn't specifically examine with oil and gas job creation could offset defense cuts made to Virginia's workforce due to sequestration, but a new job created is new a job, said Luthi.
North Carolina would see cumulative spending of $26.4 billion from 2017 to 2035, over 55,000 jobs in 2035 related to Atlantic oil and gas activity, over $4 billion in contributions to the state economy, and nearly $4 billion in state government revenue from 2017 to 2035. South Carolina could see over $15.5 billion in spending, over 35,000 jobs created, approximately $2.7 billion in economic contributions and over $3.7 billion in cumulative state government revenue from offshore oil and gas activity.
Atlantic OCS activity would result in over $14 billion in spending in Virginia from 2017 to 2035, over 24,000 jobs in 2035, over $2.1 billion in economic contributions, and over $1.8 billion in cumulative state government revenue. The amount of revenue that states would earn depends upon legislated federal/state sharing agreements; the report assumes 37.5/62.5 percent state/federal revenue sharing. The proportion of actual revenue going to state governments would be determined by future legislation.
North Atlantic states such as Massachusetts, Maine and New York also are expected to experience employment increases of at least 10,000 by 2035 thanks to Atlantic OCS oil and gas activity.
"The share of incremental employment within the Atlantic coast region is anticipated to steadily grow as the proportion of goods and services that are supplied locally increases," QUEST said in the report.
States all along the Atlantic Coast, including Florida, Rhode Island, Connecticut and New Jersey, are also expected to see benefits from oil and gas activity offshore the eastern United States.
Industries directly involved in oil and gas such as mining, which includes oil and gas, manufacturing, professional, scientific and technical services and construction are expected to see the largest employment effects with 125,000 jobs created in 2035. Forty-five thousand of those jobs will be in the oil and gas sector.
Atlantic OCS activity is expected to create approximately 30,000 jobs in the manufacturing sector by 2035, of which over 20,000 will be in the Atlantic coast states. Manufacturing includes businesses that fabricate oil and gas equipment, platforms and other goods needed for field development. Thirty-two thousand additional jobs will be created in the professional, scientific and technical service sector by 2035. QUEST also estimates that around 19,000 jobs in the construction sector, which includes offshore installation deployment, will result from Atlantic OCS activity.
While the Carolinas, Virginia, Massachusetts, New York and Maine are expected to see larger benefits, the effects of offshore oil and gas activity are expected to be felt all along the Atlantic coast.
Study Results Underscore Importance of Continued Oil, Gas Development
The study's promising results – which underscore the importance of continued oil and gas development and a true all of the above policy should give policymakers in the Obama administration and U.S. Congress reason to lift the embargo on oil and gas exploration on the Atlantic OCS. For the past five years, the Obama administration has debated whether to allow seismic surveying in the Atlantic.
U.S. offshore oil and production currently is limited to the central, western and a small portion of the eastern Gulf of Mexico, with limited legacy production offshore Alaska and California. Total offshore oil and gas production as of June 2013 was 1.87 million boepd, or 9 percent of U.S. production.
Oil and gas development off the Atlantic coast has been restricted since the 1980s; 51 exploratory wells were drilled in shallow water in the 1970s and 1980s. A 2011 lease sale for acreage offshore Virginia was cancelled, and no lease sales on the Atlantic OCS are scheduled.
"The industry has made so much progress in oil and gas production while only having access to less than 15 percent of the OCS," said NOIA President Randall Luthi during a conference call with reporters Thursday. "The U.S. is now in a position where we are not only able to meet our own needs, but become an oil and gas exporter to an energy-hungry world."
"Tapping more offshore energy is one of the elusive silver bullets the country is looking for to address unemployment and higher state and federal revenues without higher taxes," Luthi noted.
First Production Could Begin As Early as 2026
According to the report, first production could begin as early as 2026 if seismic activity began in 2017 and lease sales in 2018. Drilling would be expected to begin in 2019, with an average of 30 wells drilled each year from 2017 to 2035, mostly in deepwater. The average of wells drilled per year would rise to 66 in the last five years of the forecast, 2031 to 2035, as the number of active projects grows and the need for development wells increases.
Initial annual production from the Atlantic OCS would be just over 6,000 boepd, and rise to 1.34 boepd by 2035. Approximately 40 percent, or 550,000 boepd of production in 2035 would be oil, and 60 percent, or 4.6 billion cubic feet per day, would be natural gas.
The release of the report was timed to coincide with the closeness to the process for the next Five-Year Offshore Leasing Plan for 2017-2022, said Milito during the conference call. API and NOIA also wanted updated information on the Atlantic OCS to be available to policymakers and the public.
Quest utilized existing data from an updated reserve analysis made by the Bureau of Ocean Energy Management that was released in 2011, along with additional information on trends in the Atlantic and advancements in offshore exploration and production technology, to reach the new estimates. Data from the study is based on existing seismic data taken 20 to 30 years ago and other data to reach new estimates.
However, API and NOIA officials are optimistic about the potential for exploration and production offshore the eastern United States, given the exploration success seen in the Atlantic offshore West Africa, South America and the Atlantic Margin. Luthi noted that completion of new seismic data survey work is critical to better understand where oil and gas resources might be.
"Opening the Atlantic OCS is only part of the equation," Luthi noted. "The oil and gas industry must make significant financial investment to ensure efficient and safe production from the Atlantic OCS, and a thoughtful, respectful relationship between industry and regulators is needed to ensure production and the highest safety and environmental standards."
Generated by readers, the comments included herein do not reflect the views and opinions of Rigzone. All comments are subject to editorial review. Off-topic, inappropriate or insulting comments will be removed.
RELATED COMPANIES
Company: National Ocean Industries Association
more info
Company: American Petroleum Institute (API)
more info