UK Chancellor Confirms Tax Breaks for Shale Gas Developers
|
Thursday, December 05, 2013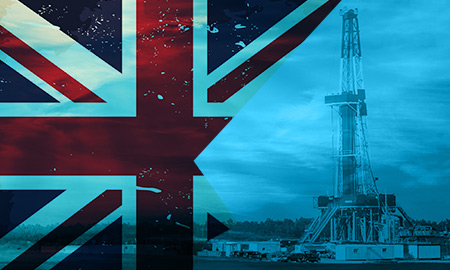 UK Chancellor George Osborne used his Autumn Statement Thursday to confirm a new tax allowance aimed at boosting the development of shale gas resources in the country.
Rigzone reported in mid-July that HM Treasury had decided that shale gas firms would have to pay a tax of just 30 percent on profits from any shale gas they produce in the UK, compared to the current 62 percent tax that is levied on hydrocarbon production by conventional means on the UK Continental Shelf. Thursday's statement confirmed this while also announcing an allowance for shale gas development projects equal to 75 percent of the capital spend on these projects.
Osborne also highlighted the government's work with the oil and gas industry to introduce a scheme to ensure that local communities benefit from hosting shale gas projects. He confirmed Thursday that local communities will be guaranteed to received GBP 100,000 ($160,000) for every fracked well sit during the exploration phase and at least one percent of revenue – up to as much as GBP 10 million ($16 million) over the lifetime of a project – during production.
The United Kingdom Onshore Operators Group (UKOOG) welcomed the new fiscal regime.
"Today's announcement of a new onshore oil and gas regime is as much about tomorrow as today. To build a strong industry which can contribute to the UK economy, the country needs the correct framework for operators, and that includes a clear signal that an appropriate and fair tax regime is in place that will incentivise the long term nature of investments. The Chancellor's initiatives should be welcomed as they give that strong signal," UKOOG Chief Executive Ken Cronin said in a statement.
Ever since it lifted its ban on shale gas drilling in December 2012, the UK government has shown its commitment to developing a shale gas industry in the country. Late last month Rigzone heard Energy Minister Michael Fallon voice his support for the industry at the Global Shale Seminar, hosted by Tudor, Pickering, Holt & Co. in London.
Meanwhile, trade body Oil & Gas UK responded late Thursday to the Autumn Statement's cautious outlook on UK offshore oil and gas production, saying that it did not agree with the flat-line growth forecast by the Treasury for between 2013 and 2018.
"While still compiling the data for our survey of members' investment and production intentions due for publication early next year, Oil & Gas UK takes a less pessimistic view (according to our most recent figures from February this year) and foresee an upturn in production beginning in 2015 which should last for the remainder of the period. Both industry and regulator will need to work collectively towards that end," Oil & Gas UK Chief Executive Malcolm Webb said.
"Oil & Gas UK supports fiscal plans to encourage exploration and development of the UK Continental Shelf, which will ensure the sector remains an attractive and competitive destination for investment and a driving force in the British economy. It is encouraging to know the government is committed to maximizing economic oil and gas production offshore, and shares our welcome for the interim findings of Sir Ian Wood's review.
"With up to an estimated 24 billion barrels still to be recovered there is a strong future for the North Sea, but as a mature basin, this will require, amongst other measures, an encouraging fiscal regime if the recovery of our oil and gas resource is to be maximized."