Smart Pumper Offers Real-Time Production Automation, Monitoring
by Karen Boman
|
Rigzone Staff
|
Friday, November 29, 2013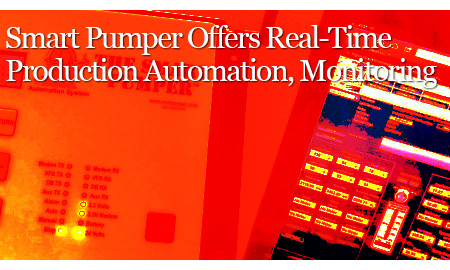 Setting and monitoring well production is now as easy as accessing the Internet from your personal laptop or cell phone.
The Smart Pumper, an automated production and monitoring platform, allows operators to initiate and monitor well production in real-time on multiple wells worldwide.
Created by Greg Boyles, CEO of Houston-based service company Direct Drivehead Inc., the Smart Pumper was born out of necessity for precise, automatic pumping to maximize production and reduce operating times.
Boyles, who first began investing in oil in the late 1970s and launched independent Texas producer New Horizon Exploration in 1985, found he needed a solution for marginal wells that needed to be pumped with precision, and didn't see anything on the market that filled this niche.
From Boyles' experience with wells in Texas and Trinidad, pumping wells are the most difficult assets to manage.
"Having a collection of well data is important to help you understand what's going on in real-time," Boyles noted.
Automating production also ensures a safer, more proactive operation.
"Each well is an individual," Boyles noted. "You have to learn how to pump each well to discover its production potential."
After a well's output potential is realized, it must be continuously redefined, making automation necessary for perfect pumping and gathering data in real-time.
He created the first Smart Pumper prototype in the 1980s, but soon realized the technology would only be affordable for large volume wells and for a major oil company. However, advancements in chip and sensor technology prompted Boyles and his team to revisit the concept in 2006.
"Computer chip and global communication technology that is built into the Smart Pumper has made it affordable for all to use from the completion of a new well to those trying to extend the economic life of marginal wells where cost control and production optimization is paramount," Boyles told Rigzone.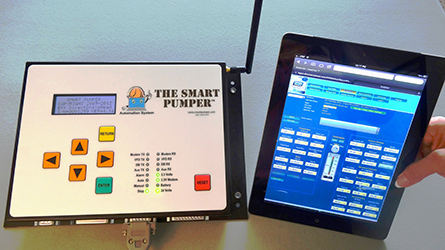 The Smart Pumper can be accessed via a mobile WiFi Device using the global 4Q network
The next year, Direct Drivehead, along with help from friends at MD TODCO on the stainless case, built 25 units manufactured at a Dallas laboratory to test the concept, Boyles told Rigzone in a recent interview. Initial field testing took place at the Parrylands Block E field Trinidad and Tobago and the Orla S. field in the high desert of West Texas. The site in Trinidad was chosen for its extreme heat, high humidity and dynamic reservoir conditions and the frequent power failures that occur, and the South Texas site for its remoteness and dramatic temperature swings that occur in a metal box.
The Smart Pumper's operational success in testing led Boyles and his team to design hardware in 2009 for the pumper so it could stand up to oilfield use. The final version of The Smart Pumper became available in 2011, when it received its certifications for North and South America and European operations. The patent-pending automated system is manufactured in Dallas, and assembled in Houston with a variety of variable frequency device of any horsepower for electric submersible pumps, pump jacks and progressive cavity pumps.
While initially designed to provide precision pump control for progressive cavity pumps (PCP), it has evolved into a tool for providing precision pump control for electric submersible pumps (ESPs), pump jacks, hydraulic pumping systems and for managing salt water disposal pumps.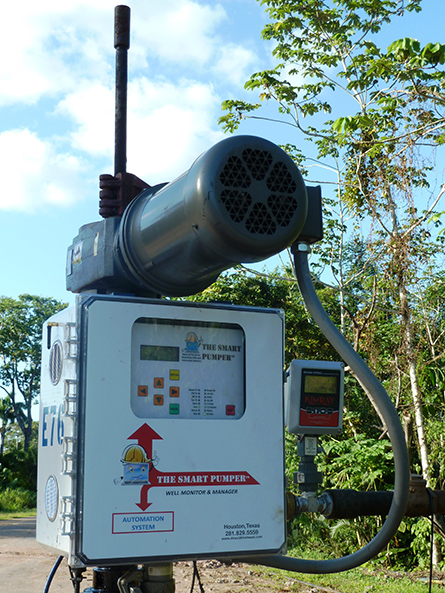 A Smart Pumper system at a field in Trinidad, West Indies
What Does The Smart Pumper Do?
The Smart Pumper is a master controller for any operator's variable frequency device (VFD), controlling the speed at which a well is pumped based on real-time fluid data in the well. The Smart Pumper varies the pump speed to reach and maintain the well's production target. It can also regulate hydraulic motors and valves.
By answering a few questions, such as the desired production level and how many days an operator wants to achieve its production target, The Smart Pumper then creates a fluid-level reference curve for that production goal, and will vary the pump speed to reach this goal and to maintain that production level.
The Smart Pumper accomplishes this by regulating electric motor speed regardless of horsepower (hp). The Smart Pumper automation package plugs directly into a customers' 460/230V power supply and then to the motor associated with the artificial lift device that it controls and monitors. In cases when a monitoring facility has no power, solar panels can also be used to provide 24V to the Smart Pumper and sensors. Battery backup is an option which enables the Smart Pumper to continue to log data and communicate with the customer that they have a power failure at the site, Boyles said.
Operators can remotely monitor wells via Smart Pumper by logging into The Smart Pumper's open access, password-protected website from any mobile device they already own, including cell phones, iPads or laptop. They can then set the well's production target remotely, and monitor multiple wells in different parts of the world using the same interface.
"They can set the production target, name sensors, scale, set ranges, warnings and alarms from their dining room table, if they want, or from anywhere in the world where the 4G network is supported," Boyles noted, adding the changes to the pump's speed can be made in less than nine seconds, the same amount of time as the average response made over a 4G wireless network.
The device works with private secure network options on the market such as AT&T and Verizon.
The device comes pre-defined and ready for use with two-way communication, database, web interface at no additional fees, and can monitor 20 different hardwired inputs as a standard. These include three pulse countering for metering oil, gas and water flows, and off-the-shelf sensors such as flowline pressure, casing pressure, vibration and compressors.
Pump crank oil temperature and downhole reservoir temperature are also data options, as are methane, radon and carbon dioxide levels. Other data options include line and motor voltage, torque and amperage, over and under current, power outage and ground faults, and gas, oil and water levels.
"Every sensor on the shelf can be plugged into the Smart Pumper," Boyles noted.
A report becomes defined and available once a sensor has been applied.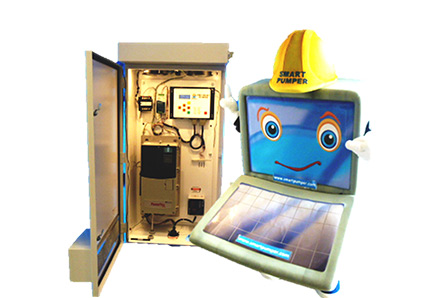 The SmartPumper Mascot with a 50 hp Automation Package
An operator can view a well's historical pump rate and event log over a 30, 60, 90 and 365-day basis, which is helpful for looking at the causes of a problem and for finding a solution. For example, the event log can show when power failures occur – the Smart Pumper automatically restarts in these cases – and help an operator determine what steps to take to get production back on track.
The Smart Pumper, which is stored with the VFD in a large white box, comes in sizes ranging from 7.5 hp to over 200 hp. The larger systems fit larger wells that employ artificial lift devices or big electric submersible jacks, with enclosure boxes as large as an 8 by 10-foot room. When the automation system is installed, a permanent downhole sensor is also installed to provide real-fluid level information to which the Smart Pumper responds.
"Smart Pumper conveys the pump load data to the customer so they can be alerted to the fact that paraffin buildup, scale and sanding up is occurring so they can respond to these conditions," Boyles noted.
Thirty-eight different reports can be generated for data gathered by the Smart Pumper, which not only allows an operator to remotely set up a production target and monitor production, but can be used for reserve work. The device can be used to conduct a 24 to 48-hour build up test and take samples every 10 seconds as well as monitor pressure during the off period. Once the build-up test is complete, Smart Pumper turns itself back on, and the report can be downloaded anytime after it is completed.
"Right now, companies typically hire a service company to run gauges into a well to conduct the 24 to 48-hour tests at a cost of $6,000 to $10,000," Boyles commented.
Smart Pumper provides the user with this capacity for free.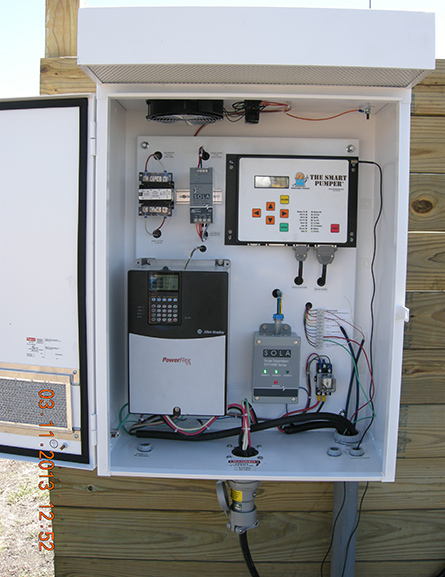 A 20 hp Smart Pumper System at a field in Victoria, Texas
Continuous Operations for Optimal Performance
The ultimate objective of The Smart Pumper is to maintain production, and to find the speed for the best, most achievable operations. Continuous production is optimal, given cost and physical stress involved with stopping and restarting production, Boyles commented.
"If a rod is stressed already, the starting and stopping puts more pressure on a rod string, causing a rod to break, and a pump can stick if it has been setting for a while," Boyles noted.
Continuous pump action helps avoid stress on the rod string and sticking pumps.
However, the well can shut itself off under certain circumstances; warnings and faults can be set to cover up to 35 operational concerns.
In West Texas, well lines would freeze in the early morning hours, causing flowline pressures to rise and put pressure against the pump, stuffing box and the tubing, and often result in a stuffing box leaking or a hole being created in the tubing.
"With the Smart Pumper, we set warnings and faults for pressures; in the case of excessive pressures, the Smart Pumper will turn the well off until the sun melts and removes the ice blockage. At that point, the Smart Pumper will turn the production back on."
Thanks to the device's event log, Boyles could see what production had been lost when the flowline froze seven times in January and February 2012. The lost production was determined and the 30-day average for production reduced, allowing Boyles to quickly determine that burying the line made economic sense.
Smart Pumper's real-time monitoring lets a producer know within 10 seconds in they have parted rods.
"In three to four hours, we know about the hole in the tubing, and in a given day we know a well will sand up through torque warnings."
In an environment where sand is common, high torque warnings can be set on wells, with email warnings sent to warn that the well needs to be reverse circulated before a pump gets stuck. A well will shut off if an operator does not response to email warnings by a certain point in time.
Boyles' invention could potentially allow for thousands of orphaned or abandoned wells to be reactivated in the Permian Basin and other parts of the United States.
"It's easy for 10 barrel per day stripper wells to become orphaned because their difficult to manage. Without this kind of automation, you couldn't even think about managing wells that were so far out."
After creating the Smart Pumper, Boyles repurchased a well he had initially sold because it was too difficult to manage. The Reeves County horizontal well, drilled in 1997, was located in the West Texas High Desert near Carlsbad Caverns – a two-hour drive from Midland – made it difficult to manage. Thanks to the Smart Pumper, the well was shut off remotely during a fault condition, then restarted after the situation had passed.
The Smart Pumper's method for precision pump control is unique in that its uses actual fluid level in the automated decision making process, Boyles said. Other well pump speed solutions available on the market use an inferred fluid level, meaning they measure electrical data at the well's surface from the motor leads measuring amperage load; the fluid level, a combination of oil and water, is then back estimated to determine a well's fluid level.
"This method is very often wrong because other variables such as paraffin buildup, scale, and sanding also increase pump load," Boyles commented.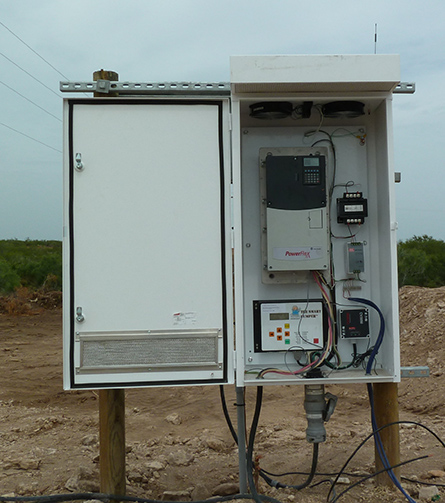 A 50 hp Smart Pumper system installed at Corpus Christi, Texas
A Device For People Who Don't Like Instructional Manuals
The Smart Pumper is user friendly, and designed for people who don't like to read instructional manuals, Boyles noted. The device is primarily being used onshore, but could be utilized in offshore operations. When using inferred fluid levels, operators tend to err on the side of caution, fearing they might burn up a pump. But this results in a well's production capability not being truly optimized.
So far, clients using Smart Pumper found out about it through word of mouth. Boyles said the feedback has been positive. Several major oil and gas companies expressed interest in The Smart Pumper at the Society of Petroleum Engineers' Annual Technical Exhibition and Conference in New Orleans earlier this year.
Surinam's state oil company Staatsolie implemented the direct drivehead Smart Pumper into a well at the Calcutta field onshore Surinam. Calcutta is one of three Saramacca oil fields, which also include Tambaredjo and Tambaredjo NW. As of year-end 2011, daily production from the fields averaged 16,500 barrels of oil per day from nearly 1,148 active producing wells in both dry and wetlands.
Before, Staatsolie's production and reservoir engineers had been monitoring well performance on a monthly. By using Smart Pumper, the company reported in a case study that it had saved over $16,000, a cost savings of nearly 50 percent, at the Calcutta field. Smart Pumper allowed Staatsolie to control the controlled target flowing bottom hole pressure, prevented the PCP pump from running dry, and allowed PCP failure to be detected immediately online. The device also eliminated unnecessary intervention by Staatsolie to optimize production and reduced travel time and costs for sending workers to the field to monitor the well.
In shale plays, operators are discovering that wells will typically flow well for a year or two before some form of artificial life must be implemented. Once a well stops flowing, a person needs to initial the artificial lift. Some form of automation would be useful in this case, Boyles noted. Only at that point does Boyles believe they'll see the large use of the Smart Pumper.
With unconventional wells, operators are initially looking for pump automation, but might be looking for data logging. For this reason, Boyles sees potential for the Smart Pumper to serve as a cradle to grave tool for managing production.
"It could be a data logging tool on day one and a pumping tool on day two."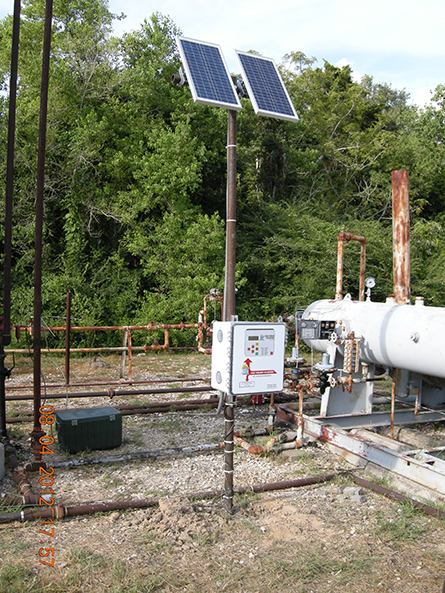 The Smart Pumper can also be powered by solar panels
Generated by readers, the comments included herein do not reflect the views and opinions of Rigzone. All comments are subject to editorial review. Off-topic, inappropriate or insulting comments will be removed.