Mitchell Associate Discusses Shale Pioneer's Sustainability Views
by Matthew V. Veazey
|
Rigzone Staff
|
Thursday, November 28, 2013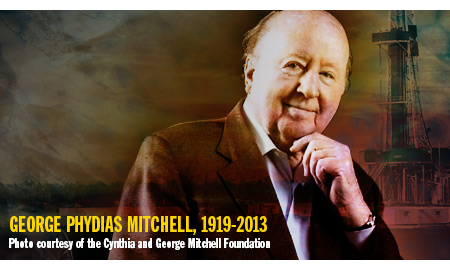 When Houston billionaire George P. Mitchell died at the age of 94 this past July, the world lost a Texas oil and gas industry pioneer whose company – Mitchell Energy – helped to bring about a still-nascent shale revolution that is upending the world's energy outlook.
As many both within and outside the oil and gas industry are aware, Mitchell Energy in the 1990s was at the forefront of economically producing hydrocarbons from shale formations by using horizontal drilling and a process first employed by the industry half a century earlier: hydraulic fracturing. More than 2 decades before his company helped to introduce the shale revolution, however, Mitchell became a key proponent of another concept with far-reaching implications for the global energy scene: environmental sustainability.

The environmental backlash against fracking initially took my father by surprise. He saw the benefits to increasing the U.S. gas supply and felt that gas could be extracted safely in resource plays.
There are several lines of environmental argument against fracking (or, more accurately, against the dense spacing of gas wells in resource plays). For example:
groundwater contamination from frack fluids
groundwater contamination from migration of methane or formation fluids
surface contamination from drilling operations
air emissions & regional air quality
methane leakage and climate
landscape industrialization and traffic
social issues in booming regions.
Of these, my father probably spent more of his time thinking about the issues related to groundwater contamination. His initial response was probably more typical of his industry: If engineered properly, there shouldn't be problems with well bore integrity, casing leakage, communication between hydrocarbon & freshwater zones, etc.; and he believed that the fear of frack fluids entering near-surface aquifers betrayed a misunderstanding of geology and well engineering. But over time he came to see that the entire gas revolution was being threatened by environmental concerns, and he also came to see that there were plenty of examples of poor operations that were resulting in environmental damage. He came to a position of advocating tighter regulation of industry in regards to requiring a higher standard of all operators across all regional regulatory regimes.
He often made a point – erroneously in my view – that it was a small number of "mom-and-pop" operators that were giving the industry a bad reputation, and that those small independent should be required to meet higher standards. I argued this point with him a few times; my position was that it was often the mid- to large-sized independents, who were operating at scale, that were more likely to have the mishap that got into the news. That's kind of a minor point, but I only make it because he made some statements that in my view overly blamed the smallest operators.
In any case, he made several statements that were reported in the press advocating tighter oversight. In terms of how that should be done, he made statements that were ambiguous. (Remember that he was only being asked his position on the matter when he was in his 90s.) He made contradictory statements about who should provide oversight (e.g., federal vs. state).

What's important is that he strongly encouraged his family's leadership at the Cynthia & George Mitchell Foundation (CGMF) to engage in a program that would be science-based, non-partisan and open about understanding the environmental consequences of the shale/resource play revolution; and be a catalyst for persuading industry to seek that higher standard of operations to address real problems. An overview of that program can be found on the CGMF website. I think he knew that the foundation would play a role long after his life to help improve the dialog among the different players in this debate, and to bring facts – whether pro or con – to the policy discourse.
A retired University of Texas at Austin public policy professor who specializes in water, climate and sustainable development issues, Jurgen Schmandt developed the Mitchell Center for Sustainable Development at the Houston Advanced Research Center that Mitchell established in The Woodlands, Texas, in 1982. Drawing upon his personal knowledge of Mitchell as an early spokesman for balancing energy development demands with good environmental stewardship, Schmandt published the book George P. Mitchell and the Idea of Sustainability in 2010. Given his status as someone who literally wrote the book on this aspect of Mitchell's life, Schmandt recently shared some of his insights with Rigzone on the topic. A transcript of the conversation follows.
Rigzone: Briefly, how did you become associated with Mr. Mitchell and his crusade for greater environmental sustainability?
Schmandt: We met for the first time at a small meeting called by former Texas Gov. Mark White who was interested in using technology as a growth path for the Texas economy. Mitchell talked about his efforts to support large technology projects. For that purpose he had created the Houston Area Research Center (HARC), today called the Houston Advanced Research Center.
At some point, a year or so after the meeting, Mitchell decided to make his work on sustainability a part of HARC and he asked me to direct that effort. HARC, at the time, was a consortium of four universities – Texas A&M University, Rice University, University of Houston and University of Texas. Since I was a professor at the University of Texas, I filled a void at HARC: division directors where expected to come from one of the founding universities and I was the first one to make the weekly trek between Austin and The Woodlands.
Rigzone: How would you describe Mr. Mitchell's concept of sustainability, and what was the inspiration for that vision?
Schmandt: Two men led him on this path. Buckminster Fuller, in the early years of the space program, coined the term "Spaceship Earth": our planet is a closed system that can support only a limited number of people. From there came Mitchell's concern with population growth. Dennis Meadows, at Massachusetts Institute of Technology, put together the Club of Rome study on Limits to Growth. The team used a computer model to calculate resource needs of the growing world population – food, energy, water, minerals. They predicted growing resource scarcity and recommended to limit growth.
Mitchell agreed, with two big caveats: developing countries would need economic growth to reduce poverty. And advanced societies needed to shift from quantitative to qualitative growth. He hired Dennis to develop the Woodlands Conference series and the Mitchell Prize, both intended to spread the word on sustainability. Together they advanced the Club of Rome concept by distinguishing between "bad" and "good" growth. Good growth would define a sustainable society. George's mantra was: environmental protection is important, but a more fundamental change in values, behavior and policies is needed to cope with the challenges of the growing world population and increasing resource constraints: sustainable development.
Rigzone: By the time he became a prominent spokesman for sustainability in the 1970s, Mr. Mitchell had already become successful in the oil and gas business. How did his industry background influence his concept of sustainability, and how did his becoming a sustainability advocate subsequently shape his approach to the oil and gas business?
Schmandt: In his business he followed environmental rules. Occasionally he spent extra dollars to preserve wildlife around his drilling sites. But he did not reshape his energy company around the concept of sustainability. When, after 20 years of trial and error, he finally mastered fracking and succeeded in changing the energy future of the U.S. (and probably the world), he would make this argument: Yes, in the long run, renewable energies are needed to protect the planet from global warming. But wind and solar will not be ready for decades to come. In the interim, gas is the most desirable bridge fuel because it releases less carbon dioxide than coal and oil.
Rigzone: How did Mr. Mitchell sell his idea of sustainability to others within the energy industry as well as to the environmental community? Did he encounter significant resistance within both spheres of influence and, if so, how did he overcome it?
Schmandt: I give you an example: Mitchell would buy 1,000 copies of the Limits to Growth and send it to industrialists and politicians. He did the same with other publications, such as the National Academy report, "Our Common Journey". This study argued that we do not know enough to immediately implement a 2050 blueprint for sustainability. Instead, society needs to use science and action in a generation-long learning and adjustment process that would lead us from today's condition to a sustainable economy. Mitchell had funded the Academy project after having failed to get Congress or the federal government to take the lead in developing a roadmap for the future.
He also developed and supported seven conferences on different aspects of sustainable development and awarded a Mitchell Prize, first for innovative publications, later for lifetime achievement in the field of sustainable development.
Rigzone: How did Mr. Mitchell transform his concept of sustainability into reality?
Schmandt: In the company: by pointing to the relative advantage of gas over coal and oil in regard to greenhouse gas emissions. In community development: by building an environmentally friendly new town, The Woodlands.
As a philanthropist: I mentioned the Woodlands Conferences and the Mitchell Prize. He also endowed two sustainability programs, one at the National Academy of Sciences (with a global focus), the other at the Houston Advanced Research Center (with a regional focus). He donated a large part of his wealth to the Cynthia and George Mitchell Family Foundation which is developing a program focused on sustainability.
Rigzone: George P. Mitchell is regarded as the father of the current shale revolution, which relies on the application of horizontal drilling and hydraulic fracturing. The latter process is maligned by some within the environmental community. How did Mr. Mitchell – the pioneering sustainability advocate – respond to the criticism of fracking?
Schmandt: In his opinion: If done right, fracking will not harm groundwater. I don't know if he considered the threat of local earth quakes. You might want to ask his son Todd, himself a geologist.
Rigzone: Given your background as a researcher specializing in environmental policy and regulation, what lasting impact did Mr. Mitchell make on your views about the relationship between the oil and gas industry and sustainability?
Schmandt: Mitchell, as far as I can see, was considered as somewhat of a maverick in the energy industry. For years, they felt he was losing his time and money by doggedly pursuing the shale gas option. Obviously, this has changed in recent years.
I saw him as a man with two agendas – as a business man, find oil and gas; as a philanthropist, address looming development problems. That the two were closely connected in his mind only dawned on me after the fracking breakthrough.
Rigzone: What are the key lessons that Mr. Mitchell's legacy provides for those in the oil and gas industry as well as those in the environmental movement?
Schmandt: Mitchell had been trained as a geologist and a petroleum engineer. This combination made him see things that others did not. At the same time, his work, both in energy and in sustainable development, would never have succeeded without very personal characteristics – vision, determination, doggedness, willingness to take risks.
Environmentalists see him as the (still) rare businessman who shared their values and advanced their agenda.
Generated by readers, the comments included herein do not reflect the views and opinions of Rigzone. All comments are subject to editorial review. Off-topic, inappropriate or insulting comments will be removed.