US Shale Plays to Watch in 2014
|
Wednesday, November 27, 2013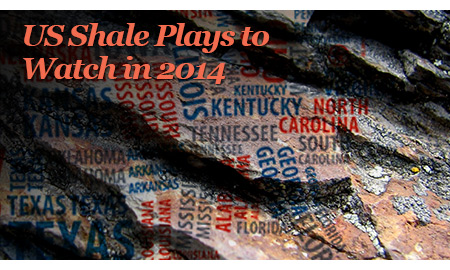 The U.S. shale exploration and production boom has dramatically changed the U.S. energy landscape, unlocking enough natural gas resources to turn the country into a future exporter of liquefied natural gas while reversing the decline seen a few years ago in U.S. crude oil production.
While unconventional plays such as the Eagle Ford and Bakken are well-known, DrillingInfo CEO Allen Gilmer told Rigzone he sees potential for exploration and production activity in 2014 and beyond for some emerging U.S. shale plays.
These plays are standalone plays that people are just now looking at, as well as ancillary plays in and around proven plays, either up dip or down dip of proven plays but in juxtaposition with good source rock as well, Gilmer told Rigzone in an interview.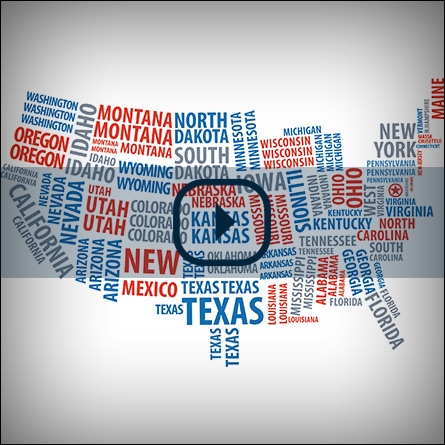 Interesting Things Seen in Buda
The Eagle Ford unconventional play in South Texas has proven prolific in terms of oil production, but activity on other formations within the Eagle Ford area will expand. While the Pearsall shale will not likely be a huge play, Gilmer said DrillingInfo is seeing interesting things in the Buda formation.
Both the Pearsall and Buda plays are located below the Eagle Ford – the Buda located deeper than the Eagle Ford and Pearsall the deepest – varying in depth ranging from 7,000 feet to 12,500 feet. Buda exploration is occurring in the eastern portion of the Eagle Ford play area, while Pearsall development is taking place in the western half of the Eagle Ford.
A couple of Buda wells have come online pretty strongly in the dead oil zone of the Eagle Ford proper, an area where companies had leased, hoping for oil, but not enough gas exists to make it mobile. But when operators started drilling deeper into the Buda, they "walked into a window of mobility, so it looks like a second life for a lot of those leases."
"Everybody thought there was a line of depth at the arch that there was a restricted basin south of there that was great for the Eagle Ford and high total organic carbons, and that north of there it would be too clastic of a system with not enough with not enough total organic shale," Gilmer commented.
However, this section is starting to emerge as the Eaglebine – the name of the play in which operators are targeting the Woodbine and Eagle Ford plays – which operators are now perforating.
"It looks completely charged and they're getting better wells out of that."
The Eaglebine is roughly the same age as the Tuscaloosa in that it was deposited at the same geologic time along the Cretaceous shoreline. The Eagle Ford and Woodbine formations complement each other to provide better well performance. Operators are also pursuing the Woodbine, which Gilmer calls a "fantastic" silt play, in eastern Texas in the Leon, Houston, Madison, Walker, Brazos and Grimes counties.
Tuscaloosa 'Looks Like Real Deal'
Oil and gas companies are extending that play into Louisiana and Mississippi into a similar play, the Tuscaloosa Marine Shale. The Tuscaloosa is starting to look like "the real deal". The Tuscaloosa's depth, which ranges from 11,000 feet to 15,000 feet, is much deeper than equivalent rocks in the Texas Gulf Coast, but operators pursuing the play are getting some decent fluids, whereas operators are encountering dry gas 11,000 feet in the Eagle Ford, Gilmer noted. A lot of activity is taking place here with nice thick zones of 500 to 800 feet seen in wells, the Tuscaloosa is a play to which Gilmer is definitely paying attention.
Oil and gas companies are starting to dip their toes again into to the New Albany shale play in Illinois, Indiana and Kentucky. The industry has known for a long time that the play, which is mostly gas, is a productive source rock.
"The industry is starting think that there will be a better gas market, with half of the industry thinking it's a good idea and the other half thinking it's ridiculous," Gilmer commented.
Oil and gas companies that include Cabot Oil & Gas Corp., EOG Resources Inc., Noble Energy Inc. and St. Mary's Exploration are also making sounds and movements into the Chainman shale play in eastern Nevada, which Gilmer describes as a world-class Mississippian age, Devonian oil source rock. Nevada production has been completely sporadic, with only a few areas where they found oil that wasn't dead. But some of the wells in railroad valleys were some of the biggest producing wells of their time, with the play both underneath the mountain thrust and in basin and range areas.
"That is a play both underneath the thrust under the mountains and the basin and range areas."
Gilmer sees good spots in the Mississippian Lime Play. While most of the focus in this play has been along the northern Oklahoma/Southern Kansas border, Gilmer has seen some buzz about exploration of Mississippi-aged, as well as Pennsylvanian-aged, formations in eastern Colorado. These formations have had conventional development for decades along the Las Animas Arch, but are now being explored with new drilling and completion techniques taken from the shales. While the wells generate lots of water, the fact that they're shallow means they are lower cost.
"The Mississippian rocks in the Chat are similar in some ways to the Wolfberry play because they have a lot of small clastic reservoirs that are highly compartmentalized and are connected by going horizontal and heavy hydraulic fracturing," Gilmer noted.
Like the Wolfberry, they also have multiple, stacked formations in which a single wellbore can produce from, or what is called in the industry "commingled" production.
The Cline shale play in West Texas ranks among the emerging plays on which the oil and gas industry will focus in 2014 and beyond. Estimates of the Cline shale potential range from 100 to 150 million barrels of oil per section. The Cline shale has been recognized by some as the fourth bench of the Permian-aged Wolfcamp shale. The Wolfcamp is broken down into A, B, and C intervals based on variations in lithology throughout the formation.
The Midland and Delaware basins share common stratigraphy in that there was sediment infill during the same geologic time in each respective basin, meaning there is a Midland Basin Wolfcamp and a Delaware Basin Wolfcamp equivalency.
The challenge for operators will be how to engineer wells to get more production out. Estimates of the amount of hydrocarbons that can be recovered from the Delaware side of the Permian ranges anywhere from 3 to 6 percent to 18 to 20 percent.
However, well drilling costs are coming down in the shallow portion of the play on the eastern shelf, in Borden and Mitchell counties. The Cline shale play area runs approximately 140 miles north-south and about 70 miles wide through Howard, Glasscock, Regan, Sterling, and Mitchell counties, with some exploration in the northeast portion of the extent of Borden and Scurry counties.
Gilmer notes that, along the eastern shelf of the Midland Basin, the strata trends upwards along the basin edge allowing for shallower wells to be drilled. This is turn allows for cheaper wells.
"However, it is also important to keep in mind the length of the lateral extension of the well and the number of stages per lateral," Gilmer noted. "A well with a 4,000-foot lateral and 15 stages can cost somewhere in the range of $7.5 million and a well with a 7,500 foot lateral and 25 stages could potentially run up in the $10 to $11 million range."
The Permian Basin is broken down into the Midland Basin, the Central Basin platform and the Delaware Basin.
"If you walk across the Central Basin platform, the Wolfcamp and Cline are essentially the same play as the Bone Springs and Avalon plays, but the only difference is that most of those are clastic versus carbonaceous."
What's changed the game is horizontal drilling. In the Bone Spring play, production previously came from vertical wells. Today, over 90 percent of the production is from horizontal wells.
"We call them by different names, but essentially, they are all junk rocks that are charged," Gilmer noted. "It seems unnecessary to separate them apart with different names."
One ancillary play that operators are starting to examine is the Marble Falls play close to the Barnett shale play in North Texas. Located right above the Barnett shale, the slurry play is found at 5,000 feet with a thickness of 400 feet, and is a calcareous rock with lots of silica. Operators starting to develop this hidden play can use existing Barnett shale infrastructure. To date, companies such as EOG and Pioneer Natural Resources Corp. have successfully drilled over 300 wells in the play over the past year. Marble Falls drilling activity is taking place in Jack, Young, Palo Pinto, Stephens, and Parker counties.
A number of companies have drilled the Granite Wash play in the Oklahoma and Texas panhandles, but are beginning to pursue other shale plays above the Granite Wash, including the Brown Dolomite, Marmaton, Cleveland and Tonkawa, which are charged, oil prone and shallower and cheaper to drill versus the Granite Wash. These plays go out much further west than the Granite Wash.
"We're starting to see activity in counties where historically there has a lot of activity."
While these wells have higher production rates, they also produce a fair amount of water, which means operators must find ways to dispose of this water.
One play that Gilmer sees as a re-emerging shale play is the Brown Dense in northern Louisiana and southern Arkansas, which got hot for a while, then cold after wells drilled didn't produce as originally expected, but Southwestern Energy has drilled three wells there, Gilmer noted.
"It's a nice thick zone that hasn't played out as thought but hasn't been tested as much."
The upswing in oil prices has rejuvenated interest in older plays that operators had walked away from. Oil and gas companies are now returning to the Antrim shale play – the large majority of which is located in Michigan but also extends into Indiana and Ohio – the original shale play – which they abandoned the Antrim to pursue other plays. Some of the companies that have expressed an interest in the play include Breitburn Operating and Atlas Gas & Oil Co.
Gilmer also sees potential for the Monterey shale play. Oil and gas companies are applying acid fracking to the Monterey shale in California instead of hydraulic fracturing due to the fact that it's a carbonaceous rock.
"Even though it's a good source rock, you get a lot of water – it's very broken up and you get more on the highs than lows."
Challenges Facing Industry in Future Shale Activity
Oil and gas companies face a number of challenges in developing U.S. shale plays, from technology and methods for successful production to U.S. public opinion and what Gilmer calls "fairly egregious charges" against the industry over environmental destruction.
Booking reserves also poses another challenge for the industry. From the point of view of the U.S. Securities and Exchange Commission (SEC), one company may be deemed as a company that really knows how to produce shale plays. But if that company sells the same assets to a second company, the second company might be getting 30 to 40 percent less production per unit area.
Previously, it didn't matter which company drilled the East Texas field first, because the company that initially drilled and the companies that followed would recover the same resources.
"But now, people are recovering vastly different reserves," Gilmer noted.
A company can buy reserves in a play where other companies have found success.
"But if they don't know the other company did it, the results can turn out to be wildly different."
Not only is the industry still trying to wrap its head around this difficulty, but the SEC has not recognized the different production results as an issue. Gilmer describes understanding shale plays and how to successfully produce shale hydrocarbons as a "difficult onion to peel".
Best practices are also still evolving, with 20 to 30 experiments in production taking place at the same time as the industry seeks to determine the best way to arrange information to get results.
"If a company drills a well and it produces 1,000 barrels of oil per day, people will say it's because it's good rock." Gilmer noted. "But that's not it, it's something they did."
Generated by readers, the comments included herein do not reflect the views and opinions of Rigzone. All comments are subject to editorial review. Off-topic, inappropriate or insulting comments will be removed.