Career Spotlight: Marine Surveyor
by Gene Lockard
|
Rigzone Staff
|
Wednesday, November 27, 2013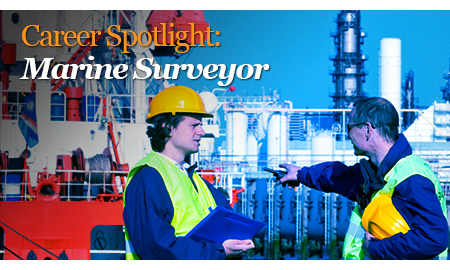 For those who wish to be landlocked, a marine surveyor position in the oil and gas industry is probably not the ideal job. But for those who like the water and wish to travel and spend time in the elements, this position could be just the ticket to an exciting career.
Marine surveyors have been around almost as long as water-based craft, and over time, they have acquired varied responsibilities. A central duty is to examine and inspect marine vessels to ensure compliance with U.S. and global standards and specifications. This inspection includes not only the general condition of the craft, but also its structure, as well as the condition of any equipment and machinery on the vessel.
The inspection process covers also covers the engines, any applicable boilers or turbines, refrigeration and air-conditioning systems and pumping systems.
Marine surveyors also provide pre-commissioning and commissioning services, and determine the classification of vessels.
In addition to having knowledge of vessels, marine surveyors must also have knowledge of facilities such as loading dock, dry docks and canals, as well as regulation compliance and insurance eligibility and claim resolution. Marine surveyors are sometimes used by insurers to resolve fraud, accident and damage claims.
A marine surveyor uses specialized instruments to study coastlines and bodies of water, and to chart water depth and the layout of the sea floor.
The position of marine surveyor is expected to increase by 24 percent - more quickly than average - according to the U.S. Bureau of Labor Statistics, with as many as 14,000 new marine surveyor positions created by 2016.
At the time of print, there were more than 20 marine surveyor positions in Rigzone's Career Center.
Generated by readers, the comments included herein do not reflect the views and opinions of Rigzone. All comments are subject to editorial review. Off-topic, inappropriate or insulting comments will be removed.