US Eyes Increase In Arctic Operations
by The Associated Press
|
Lolita C. Baldor
|
Friday, November 22, 2013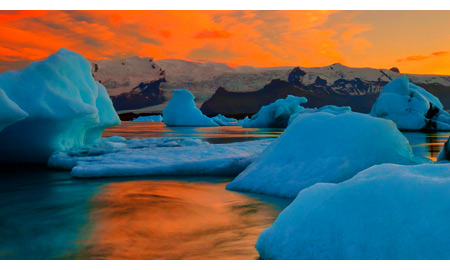 HALIFAX, Nova Scotia (AP) — The U.S. military is looking for ways to expand operations in the vast waters of the Arctic as melting ice caps open sea lanes and other nations such as Russia compete for the lucrative oil and gas deposits. But the effort will take money and resources to fill the broad gaps in satellite and communications coverage, add deep-water ports and buy more ships that can withstand the frigid waters or break through the ice.
There are no cost or budget estimates yet. But by the end of this year, the Navy will complete plans that lay out what the U.S. needs to do to increase communications, harden ships and negotiate international agreements so that nations will be able to track traffic in the Arctic and conduct search-and-rescue missions when needed.
En route to a security conference here Thursday, Defense Secretary Chuck Hagel said climate change, energy resources and security issues revolving around the Arctic will continue to grow in importance, particularly as the melting ice opens a new polar sea lane.
"That's going to give many new opportunities to countries, to the world," Hagel told reporters traveling with him to the conference where the Arctic was expected to be a topic of discussion. "That will come with new challenges as well. So the United States needs to be very active in this group and be very involved."
President Barack Obama in May unveiled a 13-page U.S. strategy for the Arctic, asserting that nations must protect the region's fragile environment and keep it free from conflict. At the same time, however, the U.S. wants to make sure it is not left behind as countries like Russia, China, Canada and Norway map out plans ranging from gas and oil exploration to research and military exercises.
U.S. officials estimate the Arctic holds 13 percent of the world's undiscovered oil reserves and 30 percent of undiscovered gas deposits. Until recently, however, areas that could reap hundreds of billions of dollars in revenues were frozen over and unreachable.
Experts now say the Arctic waters could see largely ice-free summers as early as 2030, and there could be ice-free conditions for as long as a month by the mid-2020s. Ice-free means that about 10 percent of the water is ice-covered.
1
2
View Full Article
Generated by readers, the comments included herein do not reflect the views and opinions of Rigzone. All comments are subject to editorial review. Off-topic, inappropriate or insulting comments will be removed.