Unconventionals Drive Innovation in Seismic Software
by Karen Boman
|
Rigzone Staff
|
Thursday, November 14, 2013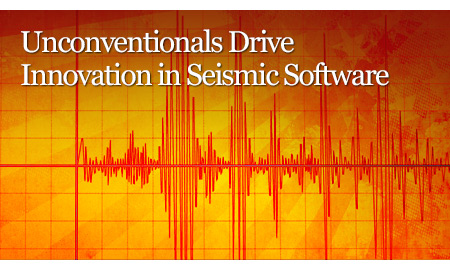 The oil and gas industry's need to better understand shale plays – and evidence that reservoir characterization is necessary for maximizing production from fractured zones – has resulted in companies seeking to develop seismic technology that not only provides enhanced evaluation and visualization capabilities, but allows collaboration across disciplines within a company to better plan and manage the extraction of oil and gas resources.
In recent months, companies such as Halliburton, Baker Hughes Inc. and Royal Dutch Shell plc have unveiled new tools for seismic interpretation or agreements to develop geological and reservoir modelling tools. Halliburton in September introduced its CYPHER seismic-to-stimulation service, a collaborative workflow that integrates geoscience, reservoir, drilling and completion engineering that Halliburton said would allow operators to better predict and produce unconventional reserves.
Halliburton's Landmark Software and Services business last month released its DecisionSpace 5000.8.3 software suite, which includes over 60 new major technology enhancements to improve geoscience interpretation, analysis and subsurface modeling.
Baker Hughes and Shell last month reported the formation of a software license and joint development agreement to produce a high-end platform for geological and reservoir modeling. The system, which would be based on Baker Hughes' JewelEarth software platform, would be optimized for resource modeling and production in tight/shale and liquids-rich shale reservoirs, according to a Shell Sept. 11 press release.
Rigzone talked with Dean Witte, SVP Research and CEO of Transform, which was acquired by DrillingInfo in June of this year. Founded in 2004 by Witte and Murray Roth, Transform developed analytics-based software technology for visualizing, modeling, interpreting and quantifying oil and gas reservoirs. Austin-based DrillingInfo provides oil and gas well drilling, permitting and production data, for North American and global shale resources.
Witte, who started his career with Chevron's Oil Field Research division, is a geophysicist with more than 25 years of experience in oil and gas as a researcher, developer and senior manager. He holds a Bachelor of Arts in physics from Washington University in St. Louis and a Ph.D. in geophysics from Columbia University's Lamont Doherty Geological Observatory.
Here is what Witte had to say about trends he's seeing in seismic acquisition technology.
1
2
3
4
5
View Full Article
Generated by readers, the comments included herein do not reflect the views and opinions of Rigzone. All comments are subject to editorial review. Off-topic, inappropriate or insulting comments will be removed.