Musings: Safety Statistics Reporting Could Impact Offshore Regulation
by G. Allen Brooks
|
PPHB LLC
|
Tuesday, November 12, 2013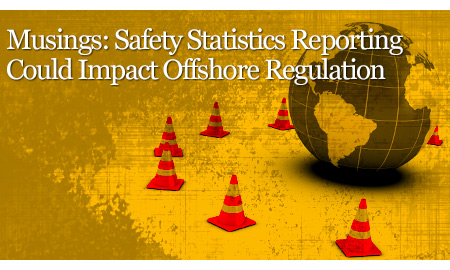 This opinion piece presents the opinions of the author.
It does not necessarily reflect the views of Rigzone.
The Department of Labor is considering creating a publicly available database of workplace safety information of large companies. The head of the Occupational Safety and Health Administration (OSHA) and safety advocates argue that public information about injuries at the workplace will aid the government's efforts at safety enforcement. The proposal the government released last week calls for about 38,000 private companies – those with 250 employees or more – to provide a detailed quarterly report of all major injuries that occur at a worksite, including the cause of each injury. OSHA plans to release the data with personal employee information redacted on its web site.
Companies are already required to collect the safety information, to post it at their worksites and to provide injury rate summaries to government data surveyors when selected, but the statistics are not normally reported to OSHA. At the present time, around 60,000 companies a year provide injury data that is stored on OSHA's website, but that information is not complete. The new proposal will expand the reporting requirement to about 440,000 companies that must report injury and illness information.
Industry is fighting the government's proposal because the data is subject to misuse/misinterpretation that could support agendas by groups that have nothing to do with safety and health. On the other hand, regulators say they need the additional information to determine which industries and companies to target for investigations and improvements. Some safety professionals and researchers are concerned that the additional reporting requirement might lead to under-reporting injury and illness data by companies in order to make them appear safer. Will employees monitor their boss' safety reporting accuracy?
We find it interesting that recent media articles reporting on accidents and deaths of foreign workers offshore could become another pressure point for the release of accident, injury and illness statistics. In the past several years, there have been at least two accidents involving offshore platforms where four Filipino workers have died. Investigations have pointed to a lack of communication between operators and contractors and even among contractors working offshore. The 2011 extension of offshore regulation to service companies by the Bureau of Safety and Environmental Enforcement (BSEE) from its prior exclusive focus on operators/lessees has changed working relationships offshore.
Now that service companies are regulated, management has a responsibility to understand how their working relationship with their clients – the oil companies – has changed and how they must adjust to the new conditions. One of the primary changes is that the service companies can no longer be indemnified by their clients, but rather everyone operates under "joint and several" liability, meaning each party must insure against not only its own accidents but also those that might be caused by other contractors or even the operator.
The energy reporters at the Houston Chronicle have written several stories about the investigations into the safety incidents offshore. The conclusion from these investigations can be summed up by comments from Brian Salerno, the head of BSEE. He was quoted saying, "The connections between operators and contractors can probably be tightened up from a safety perspective." He also commented, "Our recent experience suggests that all offshore oil and gas operations ... carry inherent risks." But one issue that critics of safety conditions offshore point to is the current cap of $40,000 per incident per day in an environment where daily operating costs can run to several million dollars per day. They question whether that cap is sufficiently high enough to draw the attention of managements.
1
2
View Full Article
Generated by readers, the comments included herein do not reflect the views and opinions of Rigzone. All comments are subject to editorial review. Off-topic, inappropriate or insulting comments will be removed.