Private Protection: Combating the Piracy Threat
by Jon Mainwaring
|
Rigzone Staff
|
Wednesday, November 06, 2013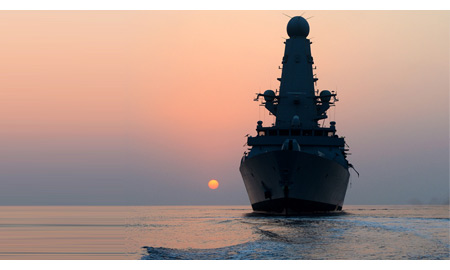 The In Amenas terrorist attack in January of this year was a stark reminder that oil and gas companies often operate in areas where their employees can be vulnerable from a security point of view.
While the In Amenas attack set a worrying precedent in that it was conducted by Islamist terrorists who deliberately targeted employees of the Western oil companies BP plc and Statoil ASA, the truth remains that most hostage taking of oil company employees currently occurs at sea.
Attacks by pirates on oil and gas vessels offshore Africa happen frequently. The latest such incident occurred at the end of October, when two U.S. citizens were kidnapped from an oil supply vessel offshore Nigeria. This kidnapping serves to remind just how dangerous the Gulf of Guinea is becoming for the crews of oil and gas vessels, as well as merchant seamen, with the International Maritime Bureau recording 31 incidents of piracy and armed robbery in the region during the first six months of this year.
The increase in piracy off the coast of Africa in recent times has occurred as Western navies, which have traditionally enforced maritime law, are becoming smaller in response to budget cuts. The Royal Navy operated around 50 frigates and destroyers in 1990, compared to 20 today (source: www.savetheroyalnavy.org), while the total number of active ships in the U.S. Navy declined from 592 to 283 between 1989 and 2009, according to the U.S. Navy's Naval History & Heritage Command.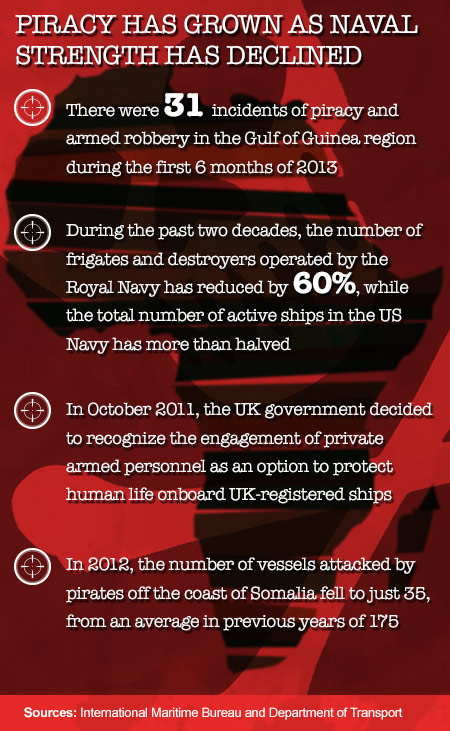 Consequently, Western governments have been working with the maritime industry to enable the use of privately-contracted armed guards on commercial vessels registered in their countries. For example, the UK government decided in October 2011 to recognize the engagement of private armed personnel as an option to protect human life onboard UK-registered ships from the threat of piracy.
However, there are dangers to simply putting armed men aboard ships. Properly-trained soldiers who are not only familiar with working at sea, but also well versed in health and safety rules that apply to commercial ships, are required to avoid problems, according to Protection Group International Corporate Development Director Jamie Main.
Protection Group International (PGI) sees itself as a "one-stop shop" for large commercial organizations, including oil and gas majors, when it comes to their security needs. With employees who include former UK military and intelligence personnel, the company aims to handle everything from low-level security issues, such as access control and personnel vetting, through to the provision of physical security teams.
1
2
3
4
View Full Article
Generated by readers, the comments included herein do not reflect the views and opinions of Rigzone. All comments are subject to editorial review. Off-topic, inappropriate or insulting comments will be removed.