Energy Day Event in Downtown Houston a Hit with Thousands
by Gene Lockard
|
Rigzone Staff
|
Friday, October 25, 2013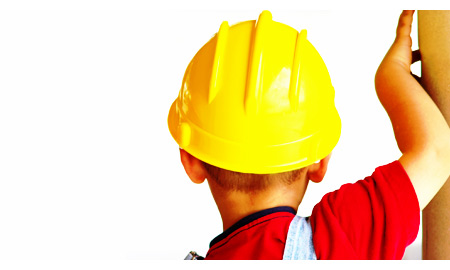 Throngs of enthusiastic young rig workers in yellow hard hats descended upon downtown Houston for the third annual Energy Day event on Saturday, Oct. 19. Energy Day is a family-friendly event presented and promoted by Consumer Energy Alliance and 2013 co-sponsors University of Houston and Just Energy.
Energy Day, which was held on Hermann Square in front of Houston's City Hall, was designed to be an educational outreach effort,, with the goal of showing K-12 students that science is both fun and important. A particular emphasis was placed on the STEM fields – science, technology, engineering and mathematics – that are often necessary for a career in the energy industry.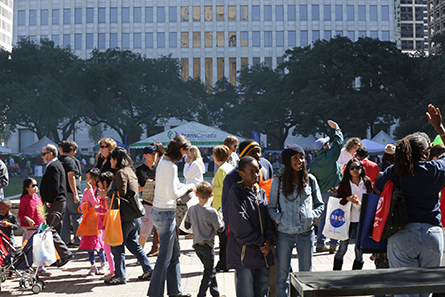 An estimated 20,000 people showed up for CEA's 2013 Energy Day. Source: Consumer Energy Alliance
A recurring theme of sponsors at the event was that, for about 20 years now, students pursued options other than science and technology, and that has created a dearth of qualified workers ready for a career in the energy industry. To that end, Energy Day was a chance for the industry to put a future career in energy on the radar screen for many students, with an eye toward growing the pipeline of engineers, geoscientists and other workers that will be needed in the coming years.
In weather that was right out of a Chamber of Commerce pamphlet, attendees at Energy Day – which was made an official City of Houston event – were able to participate in a variety of interactive demonstrations and experiments, ranging from the mimicking of the sound of whales to a "fracking" experiment using two straws, some dried beans, and a cup of water. They also enjoyed a variety of energy-related exhibits and displays from several dozen sponsors. There was food and music at the event, and monetary prizes were awarded. Police estimated that about 20,000 people attended the event. That was significantly above the attendance in each of the two previous years.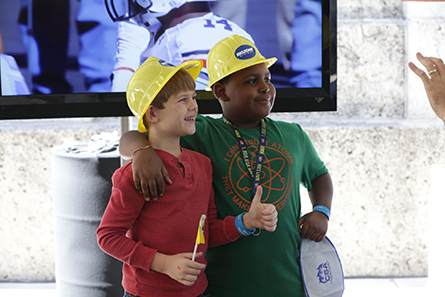 Kids at Energy Day could be working together in the energy business one day. Source: Consumer Energy Alliance
With downtown Houston's energy towers serving as a backdrop, Houston Mayor Annise Parker made an appearance and talked about the importance of the energy industry to the city. She then led the crowd in a countdown to the launch of a weather balloon.
Companies represented at the event included oil and gas companies and the companies that serve them, as well as renewable and alternative fuels companies, utility companies, Houston-area museums, companies that market energy efficient products, transportation companies that recognize the importance of ecology and energy conservation, and a non-profit company providing a forum for scientists to discuss the latest climate information. One spokesperson for an oil and gas major told Rigzone that there are more energy jobs available than there are qualified candidates to fill them, and that there is beginning to be a brain drain in the oil and gas sector as experienced people retire out of the industry.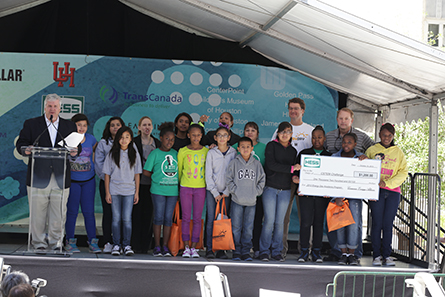 Sponsors generously donated thousands of dollars in prize money. Source: Consumer Energy Alliance
Getting the word out about the importance of energy is the raison d'etre for the Institute of Energy Research (IER), a not-for-profit sponsor of Energy Day that has created an initiative called American Products.American Power. According to the initiative, energy development could create as many as 1.9 million jobs, and $3.7 trillion in wages.
1
2
3
View Full Article
Generated by readers, the comments included herein do not reflect the views and opinions of Rigzone. All comments are subject to editorial review. Off-topic, inappropriate or insulting comments will be removed.
RELATED COMPANIES