Ultra Buys Uinta Assets for $650M
by Karen Boman
|
Rigzone Staff
|
Monday, October 21, 2013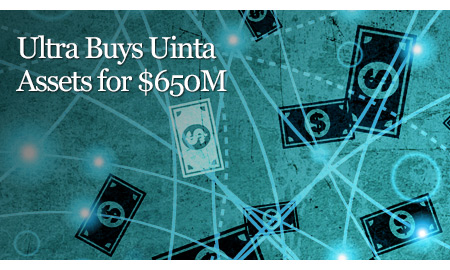 Houston-based Ultra Petroleum Corp. has signed a deal to acquire oil-producing properties in the Uinta Basin in Utah for $650 million.
Through the acquisition, Ultra will gain operated assets with 100 percent working interest in northeast Utah that have current net production of 4,000 barrels of oil per day from 38 producing wells, the company reported in a press release on Monday.
The properties have net risk reserves of more than 90 million barrels of oil and will make up a self-funding development immediately in the first year of operations. The transaction will give Ultra a de-risked acreage position with stacked pay potential, the company noted.
The oil acquisition fits the company's strategy of profitable growth with exceptional returns at oil prices well below $75 per barrel, said Ultra Chairman, President and Chief Executive Officer Michael D. Watford in a press release Monday.
Ultra also is developing a two-decade drilling inventory in the Pinedale tight gas field in the Green River Basin in southwest Wyoming.
The company currently controls over 84,000 gross (49,000 net) acres of leases in and around the Pinedale and Jonah natural gas fields in the greater Green River Basin. Ultra has been acquiring leasehold interest in Pinedale since 1997 and is now the largest interest owner in the field. As of year-end 2012, Ultra had over 5,000 gross (2,900 net) future wells equating to proved, probable and possible (3P) reserves of 9.6 trillion cubic feet equivalent.
"As operator with 100 percent working interest, we will apply the same drilling techniques used in Pinedale due to similar geologic characteristics," Watford said, adding that the asset will completely pay for itself in five years followed by decades of free cash flow.
The company will finance the acquisition through debt at the subsidiary and parent level, and expected to close the deal in December. The acquisition is effective as of Oct. 1, 2013.
Ultra has long weighed the prospect of an oily acquisition as an add-on to high returns in the Pinedale and Marcellus formations, according to an Oct. 21 analyst note from GHS Energy Research. "However, we do not expect the market to be overly enthusiastic on this news given that other players such as Bill Barrett Corp., have not been rewarded for their position in the basin due to marketing and other issues."
The company also has a position in the Marcellus shale play. As of the end of 2012, Ultra's position in the Marcellus shale consisted of 500,000 gross (260,000 net) acres of leases across Potter, Tioga, Clinton, Centre and Lycoming counties in north central Pennsylvania.
Generated by readers, the comments included herein do not reflect the views and opinions of Rigzone. All comments are subject to editorial review. Off-topic, inappropriate or insulting comments will be removed.
MORE FROM THIS AUTHOR
Karen Boman
Senior Editor | Rigzone