AMGAS Service to Reduce Hydrogen Sulfide in Eagle Ford Shale
by Karen Boman
|
Rigzone Staff
|
Friday, October 18, 2013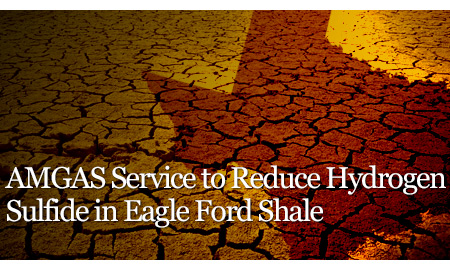 The surge of exploration activity in the South Texas Eagle Ford shale play has resulted in significant hydrocarbon production. However, it also means that producers must find ways for dealing with hydrogen sulfide (H2S) and other noxious emissions due to sour shale production.
AMGAS, a full-service H2S treatment company, recently entered the Eagle Ford market to begin offering its treatment solutions for H2S to allow for the safe transportation of crude oil with H2S by truck and railroad.
AMGAS officially launched its services at the DUG Eagle Ford conference in San Antonio last month.
H2S is a corrosive, poisonous, flammable and explosive gas that can naturally occur from the bacterial breakdown of organic matter in the absence of oxygen. Hydrogen sulfide smells of rotten eggs, even at low concentrations, and can cause people to lose their sense of smell at higher levels.
H2S can cause mild irritation of the eyes and throat at 50 to 100 parts per million (ppm); at 500 ppm and higher, H2S can cause unconsciousness, dizziness and possibly death within 15 minutes to an hour of exposure, according to a presentation by Occupational Health & Safety Administration (OSHA). According to OSHA's website, the U.S. Bureau of Labor Statistics reported that hydrogen sulfide caused 60 worker deaths between 2001 and 2010.
Waterflooding and steam flooding can raise H2S levels in oil production due to the introduction of sulfur-reducing bacteria. H2S emissions are also higher in certain parts of the United States, including Texas. Texas historically has produced a lot of sour oil and gas. According to AMGAS, Texas has over 12,000 H2S gas wells and more than 190,000 oil wells with H2S. Texas is one of 20 states that have 14 major H2S prone areas.
The state has four discrete H2S prone areas, according to a report by the U.S. Environmental Protection Agency on the potential hazards of routine emissions and accidental H2S releases from the production and storage of oil and gas at well sites.
1
2
3
4
View Full Article
Generated by readers, the comments included herein do not reflect the views and opinions of Rigzone. All comments are subject to editorial review. Off-topic, inappropriate or insulting comments will be removed.