Massive Spending Ahead As Industry Develops US Shale
by Karen Boman
|
Rigzone Staff
|
Monday, October 21, 2013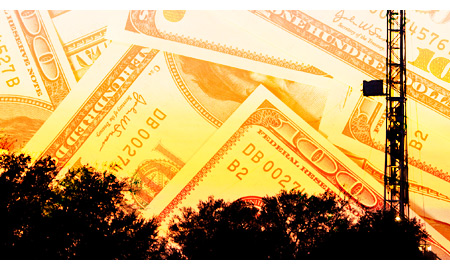 Now that the land grab of U.S. shale oil and natural gas acreage has ended, the oil and gas industry faces a new question – how it will fund the commercialization of unconventional resources.
Cash flow issues have already been seen among oil and gas companies seeking to develop shale, raising questions about financing and how companies will handle spending, according to a panel of industry experts at the Bloomberg Oil & Gas Conference Thursday in Houston.
With most major shale plays discovered and acreage leased, the time has come for the industry to digest and drill what they might have, said Ron Hulme, CEO of Parallel Resource Partners, during a panel discussion on the amount of investment needed to commercialize shale.
To date, 60,000 unconventional oil and gas wells have been drilled in the United States, but 500,000 drilling locations remain, meaning the industry has drilled a little more than 20 percent of this inventory, given current spacing and conditions.
The development of shale resources might prove the exception to the ability of companies to raise funds in capital markets, said Gray. Estimates of the amount of capital needed range from $2 trillion to $5 trillion, but the market capital of shale participants is less than $1 trillion. Companies currently are needing to go to capital markets for $40 to $50 billion a year of capital now and have been spending beyond cash flow, but some suggestions indicate that spending may double or triple. Fundamentally, the industry could face a $2 trillion gap in funding.
A company may lease land in a perspective play at $2,000 an acre, but if it fully develops that land with 40-acre spacing and $8 million wells, that company will need $200,000 an acre, a ratio of 100 to 1, said Hulme.
"Companies are spending one-third of their capital budgets on land, but need 100 times that amount to develop shale resources," Hulme noted.
1
2
3
4
View Full Article
Generated by readers, the comments included herein do not reflect the views and opinions of Rigzone. All comments are subject to editorial review. Off-topic, inappropriate or insulting comments will be removed.