Houston's Oil, Gas Industry Continue to Lead Nation's Job Market
by Robin Dupre
|
Rigzone Staff
|
Monday, September 30, 2013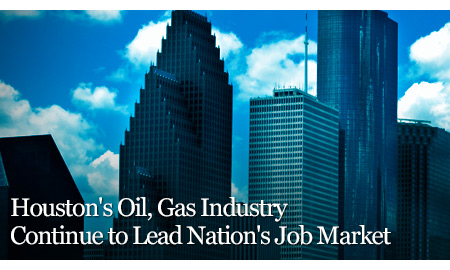 The unemployment rate in Texas fell to 6.4 percent in August – a rate that remains below the national unemployment level of 7.3 percent, reported the Texas Workforce Commission. The percentage fell from 6.5 percent in July and from 6.8 percent from a year ago.
"Every major industry in Texas showed positive annual job growth and Texas employers added 274,700 jobs over the year," stated Texas Workforce Commission Chairman Andres Alcantar in a press release.
Employment in drilling grew 7.3 percent, totaling more than 90,000 jobs by the end of 2012, according to the U.S. Labor Department. Jobs in extraction added more than 193,000 jobs at the end of last year, an increase of 24.4 percent. Support positions in the oil and gas industry accounted for 286,000 total jobs last year, reflecting a 35.6 percent increase since 2007.
As for Houston, the city continues to lead the nation in job growth. Local area employers added 97,700 jobs to their payrolls during the past 12 months, representing a 3.6 percent increase between July 2012 and July 2013.
While Texas lost 400,000 jobs in the "Great Recession," more than 800,000 jobs have since been created, according to Texas economist, Ray Perryman.
The O&G Industry Continues to Provide
Employment in the energy and manufacturing sectors in the oil and gas industry grew at a much faster pace than employment in the private sector, stated the U.S. Energy Information Administration.
While the U.S. private sector employment improved, adding more than 1 million jobs from 2007 through the end of 2012 – representing a 1 percent increase – the oil and natural gas industry added more than 162,000 jobs, representing a 40 percent increase during that same period.
1
2
View Full Article
Generated by readers, the comments included herein do not reflect the views and opinions of Rigzone. All comments are subject to editorial review. Off-topic, inappropriate or insulting comments will be removed.