Texas A&M Researchers Design, Develop Nanomaterials that Absorb Crude Oil
by Robin Dupre
|
Rigzone Staff
|
Friday, September 27, 2013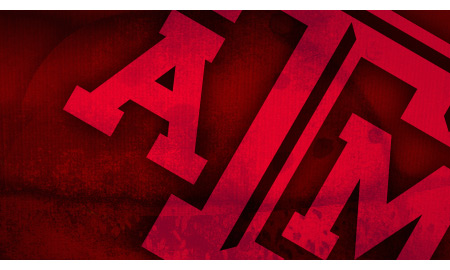 Researchers from Texas A&M University have developed technology that can absorb crude oil, roughly up to 10 times its weight.
The development of this technology, a non-toxic sequestering agent-iron oxide nanomaterial coated in a polymer mesh, began in 2010 after the Deepwater Horizon and Kalamazoo spills that occurred in the Gulf of Mexico and Kalamazoo River, respectively. Crude from the subsequent spills is still lingering under the surface, dispersed in the water and mixed in the sand along with the now considered toxic dispersant Corexit. This technology was designed to soak up the left-over oil.
"Our system was designed with post-bulk recovery in mind; we believe that the current mechanical methods used are efficient for high concentrations of the pollutants, but there seemed to be a lack of highly-effective materials for lower oil concentrations, or sheen," stated Adriana Pavia-Sanders, PhD Candidate, Professor Karen L. Wooley Laboratory, Department of Chemistry at Texas A&M University.
The nanomaterials consist of an iron oxide core surrounded by a shell of polymeric material-a simple poly-block-polystyrene that possesses both hydrophilic and hydrophobic groups, as reported in ACS Nano. This amphiphilic copolymer interacts with both the aliphatic hydrocarbons and aromatic components present in crude oil. The report added that crosslinking the polymer makes the shell more stable in aqueous environments while maintaining the crude oil loading potential. The nanoparticles can soak up leftover oil that isn't captured using conventional mechanical means.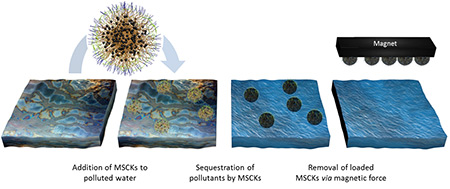 Nanomaterials absorb oil into the polymer layer to remove crude oil from a body of water. Source: Texas A&M University; Adriana Pavia-Sanders
Pavia-Sanders, who developed and tested these materials, said that the project is still in the early stages but the results are promising.
"These magnetic-shell cross-linked knedel-like nanoparticles, or MSCKs, were tested and showed remarkable recovery of 10 times their dry weight of the weathered crude oil used. Preliminary recycling showed that these particles could be 'rinsed' and reused with no apparent recovery loss," she added.
The research team garnered samples of crude oil, to match the conditions of the Deepwater Horizon spill, from the Enbridge Texas-Oklahoma pipeline. When the nanoparticles were dropped in the oil-water mixture, they immediately changed color from light tan to black as they soaked up the oil. When the nanoparticles were full they floated to the top. A magnet was held to the side of the vial, nanomaterials collected at the side, and when the water was separated, it left crude oil inside the particles.
1
2
View Full Article
Generated by readers, the comments included herein do not reflect the views and opinions of Rigzone. All comments are subject to editorial review. Off-topic, inappropriate or insulting comments will be removed.