Fracking Goes Waterless: Gas Fracking Could Silence Critics
|
Thursday, September 26, 2013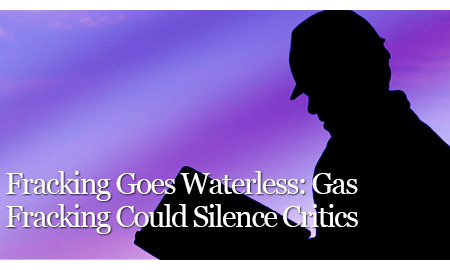 Fracking is firmly entrenched in the United States as energy companies explore for oil and gas in new areas, and areas previously thought to be nearly depleted from an economic standpoint. And while there are other forms of fracking available, hydraulic fracturing – fracking with water – is by far the most common method currently in use. As recently as 2012, about 95 percent of all fracking in the United States was done with water, according to a statement by Mukul Sharma, a professor at Austin's Cockrell School of Engineering.
However, while it is widespread, hydraulic fracturing uses water – a lot of water. Water is becoming increasingly scarce in many regions of the country, including some regions where fracking is common. In recent months, for example, as much as 98 percent of Texas was under a drought, and several other areas of the country are about as dry as Texas. Already, fights over water rights have broken out in Texas and Colorado, and could soon become common as water becomes increasingly scarce.
Water Conservationists Line Up Against Fracking Companies
One would be right in thinking that hydraulic fracturing in dry areas would bring out the critics. To be sure, the amount of water used in hydraulic fracturing is significantly less than the amount used for residential and agricultural purposes.
The total water use for fracking in the United States in 2010 was between 70 billion and 140 billion gallons, according to the Environmental Protection Agency (EPA). The amount of water consumed in fracking a well typically ranges from .6 to 1.8 gallons of water per million BTUs of energy produced, according to the Energy Collective.
On average, it takes about 7.5 million gallons of water to frack a well in Eagle Ford, according to the Texas Water Development Board. In the Barnett play, figures run from about 2.7 million, according to Sharma, to as high as 9 million gallons of water, according to Earthworks. The amount per well is determined in large part by the type of geological formation being fractured, and on who is being asked.
By comparison, municipal water usage is significantly greater. The amount of municipal water needed to service the Barnett shale area is 323 billion gallons, Professor Sharma told the University of Texas faculty and students during a June presentation at the Summer Research Internship program.
So, the amount of water needed to frack a well is significantly less than the amount needed for some other uses, such as residential use. However, there is little debating the fact that hydraulic fracturing uses a lot of water, and in agricultural areas where water is already scarce, that makes for poor public relations. And the problem is expected to get worse. In the Eagle Ford shale play, for example, the amount of water used in fracking was estimated to rise 10-fold between 2011 and 2020, and double again within another decade, according to a study by the Texas Water Development Board and the University of Texas' Bureau of Economic Geology.
1
2
3
View Full Article
Generated by readers, the comments included herein do not reflect the views and opinions of Rigzone. All comments are subject to editorial review. Off-topic, inappropriate or insulting comments will be removed.