Fracking Goes Waterless: Gas Fracking Could Silence Critics
|
Thursday, September 26, 2013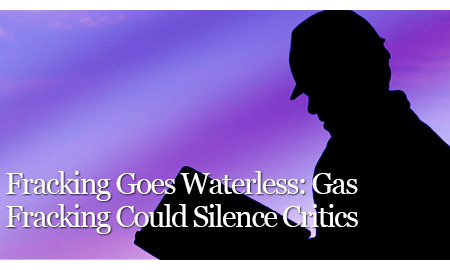 Fracking is firmly entrenched in the United States as energy companies explore for oil and gas in new areas, and areas previously thought to be nearly depleted from an economic standpoint. And while there are other forms of fracking available, hydraulic fracturing – fracking with water – is by far the most common method currently in use. As recently as 2012, about 95 percent of all fracking in the United States was done with water, according to a statement by Mukul Sharma, a professor at Austin's Cockrell School of Engineering.
However, while it is widespread, hydraulic fracturing uses water – a lot of water. Water is becoming increasingly scarce in many regions of the country, including some regions where fracking is common. In recent months, for example, as much as 98 percent of Texas was under a drought, and several other areas of the country are about as dry as Texas. Already, fights over water rights have broken out in Texas and Colorado, and could soon become common as water becomes increasingly scarce.
Water Conservationists Line Up Against Fracking Companies
One would be right in thinking that hydraulic fracturing in dry areas would bring out the critics. To be sure, the amount of water used in hydraulic fracturing is significantly less than the amount used for residential and agricultural purposes.
The total water use for fracking in the United States in 2010 was between 70 billion and 140 billion gallons, according to the Environmental Protection Agency (EPA). The amount of water consumed in fracking a well typically ranges from .6 to 1.8 gallons of water per million BTUs of energy produced, according to the Energy Collective.
On average, it takes about 7.5 million gallons of water to frack a well in Eagle Ford, according to the Texas Water Development Board. In the Barnett play, figures run from about 2.7 million, according to Sharma, to as high as 9 million gallons of water, according to Earthworks. The amount per well is determined in large part by the type of geological formation being fractured, and on who is being asked.
By comparison, municipal water usage is significantly greater. The amount of municipal water needed to service the Barnett shale area is 323 billion gallons, Professor Sharma told the University of Texas faculty and students during a June presentation at the Summer Research Internship program.
So, the amount of water needed to frack a well is significantly less than the amount needed for some other uses, such as residential use. However, there is little debating the fact that hydraulic fracturing uses a lot of water, and in agricultural areas where water is already scarce, that makes for poor public relations. And the problem is expected to get worse. In the Eagle Ford shale play, for example, the amount of water used in fracking was estimated to rise 10-fold between 2011 and 2020, and double again within another decade, according to a study by the Texas Water Development Board and the University of Texas' Bureau of Economic Geology.
Recycling the water used in fracking helps reduce the amount of water used, but that will not be enough to silence the critics of fracking. Driven in part by the criticism over the amount of water used in hydraulic fracturing, some energy companies are becoming more receptive to alternatives.
A New Way to Frack
One leading alternative that is gaining traction with some companies is fracking with liquefied petroleum gas (LPG). This technology was developed in Calgary, Alberta by Gasfrac Energy Services a few years ago, and allows fracking to be done with propane, butane or pentane – or mixtures of those gases – as a substitute for water. Gasfrac initially used propane, but the company now uses butane and pentane, as well. These gases are already found in natural gas wells. The blend can be designed and fine-tuned for the particular flowback characteristics of a given well. Because it does not use water, the LPG technology shows promise as a substitute for hydraulic fracturing, and could possibly reduce the general level of criticism that fracking generates, particularly in dry counties.
Wells as deep as 10,000 feet have been fracked using the LPG technology, Gasfrack told Rigzone. Energy sector interest in this method has been growing, and about 2,100 fractured wells using this technique are in the ground, with test wells under way in Texas. The most obvious advantage of LPG or gas fracking is that water is not needed, but Gasfrac pointed to other advantages of the new technology, as well. The technology is safe for the worker and removes the need to clean up the site following completion of the job, Gasfrac told Rigzone. There is little or no flaring when fracturing with the company's LPG technology, and 100 percent of the fluid used in fracturing is recoverable for sale later.
In hydraulic fracturing, 20 percent or more of the water used in fracturing the rock returns to the surface and must be treated and transported elsewhere. One significant advantage of fracking without water is that there is no need for treating and transporting water afterwards. In LPG technology, a gel containing sand or man-made materials is pumped deep into the shale formations, creating enough pressure to hold cracks open far below the surface and allowing gas to escape.
The material used to frack a well using LPG technology has low viscosity and low surface tension, compared with the surface tension of water. The result is that the initial well yield is greater with LPG technology, and total yields can be as much as 30 percent higher than if the well were hydraulically fractured. After the pressure and heat turn the gel into a vapor, it moves up to the surface, where it can be collected and sold down the line. Unlike hydraulic fracturing, gas fracking allows other materials, such as salts, drilling chemicals or radioactivity, to remain in the ground.
"I'm not saying that this is the Holy Grail," Gasfrac's Eric Tudor told Rigzone. "This technology was created out of a desire to optimize well output. We wanted better wells. It might not be the total solution, but I think it is part of the solution."
An obvious drawback of the LPG technology is that the fluid used is more expensive than the water it is substituting, and that makes up-front costs greater. However, the initial cost is more than made up for later, since there is no cleanup of "the nasties," such as radioactive material that comes up with the recoverable water when a well is hydraulically fractured, Tudor explained. Also, because the gas used in LPG fracking returns to the surface, it is recaptured and can be sold later, recouping much of the original investment.
After Gasfrac expanded into the United States, Fort Worth, Texas- based Quicksilver Resources teamed with the Canadian company to frack Pirtlaw, an oil well on Wolf Mountain in Steamboat Springs, Colorado using a gelled butane and resin-coated sand. Quicksilver told a Steamboat newspaper that it choose not to go with conventional hydraulic fracturing so that it could eliminate the truck traffic necessary to haul water to the area, and reduce the amount of sand needed in the operation.
San Antonio's Black Brush Oil & Gas LP is another company that embraced the LPG technology. It signed a two-year contract with Gasfrac in the Carrizo Springs area of the Eagle Ford formation. BlackBrush – which also went with a butane-rich mix – made the decision based on the amount of water used in hydraulic fracturing, and the issues related to disposing of that water. The company said that butane makes sense, since the oil and butane mixture which is used for fracking can later be sold as oil.
Tudor noted that it was the late George Mitchell whom the industry had to thank for the outputs realized by fracturing and horizontal drilling.
"I have to think that some people thought he was crazy back then. Once people saw that it could be successful, he became a Maverick. Now, he is seen as a visionary."
Generated by readers, the comments included herein do not reflect the views and opinions of Rigzone. All comments are subject to editorial review. Off-topic, inappropriate or insulting comments will be removed.