Barnett Shale: Down, But Not Out
|
Wednesday, September 25, 2013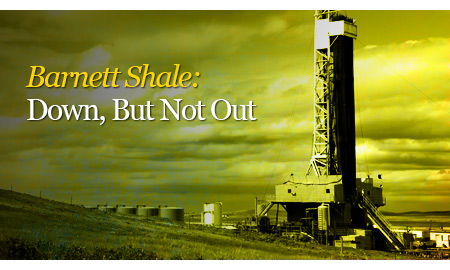 While natural gas production in the Barnett Shale is gradually slowing, the play is forecast to remain an important and viable natural gas source for several decades, according to the "Sloan Foundation Shale Gas Assessment Study" by the University of Texas at Austin's Bureau of Economic Geology.
The study, conducted by the university's Bureau of Economic Geology (BEG), forecasts a cumulative 44 trillion cubic feet of recoverable reserves in the Barnett Shale. The production is expected to decline annually from the current figure of 2 trillion cubic feet to about 900 billion cubic feet by 2030.
Production in the Barnett Shale peaked in 2011, but has since fallen by about 20 percent, according to the study.
Production data from more than 16,000 wells within the Barnett was examined, and the study looked at the production history of each well before determining what areas remained to be drilled. The study used a base figure of $4 for a thousand cubic feet of natural gas. However, in determining how much natural gas operators will be able to extract economically, variations were allowed for in price, volume drained by each well, the economic limit of the well and other parameters.
Of the 16,000 producing wells in the Barnett, about 4,000 are considered to have the most production potential, while the remaining 12,000 are considered to be more depleted. As many as 11,000 new wells could be drilled between now and 2030, according to the study.
BEG is expected to complete three more studies of major shale formations in the United States by year's end.
Generated by readers, the comments included herein do not reflect the views and opinions of Rigzone. All comments are subject to editorial review. Off-topic, inappropriate or insulting comments will be removed.