Defense Research Leads to Frac Ball Technology
by Karen Boman
|
Rigzone Staff
|
Friday, September 20, 2013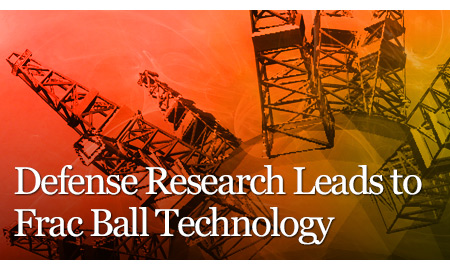 A proprietary material previously used in reactive warheads has been reconfigured for application in hydraulic fracturing balls and other downhole completion components for the oil and gas industry.
Euclid, Ohio-based Abakan Inc. launched a new subsidiary, Terves Inc., to commercialize TerveAlloy for use in frac balls in July. TerveAlloy is a class of patented, environmentally responsive lightweight metallic materials made from magnesium and other light metals such as lithium. These materials are high-strength, machinable and respond to environmental stimuli, such as changes in fluid, temperature or electrical or magnetic fields that cause disintegration or the generation of heat and gas.
Rigzone previously spoke with Abakan officials about the company's CermaClad technology. The TervAlloy does the opposite of what Abakan's CermaClad technology does.
"With CermaClad, you're trying to provide protection to metal and make the asset last for lifetime," said Andrew Sherman, CEO of PowderMet and Terves, in an interview with Rigzone.
The TervAlloy frac balls offer a tool that does its job and then gets out of the way so as not to cause lost time and downtime, and thus enabling faster well completion and faster path to revenues. Using TerveAlloy also provides a way for companies to address the toxic materials that are sometimes pulled up from a well.
TerveAlloy frac balls replace current aluminum or composite balls being used, and extend the allowable working pressures of lower strength polymeric dissolving balls. They can be used with TerveAlloy sleeves, or with composite or metal sleeves depending on the needs of the completion tools.
The idea of dissolvable tooling is not new, but Terve uses engineered metal materials that are strong, machined and can be used to make a lot of different components, Sherman noted. TerveAlloy technology brings a stiffness and strength to survive in deeper, higher pressure wells of 15,000 to 20,000 pounds per square inch (psi). Dissolvable frac balls currently available are typically made from polymers and salts, which limit them for use to 5,000 psi-range wells or for shallower or looser formations.
For tighter rock formations such as sandstones and carbonate deposits, aluminum or composite balls are needed, but Sherman noted that the current generation of these balls is not suitable for the pressure retaining components.
Using TerveAlloy's frac balls offers other advantages, including a reduction in the amount of water used. Using a reactive component and proppants allow for more efficient well completion while consuming significantly less water. The current method is cumbersome and requires excessive water use, and often relies on chemical additives to alter viscosity to better distribute proppants and reduce friction, Sherman added.
The ability to deliver controlled energy release deep in the formation can lead to a reduction in water use of up to 40 percent. One technique is diverting flow into smaller channels (adding backpressure to higher flow areas) to reduce water needs. Another is adding localized pressure deep inside the formations, extending the cracks without pumping additional water, Sherman noted.
Sherman said TerveAlloy could make it possible for a company to complete three to four wells in the same time it takes to complete one well using legacy technologies. Sherman estimates that 25 percent of the aluminum and composite frac balls currently used don't flow back. Efforts to retrieve the balls can cost not only time but money. By having a tool in place that will break down, the well owner can focus on production, instead of fishing for frac balls 10,000 feet into production laterals.
"We are really just beginning to explore and exploit the potential of targeted energy delivery for well stimulation and enhanced oil recovery, and are excited about contributing to the recovery of more oil, faster," Sherman commented.
Terves also is able to engineer and supply components with tailored properties to optimize perforator performance for different downhole configurations.
"We believe the availability of our reactive materials technology will lead to significant additional innovation as the developers of perforation systems incorporate these now available technologies into their devices," Sherman commented.
The feature that would be common with all these frac balls would be that they would isolate the zones when required, and then disintegrate once their job is done. Frac balls would be made from one inch to 12 inches in diameter, and most probably would work independent of the other components being used, Sherman explained.
The application of TerveAlloy for oil and gas stimulation and enhanced oil recovery combines the work done on beryllium research in 2003 and research Abakan conducted from 2005 to 2007 for the U.S. Department of Defense's Defense Threat Reduction Agency (DTRA) on thermites and reactives such as titanium-boron.
Through the DTRA research effort, Abakan sought to develop nano/micro-encapsulated particles engineered to control and tailor the reaction kinetics by varying compositional, particle size, interfacial area, phase separation, and mixing to obtain desired mechanical, energetic, and pressure/blast wave material effects upon detonation, said Sherman.
"In simple words, we were funded by DTRA to develop reactive materials for warheads that react to change in environmental stimuli, such as temperature and pressure, and we are using the same technology platform to develop new composite materials that are engineered to react to environmental stimuli in oil and gas applications," Sherman noted. "The goal for reactive materials for warheads was primarily that the materials react to generate a controlled amount of pressure or blast to cause controlled destruction."
During that time, the company produced and characterized several hundred combinations of materials, for both high-strength, low density applications, as well as higher density perforation applications. This was applied research into metal formulations in support of the agency's mission of being able to appropriately respond to chemical, nuclear and biological threats.
One of the targeted applications was controlled and sustained thermal release over an extended area to enable to destruction of chemical and biological agents. Sherman said there are current weapon systems designed for this application utilizing titanium-boron thermites, one of the highest energy thermites available; the company investigated higher energy density alternatives and techniques to control the energy release rate of these types of reactive materials.
For its DTRA research efforts, the company used knowledge it gained by accident when seeking to develop a magnesium-graphite composite to replace beryllium as a missile system component. At the time, the only sources for beryllium were Russia and a stockpile in the United States. This composite was exposed to humid air when the company relocated from California to Ohio in 2003, and afterwards began disintegrating.
The material was not the reactive warhead material, but reactive materials also exhibit the same phenomena, since the combine metal salts and reactive metals. Abakan leveraged its experience with the discovery of material combinations that react to moisture/water, pH acid, electrical signals, and temperatures to create high strength magnesium-graphite frac balls and tooling, Sherman noted.
Sherman noted that if you mix magnesium with Teflon, a material that generates a high amount of heat is created.
"In this case, we're trying to generate heat for an extended amount of time to destroy biological chemical materials downhole."
By generating this heat, smoother, rounder, higher fractures and fissures can be created, enhancing the recovery of oil.
Through their DTRA research efforts, Abakan found the rates and specific trigger points can be tailored by how the components are arranged. For example, nanoscale self-assembly of the reactive metal and additives leads to a much more reactive material.
"This platform of material designs can be tailored to specific types of formations, and to the very creative designs of oil tool manufacturers, who are our partners and customers," Sherman said.
The company intends to develop proprietary reactive material solutions for three to four leading companies, Sherman said.
"For example, we would make frac balls that react to change in temperature for Company A; frac balls that react to change in pressure for Company B; and frac balls that react to change in pH for Company C."
The rollout of the Terves subsidiary is part of the company's overall technology research strategy. Powdermet, the 41 percent-owned Abakan subsidiary, serves as a technology incubator to develop technologies with support from federal agencies, strategic partners and Abakan, Sherman explained. Abakan spins out a technology from Powdermet for commercialization once a technology reaches a stage of technical development where there value propositions have been validated.
"We have a very simple criterion for commercializing technologies that we refer to as our two times value proposition, which means the technology offers either twice the performance or life at the same cost, or the same performance or life at half the cost, when compared to competing technologies," Sherman said.
The technology base is licensed to Terves and is being made available for application in the energy business. The company, a components supplier, is seeking partners to commercialize the product. TerveAlloy is being targeted at well completion companies, Sherman said. TerveAlloy can generate more revenue while reducing cost and risk for these companies. For operators, the product can enhance oil recovery.
"Unlike the oil and gas industry as a whole, which is fairly mature in terms of technical advancements, the extraction of shale gas is relatively new and open to large-scale innovation," said Abakan CEO Robert Miller in a statement.
Company officials estimate the current market for well completion tools at over $1 billion dollars; that market value is expected to triple over the next three years as shale gas production grows.
"We expect to be at the forefront of this development."
Abakan brings to its product development an extensive background in research and development for the defense and aerospace industries.
"We have experience solving tough challenges," said Sherman, who has over 24 years of experience developing and commercializing advanced materials and processes. "Millions of people can die if we don't do our jobs right."
While TerveAlloy has applications for other industries, Sherman said the company sees the technology's application for oil and gas – and its ability to enhance production – as more interesting and valuable to society.
Generated by readers, the comments included herein do not reflect the views and opinions of Rigzone. All comments are subject to editorial review. Off-topic, inappropriate or insulting comments will be removed.