Defense Research Leads to Frac Ball Technology
by Karen Boman
|
Rigzone Staff
|
Friday, September 20, 2013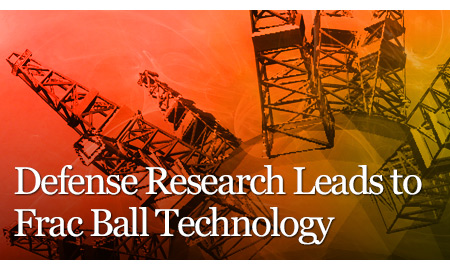 A proprietary material previously used in reactive warheads has been reconfigured for application in hydraulic fracturing balls and other downhole completion components for the oil and gas industry.
Euclid, Ohio-based Abakan Inc. launched a new subsidiary, Terves Inc., to commercialize TerveAlloy for use in frac balls in July. TerveAlloy is a class of patented, environmentally responsive lightweight metallic materials made from magnesium and other light metals such as lithium. These materials are high-strength, machinable and respond to environmental stimuli, such as changes in fluid, temperature or electrical or magnetic fields that cause disintegration or the generation of heat and gas.
Rigzone previously spoke with Abakan officials about the company's CermaClad technology. The TervAlloy does the opposite of what Abakan's CermaClad technology does.
"With CermaClad, you're trying to provide protection to metal and make the asset last for lifetime," said Andrew Sherman, CEO of PowderMet and Terves, in an interview with Rigzone.
The TervAlloy frac balls offer a tool that does its job and then gets out of the way so as not to cause lost time and downtime, and thus enabling faster well completion and faster path to revenues. Using TerveAlloy also provides a way for companies to address the toxic materials that are sometimes pulled up from a well.
TerveAlloy frac balls replace current aluminum or composite balls being used, and extend the allowable working pressures of lower strength polymeric dissolving balls. They can be used with TerveAlloy sleeves, or with composite or metal sleeves depending on the needs of the completion tools.
The idea of dissolvable tooling is not new, but Terve uses engineered metal materials that are strong, machined and can be used to make a lot of different components, Sherman noted. TerveAlloy technology brings a stiffness and strength to survive in deeper, higher pressure wells of 15,000 to 20,000 pounds per square inch (psi). Dissolvable frac balls currently available are typically made from polymers and salts, which limit them for use to 5,000 psi-range wells or for shallower or looser formations.
1
2
3
4
5
6
View Full Article
Generated by readers, the comments included herein do not reflect the views and opinions of Rigzone. All comments are subject to editorial review. Off-topic, inappropriate or insulting comments will be removed.