U.S. FERC Judge Rules Seaway Crude Oil Pipeline Rates Too High
Reuters
|
Monday, September 16, 2013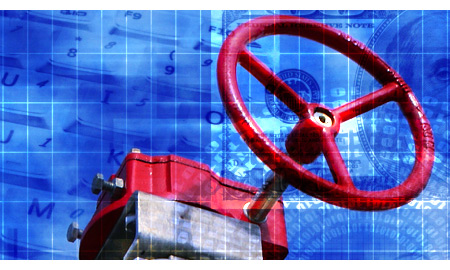 NEW YORK, Sept 16 (Reuters) - A U.S. Federal Energy Regulatory Commission (FERC) judge has ruled that the rates on the Seaway pipeline were too high, landing an initial victory for crude oil shippers in a long-running legal battle.
According to the FERC's ruling filed late Friday, Seaway had proposed tariffs of $3.82 per barrel for light crude and $4.32 for heavy crude, after reversing the line in 2012 to flow north-to south in an attempt to allow shippers to drain a glut of crude oil at the Cushing, Oklahoma storage hub.
The 400,000 barrel per day (bpd) pipeline, jointly owned by Enterprise Product Partners LP and Enbridge Inc , is one of the few major arteries carrying crude oil from Cushing- delivery point of the U.S. crude oil futures contract - to the U.S. Gulf Coast refining hub.
The FERC said "numerous" protests to the tariffs were filed by shippers and the regulator had suspended the rate in May 2012 to hear the arguments.
"It is the determination of the Presiding Judge that Seaway has failed to carry its burden to prove that its proposed committed and uncommitted shipper rates are just and reasonable," Presiding Administrative Judge Karen Johnson wrote in her initial 86-page decision.
"The Presiding Judge finds further that Seaway's proposed committed and uncommitted shipper rates should be modified," she wrote.
The rates companies have been paying to ship oil on the line would be subject to a partial refund if the judge's initial decision is upheld.
The case was initially brought by oil producer groups and companies, including the Canadian Association of Petroleum Producers, Noble Energy Inc and Apache Corporation.
The parties involved in the case now have 30 days to file additional arguments they believe the judge may have overlooked in the ruling, following by a 20-day period for appeals and objections.
There is no fixed timeline for the five members of the commission to approve, amend or reject the decision after that date. If the judge's decision is approved, the pipeline owners would then need to file new rates for approval by the regulator.
Enterprise, which operates the line under its agreement with Enbridge, was not immediately available to comment.
Seaway's capacity was more than doubled at the start of this year to meet high demand, though the line has been running below its stated 400,000 bpd capacity due to the large volumes of heavier, thicker crude running on the line.
Prices of U.S. crude oil around Cushing have been depressed against seaborne rivals as booming output in the United States had become backed up at the hub.
Generated by readers, the comments included herein do not reflect the views and opinions of Rigzone. All comments are subject to editorial review. Off-topic, inappropriate or insulting comments will be removed.