Locomotive Technology to Power Class 8 Heavy Trucks
by Karen Boman
|
Rigzone Staff
|
Friday, September 13, 2013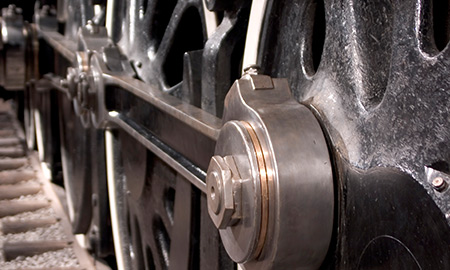 A battery technology used to power locomotives can now fuel Class 8 heavy trucks, helping reduce fuel consumption and greenhouse gas emissions by up to 35 percent.
New Castle, Penn.-based Axion Power International Inc. and ePower Engine Systems LLC of Florence, Kentucky are collaborating to offer Axion's PbC batteries and ePower's battery management system – which has been used in locomotives – to help power Class 8 heavy trucks.
Axion CEO Thomas Granville told Rigzone that the technology has applications for a number of industries that rely on Class 8 heavy trucks – or trucks weighing between 70,000 and 150,000 pounds – including the oil and gas industry. Granville said the company is working with several oil and gas companies, road truck fleet owners and original engine manufacturers that provide engine components to supply this technology for use in Class 8 heavy trucks.
The combination of Axion's PbC batteries with ePower's hybrid system – in which electric hybrid 18-wheelers are retrofitted from standard internal combustion engines to series diesel electric hybrid drive train systems that include a string 56 PbC batteries – ePower estimates that fuel consumption can be reduced by approximately 35 percent.
A series electric drive truck does not have a mechanical link between the engine and wheels – the engine instead runs a generator, which powers an electric motor. Fuel efficiency is boosted by running the engine at a constant revolutions per minute and utilizing an automatic transmission, thereby eliminating the need for complex heavy truck transmissions while delivering constant motor torque.
ePower maximized the system's fuel efficiency by sizing the generator for steady vehicle state operations at highway speed and uses 56 lead-carbon PbC batteries, manufactured by Axion, to help power acceleration and provide increased energy savings from regenerative breaking.
The hybrid battery technology supplied by Axion has super capacitor-like qualities in one half of the battery; the other half has storage-type qualities, Granville said. Conventional lead acid batteries are comprised of a positive electrode made of lead dioxide and a negative made of sponge lead, or Pb. By replacing the negative plate found in the lead acid battery with an activated carbon electrode – which does not undergo a chemical reaction at all – the battery can cycle four to five times longer, accept a higher amount of charge, recharge quickly and self-equalize both cell batteries and the batteries in the string.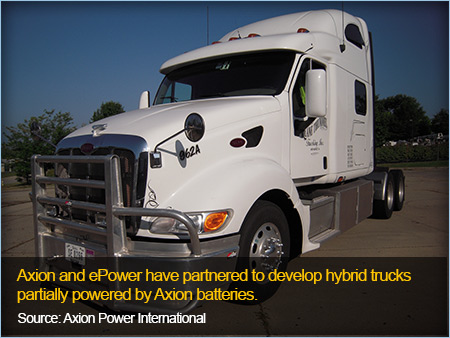 1
2
3
4
5
View Full Article
Generated by readers, the comments included herein do not reflect the views and opinions of Rigzone. All comments are subject to editorial review. Off-topic, inappropriate or insulting comments will be removed.
MORE FROM THIS AUTHOR
Karen Boman
Senior Editor | Rigzone