Locomotive Technology to Power Class 8 Heavy Trucks
by Karen Boman
|
Rigzone Staff
|
Friday, September 13, 2013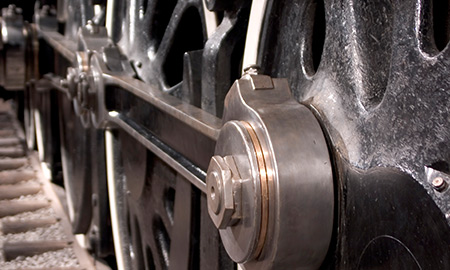 A battery technology used to power locomotives can now fuel Class 8 heavy trucks, helping reduce fuel consumption and greenhouse gas emissions by up to 35 percent.
New Castle, Penn.-based Axion Power International Inc. and ePower Engine Systems LLC of Florence, Kentucky are collaborating to offer Axion's PbC batteries and ePower's battery management system – which has been used in locomotives – to help power Class 8 heavy trucks.
Axion CEO Thomas Granville told Rigzone that the technology has applications for a number of industries that rely on Class 8 heavy trucks – or trucks weighing between 70,000 and 150,000 pounds – including the oil and gas industry. Granville said the company is working with several oil and gas companies, road truck fleet owners and original engine manufacturers that provide engine components to supply this technology for use in Class 8 heavy trucks.
The combination of Axion's PbC batteries with ePower's hybrid system – in which electric hybrid 18-wheelers are retrofitted from standard internal combustion engines to series diesel electric hybrid drive train systems that include a string 56 PbC batteries – ePower estimates that fuel consumption can be reduced by approximately 35 percent.
A series electric drive truck does not have a mechanical link between the engine and wheels – the engine instead runs a generator, which powers an electric motor. Fuel efficiency is boosted by running the engine at a constant revolutions per minute and utilizing an automatic transmission, thereby eliminating the need for complex heavy truck transmissions while delivering constant motor torque.
ePower maximized the system's fuel efficiency by sizing the generator for steady vehicle state operations at highway speed and uses 56 lead-carbon PbC batteries, manufactured by Axion, to help power acceleration and provide increased energy savings from regenerative breaking.
The hybrid battery technology supplied by Axion has super capacitor-like qualities in one half of the battery; the other half has storage-type qualities, Granville said. Conventional lead acid batteries are comprised of a positive electrode made of lead dioxide and a negative made of sponge lead, or Pb. By replacing the negative plate found in the lead acid battery with an activated carbon electrode – which does not undergo a chemical reaction at all – the battery can cycle four to five times longer, accept a higher amount of charge, recharge quickly and self-equalize both cell batteries and the batteries in the string.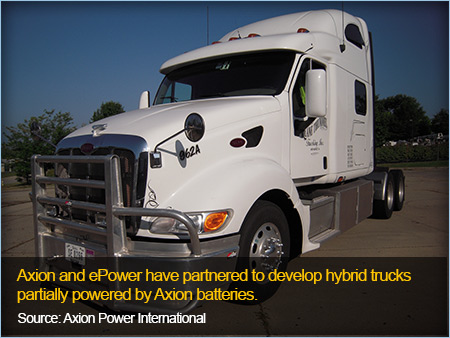 The PbC battery reduces acid concentration swings from the charged to discharged state, which reduces grid corrosion on the positive electrode and leads to longer life of the positive electrode. The PbC battery looks similar to standard or advanced batteries, but is 35 percent lighter because of the lead being eliminated from half the battery and replaced with activated carbon.
"A lead acid battery – or any kind of battery hooked into a series string – is only as strong as its weakest battery," Granville commented. "If one battery goes low, you can realistically only bring that battery back up to the proper state of charge by charging the entire string."
This presents a problem for technology that uses large strings, such as hybrid locomotives or solar farm back-up batteries. In a string, the weaker batteries have a proportionately lower internal resistance and take the charge more rapidly; the batteries that are fully or almost fully charged either take the charge slowly or don't take it on at all due to high resistance. In charging the string, batteries that are already at, or close to, proper states of charge, end up getting overcharged which leads to gassing and dry out of a battery, and eventually the early loss of functional life for those batteries. The battery technology that has been available on the market means that individual area recharges are not a workable solution, Granville explained.
The ePower proprietary system which utilizes the PbC batteries is used in conjunction with the drive system of 18-whell vehicles, which include a motor, a generator, drive train and engine. The proprietary system includes a PLC controller, 56 batteries, battery management system and the "black box".
Axion will provide the batteries, management system and algorithms that will be incorporated into the "system" conversion kit that ePower will market to fleet owners and OEMs. Class 8 18-wheelers will initially be targeted, but the technology could be applied to Class 6 and 7 trucks as well.
The batteries can be used to equalize fuel consumption by running the gensets at constant speed, Granville noted. When a truck needs extra power to pass or go up a hill, it can draw on the battery to provide a boost power system to supplement the gen-set power versus dramatically and quickly increasing diesel fuel.
ePower, a developer of hybrid drive-train technology for Class 8 trucks, first approached Axion, a designer and manufacturer of advanced storage energy components and devices, in 2010 about a potential partnership after hearing about Axion's strategic relationship with Norfolk Southern Corporation, one of the largest U.S. railway transportation companies. The joint development program was designed to allow rail locomotives to operate on battery power and to make use of regenerative breaking for recharge assist.
Norfolk Southern used top-of-the-line lead acid batteries when it converted its first locomotive to an all-electric system. The locomotive ran well the first few months, but then started losing batteries in the string. Unable to determine the cause of the problem, Norfolk Southern contacted Axion in the fall of 2009 for help.
The program with Axion was launched in 2010 to help Norfolk Southern achieve its goals of reducing diesel consumption and reduce its nitrous oxide (N2O) and carbon dioxide (CO2) emissions while boosting the ability to run its locomotives for longer periods of time. Joint testing with Penn State now includes road hybrid locomotive, as well as all electric yard locomotive. The road-hybrid locomotive, which will be used to haul freight long distance, will take 1,700 batteries, while the yard locomotives with each take 860 batteries. All PbC batteries for the first yard locomotive were shipped to Norfolk Southern in the fourth quarter of 2012, Axion reported in an Aug. 15 press release.
ePower was initially attracted to Axion's battery technology use for their proposed large battery strings 56 batteries. Earlier in their hybrid truck development, ePower worked with other battery chemistry with the intent of determining the technology that optimized the hybrid systems potential for significant fuel savings at competitive ePower came to the conclusion that Axion's proprietary PbC battery technology best suited their needs, Granville said.
In July, Axion received a follow on order from ePower for PbC batteries and management systems needed to convert 10 Class 8 trucks from standard internal combustion engines to series diesel electric hybrid drive train systems using ePower's proprietary technology. Each conversion kit system will require 56 PbC batteries and the PbC battery management system.
"We're working much more closely with ePower now as we refine our product and process," Granville said, noting that Axion's engineers are over at ePower frequently and talk several times every week. "They're not only achieving what they thought they could two and a half years ago, but getting even better miles per gallon than they projected."
Implementing batteries into trucks has been attempted numerous times in the past, but could not be done in a manner that was cost-effective. In addition, some of the other battery technology tried, required the batteries to be charged more frequently than would be practical for a fleet, Granville noted. Also, ePower's proprietary system offers a unique use of electronics that substantially differs from previous attempts.
The hybrid system has been tested on trucks, that were produced by different OEMs, on long-distance, 1,100-mile road trips, Granville said. These trips have not only proven ePower's mpg claims, but measurements of the battery voltage showed a constant voltage at the beginning, midway and end of these trips. This means that the batteries were continually available to provide boost power, even during, and at the end of, a long cross country trip. While lithium ion chemistry for batteries has been the darling of the media and target of federal research investment dollars, the results have been disappointing, Granville noted. Lithium ion batteries have been known to catch fire, and cannot handle cold temperatures or extreme temperature changes.
"What's fascinated people has been lithium's great energy density," Granville noted.
However, its chemical properties are unstable, and require a white glove, clean room, moisture free environment for manufacturing.
Demand Seen as Emission Reductions Standards Tighten
Granville sees demand for this technology due to the increase in heavy truck traffic in oil and gas operations and the need for oil and gas companies to cut diesel fuel costs, the largest variable cost in trucking. Typically, Class 8 trucks are rebuilt after 400,000 miles.
U.S. trucks burn 38 billion gallons of fuel a year and produce 21 percent of greenhouse gas emissions from transport activities. Granville estimates that half of the fuel burned comes from Class 8 heavy trucks. By using Axion and ePower's hybrid system, a typical 80,000 pound Class 8 truck can achieve seven to eight miles per gallon versus the current rate of approximately five to five and a half miles per gallon.
The U.S. unconventional oil and gas boom not only has boosted oil and gas production, but the number of heavy trucks on U.S. roadways. The exploration and production boom in U.S. onshore unconventional resources has resulted in increased truck traffic across the countries in areas such as South Texas, home to the Eagle Ford shale play.
From 2009 to 2012 in Webb and La Salle counties in South Texas, traffic in areas of Interstate-35 most affected by Eagle Ford activity grew by 86 percent. And rose by 24 percent in areas least affected by Eagle Ford truck traffic, Eagle Ford Shale Task Force cited in an April 2013 report.
"Un an adequate pipeline network is in place, trucks will be responsible for transporting the vast majority of the region's oil and condensate to market," the task force noted in the report. The need for heavy transport vehicles in the region, particularly Dimmit and La Salle counties, has resulted in increased traffic, premature deterioration of roads and bridges, and public safety concerns.
Granville also sees demand for Axion and ePower's product as industries that utilize Class 8 Heavy trucks face more stringent emissions and fuel consumption standards. The first U.S. greenhouse gas emission and fuel consumption standards for heavy, medium and light duty vehicles were adopted in August 2011. Jointly developed by the U.S. Environmental Protection Agency (EPA) and the National Highway Traffic Safety Administration (NHTSA), the greenhouse gas program includes carbon dioxide (CO2) emission standards as well as emission standards for nitrous oxide and methane
According to final vocational vehicle standards for model year 2017, Class 8 heavy trucks must meet EPA standards for CO2 emissions of 222 g/ton-mile and NHTSA fuel consumption standards of 21.8 gallons/1,000-ton mile.
As Class 8 heavy trucks age, they will need to be updated and if they are, they will only be required to meet the emission standards that were in place at the time of their original manufacture, Granville noted. Approximately 37 percent of the 2.7 million U.S. trucks that travel U.S. roads are five to 12 years old, and have outlived their drivetrain warranties but usually have life remaining in their chassis, bodies and other parts. ePower has estimated that these retrofits will pay for themselves through fuel savings alone in as little as two years.
Similar regulations in Europe that limit the emissions per kilometer driven and stop-start applications also created similar demand overseas, Granville noted.
The cost savings that using Axion and ePower's hybrid system achieves goes hand in hand with reduced emissions, Granville noted.
"There is considerable enthusiasm being generated for this hybrid heavy-duty truck because of the fuel savings and emission improvements it is demonstrating during test drives," said Granville in an Aug. 29 press release announcing that the PbC battery as used in an electric hybrid Class 8 truck developed by ePower Engines will be on display at a conference in Indiana in late September.
Generated by readers, the comments included herein do not reflect the views and opinions of Rigzone. All comments are subject to editorial review. Off-topic, inappropriate or insulting comments will be removed.