Asian Energy Companies Go Public to Grow Business
by Chee Yew Cheang
|
Rigzone Staff
|
Thursday, September 12, 2013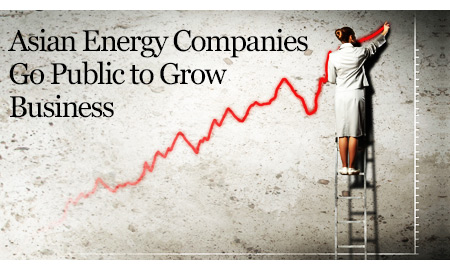 Quite a few privately-owned oil and gas companies in the Asia Pacific region have decided to launch an initial public offering (IPO) on regional bourses, or stock markets, this year as they seek funds for business expansion. Firms that have taken this route include those engaged in exploration and production (E&P) as well as petroleum industry service providers. These companies listed shares on stock markets in Hong Kong, Malaysia and Singapore, with one planned for Australia in October.
Going Public
Funding has always been a major issue for companies, especially small privately-held ones. They "go public" – or are publicly listed – for a variety of reasons, but the ultimate aim is usually to raise additional capital.
Firms go public to raise capital and potentially broaden opportunities for future access to capital, according to United States Securities Exchange Commission (SEC). The move can boost liquidity for a company's stock, allowing owners and employees to more easily sell stock as well as to acquire other businesses with the public company's stock. Furthermore, such firms can attract and compensate employees with public company stock and stock-option compensation as well as create publicity, brand awareness, and prestige for a firm, the SEC added.
An IPO can help firms get financing outside of the banking system and reduce debt. It helps trim the overall cost of capital for companies by giving them more leverage in negotiating interest rates with banks. Companies can then cut interest costs in servicing existing debt. More funds raised through an IPO will reduce the risk of ownership in the company as the risk is spread among a larger group of shareholders. An IPO also enables original shareholders to cash out some of their profits while still retaining a percentage of the company.
Asian Companies Going Public
China's Sinopec Engineering, an engineering and construction services provider, was one of the regional companies seeking a public listing. China Petrochemical Corp. (Sinopec), China's second largest oil and gas producer and the country's top refining and petrochemical company, amalgamated eight operating subsidiaries in September 2012 to form the company. It was listed on Hong Kong Exchanges and Clearing Ltd. in May. After the IPO, the firm earmarked around 40 percent of the $1.8 billion raised through the IPO for engineering and construction operations, 23 percent for research and development, 11 percent for overseas operations, 9 percent for equipment purchases and the rest for information systems upgrades and working capital.
In Malaysia, CLIQ Energy Bhd was one of two petroleum firms listed on local exchange Bursa Malaysia this year. The company, an E&P firm specializing in the acquisition and development of upstream assets in Asia and Oceania, listed April 10 as a Special Purpose Acquisition Company (SPAC). SPAC was described as one with "no business to speak of other than a plan to buy corporations that will be folded into the entity," Malaysian daily The Star said. Bursa gave these entities 36 months from the date of listing to complete the asset acquisitions.
CLIQ raised $120 million from the IPO, with 10 percent of the funds used for operating expenditures and the remainder for acquisition of upstream assets. It intends to buy "small and medium oil fields [in Asia Pacific] with low to moderate risks, and the rights that allows us to take part in the development and production of these fields … we are looking to acquire production-ready and pre-development assets, not exploration assets, as they present higher risks," CLIQ Chairman Azmi Mohd Ali told Bernama news agency. Since the listing, CLIQ has shortlisted five qualifying upstream assets in Indonesia, Malaysia and Papua New Guinea from a pool of 38 proposals for the proposed acquisition.
1
2
3
View Full Article
Generated by readers, the comments included herein do not reflect the views and opinions of Rigzone. All comments are subject to editorial review. Off-topic, inappropriate or insulting comments will be removed.