UK North Sea Growth Requires a Changing Workforce
|
Tuesday, September 10, 2013
The huge influx of migrant workers into the UK during the past decade has become the subject of much debate in the country ever since the economic downturn began in 2008/2009. Yet, although the UK's oil and gas sector is booming it appears that offshore demographics have changed little since they were first measured in 2006.
Designed to help upstream oil and gas companies operating offshore UK to understand current trends within the workforce's profile, and to plan ahead, the "2013 Offshore Demographics Report" was published in late June. This report pays particular attention to age, gender and residential location.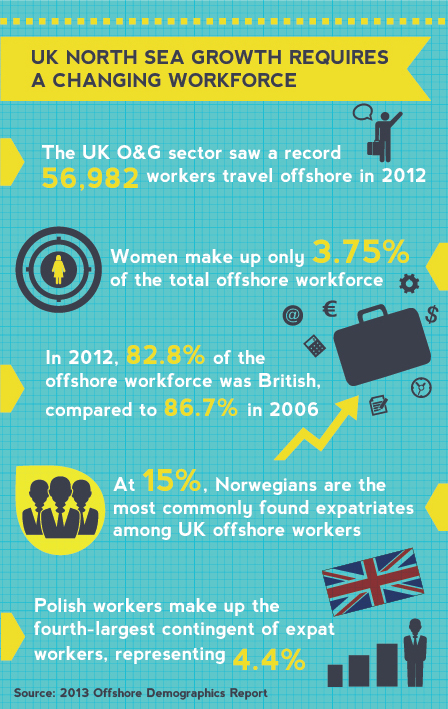 Amid concern in some corners of the UK offshore industry about the increasing prevalence of foreign workers in the North Sea, the report is a useful guide for people interested in how the workforce is changing.
The report shows that a total of 56,982 workers traveled offshore in 2012, which is the highest number since 2006 (when demographics data was first analyzed), and a 9-percent increase over 2011, when 52,300 personnel traveled offshore. So, it is clear that as activity in the North Sea has been increasing – partly as a result of a new UK government tax regime that has made previously uneconomic fields commercial – more workers have been required.
Despite the efforts of major upstream companies to encourage women into the offshore environment, it is still highly male-dominated. Between 2006 and 2012, the industry saw an increase of 18.7 percent in the total number of females traveling offshore, but because of a similar increase in men going offshore the number of women as a proportion of the total workforce in the offshore environment is just .15 percent greater than in 2006.
In 2012, 2138 female workers traveled offshore, representing just 3.75 percent of the total offshore workforce and an increase of .05 percent over the number for 2011. Of these women, 753 were core workers (those workers who work offshore for more than 100 nights per year) compared with 763 who traveled offshore for 10 nights or less – which is roughly the same proportion as male core to non-core workers in the offshore environment.
At 41.1 years, the average age of the offshore workforce has remained approximately the same as it was in 2006. However, the greatest growth was seen in young and middle-aged workers as opposed to those in older age groups, which Oil & Gas UK said should dispel the perception that the UK's offshore workforce is an aging workforce – especially since the figures for 2012 reveal that there were 2.5 times more people in the 23-to-28 bracket than aged 60 to 65.
1
2
3
View Full Article
Generated by readers, the comments included herein do not reflect the views and opinions of Rigzone. All comments are subject to editorial review. Off-topic, inappropriate or insulting comments will be removed.